CW: suicide/domestic violence in film
[National Suicide Prevention Lifeline: 1-800-273-8255; The Trevor Project: 1-888-628-9454; Suicide Lifeline for Deaf/Hard of Hearing Folks: 1-800-799-4889; Transgender Lifeline: 1-877-565-8860; Crisis Text Line: Text HOME to 741741]
It is not a surprise at this point that the majority of mental health related narratives depicted on screen are centered on white women despite the fact that Black women are at higher risk. It is also not a surprise that Black women are not as likely to seek resources or other assistance for their mental health as white women. We cannot deny that our media plays a huge influence in that. Because of the representation of white people seeking counseling in movies and television shows, there's more permission for white people to do the same.
When we pay attention specifically to how suicide is depicted in films, there is more empathy for a white woman who has attempted or completed a suicide than a Black woman.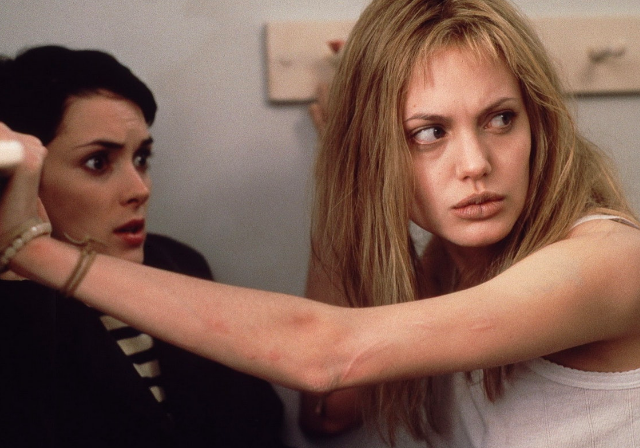 We see empathy for white women in films such as Girl, Interrupted (1999), when it comes to navigating ideation and completed suicides before, during, and after treatment in a mental health institution; or The Hours (2002), when it comes to the sadness of Virginia Woolf (Nicole Kidman) before her death or addressing how it looks for women and their loved ones in different time periods to choose either life or death.
This is not to say that suicide hasn't been romanticized for white women, or that their narratives around suicide are invalid. It's to say we see this too often. As Black people, we have talked about this over and over again, and it sucks that we have to repeat ourselves in order to make clear that same form of empathy is not provided to Black women.
In For Colored Girls (2010), Crystal Wallace (Kimberly Elise) attempts suicide after her children are killed by her abusive boyfriend, Beau Willie Brown (Michael Ealy). Before the resolution of the film, Crystal does not want to hang out with anyone after everything that has happened, still upset that her boyfriend would harm their children. However, Gilda (Phylicia Rashad) pushes Crystal to hang out with her and other women by saying that Crystal should take some responsibility for not leaving Beau sooner. There is this idea that she needs to be stronger than her circumstance, and the viewer is pushed to excuse Gilda's victim-blaming.
In Mississippi Damned (2009), Anna Tensely (Simbi Khali) dies by suicide in order for her niece Kari (Tessa Thompson) to obtain her life insurance money to leave and go to college. Rather than taking time to empathize the abuse Anna faced from her husband (D.B. Woodside), her illness, or other aspects of her life that may have influenced her trauma, the viewer is heart-wrenched and enamored by her "strong" sacrifice for Kari at the end of the film. Not to mention the suicide by another character taking place ten minutes before this one, that of Sammy Stone (Malcolm Goodwin), already taking a toll for the viewer.
Both films perpetuate the ongoing trope of the "strong Black woman" and romanticize the suicide of Black women in away that audiences tend to ignore repeatedly. Even when Black women do seek help, it is not a guarantee that they would receive a diagnosis or medication that best fits their situation because most providers still believe that Black women are too strong to have any ailments.
How do we grant permission to Black women to express vulnerability without critique and without excluding them from the resources they need? How do we move beyond this in our films?
My hope is that not only more Black people are writing Black stories, but that Black people who have experience with suicidal ideation are the ones writing those stories. Having mental health professionals and suicide survivors as on-set consultants would be impactful as well. The films mentioned before were created by Black people. As white as the film industry is, when we talk about increasing diversity, we have to be intentional about how to implement that. By increasing representation for Black women, there is the necessity to include even more representations of Black people and suicidality such as Black men, Black trans and nonbinary folks, Black disabled folks (particularly in a narrative where suicide isn't the act that should "save them"), and so much more among these intersections. As a Black nonbinary woman who is a suicide survivor, I want to be sure that I am as clear as possible about that.
For content about suicidality and mental health for Black women, I would recommend reading Monica A. Coleman's Bipolar Faith, Camonghe Felix's book Build Yourself a Boat, or anything by Morgan Parker. I would also recommend following writers like Morgan Parker and Imade Nibokun (a.k.a. Depressed While Black).
For a laugh, because we're talking about breaking away from the "strong Black woman" narrative, check out Robin Thede's "Weak Black Women"; it doesn't address suicide, Robin Thede is just a comedic genius.
Maya Williams
Maya Williams (she/her & they/them) is a writer based in Portland, ME. Maya has contributed to spaces such as The Tempest, Black Youth Project, RaceBaitr, The Gay Gaze, and more.