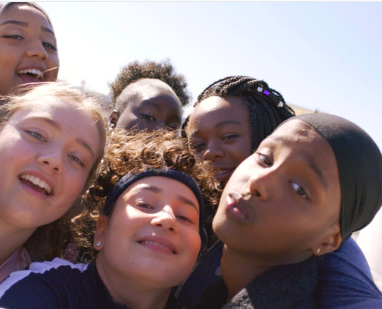 There's a special kind of joy that happens between groups of young women in friendship. Some girls are lucky enough, in their teenage years, to have a squad of friends who have their back through all the joy, challenges and drama. Writers Theresa Ikoko and Claire Wilson, director Sara Gavron (Suffragette, Brick Lane), and the entire cast and crew knock the ball out of the park with the outstanding UK indie film Rocks. This film makes me feel grateful to be alive in a time where it's possible for a story about teenage girls can be crafted by an entire creative and production team of former teenage girls. 
Rocks is the story of 15-year-old Olushola Joy Omotoso, aka Rocks (Bukky Bakray). We follow Rocks as she navigates her way through the most unexpected week in her life so far. Tasked with bringing her rambunctious 7-year-old brother Emmanuel (D'angelou Osei Kissiedu) along the way, Rocks is forced to do the last thing her pride wants her to do.
I absolutely loved this film. The story behind the scenes is as fascinating as what we see on screen. An all-female creative team took an unusual approach to creating the world of the film using creative collaboration. The director, writers, casting director, and members of the production team did an expansive process of research through spending time in school arts programs and in workshops with hundreds of non-actors.
The world of the film evolved out of the workshop process, but the main storyline of Rocks was created by Theresa Ikoko. During this process, she had a story rolling around her mind about a brother and sister that was dear to her heart. Theresa Ikoko shares, "I had an outline of something very personal to me, and I felt a strong connection in the workshops particularly to one of the young people, Bukky [who then became the central character Rocks]. We are both British Nigerian, and I really felt this story could work well for her."
Director Sarah Gavron continued, "As a team, when Theresa suggested this narrative, we all immediately responded to it as a story that felt resonant and powerful and that allowed space for the characters and world we had been developing for some time. So it became a process of the workshops, then building on that central story and the young people contributing to that."
The workshop and audition process took over nine months to curate. As the weeks went along and the young women's chemistry became apparent, the roles were easily cast. Making the effort to create an environment of community care is not something that is usually associated with working on a film set. Historically, film has been a male-dominated field, particularly on the production side. The fact that when the young women who were cast stepped on a film set where the crew and the majority of the cast were entirely female, and that everyone had been in community investing in creating this story, was everything. Since the young women had been accustomed to being filmed in workshops for months during the creative process, when they were on set they were totally comfortable. When the "professional" actors were blended into the cast, the community welcomed them into the process and the story took flight.
Rocks takes place in Hackney, a working-class neighborhood in East London. The film opens with Rocks and her group of 14- to 15-year-old friends up on the roof just hanging out and acting stupid playing music and getting loud. This is exactly the same joy energy I see from the teenaged girls getting out of school on the 4 or 5 train in Brooklyn around 3:00 p.m. during the week when school's out, which is the same joy energy I used to have with my girlfriends when we were in the Awareness of Black Culture club (which was all Black girls) after school back in the late '80s. The time we women and girls have with our girlfriends to be ourselves is magical.
The relationship between Rocks and her brother Emmanuel is the soul of the film. It's just beautiful to see the love, care, and support the siblings share. Their banter is grounded in love and is so well-crafted on screen that when the difficult situations occur, it's even more heartbreaking to endure.

Rocks and her crew are popular but they're not bullies. They take up space unapologetically and are open to inviting others in. At the heart of the film is the authenticity and vulnerability between Rocks and her best friend Sumaya (Kosar Ali). Rocks seemingly has everything under control. She is a talented makeup artist. On lunch breaks while Sumaya organizes the intricate candy trades, Rocks is doing the girls' makeup to add the only color and creativity the students, who are required to wear uniforms, are allowed.
Rocks is a caregiver, but Sumaya can see that behind that big energy something is going on. Sumaya reaches out, but Rocks keeps saying that she's fine, when it's obvious to Sumaya and the girls that she's not. When Rocks finally shares her situation, Sumaya is the first one to try to dive deeper and be the one friend who has the courage to speak the truth in a hard situation. Rocks rejects that truth in a scene that is so real it gave me goosebumps.
So many films attack low-wealth Black mothers without resources who are dealing with mental health challenges, portraying them as caricatures without nuance or depth. This trope is commercially effective. Black female actors are given Oscars for portraying these broadly written stereotypes. Rocks humanizes the impact of mental illness and immediately shows the love and care that Rocks's mother Funke (Layo-Christina Akinlude) attempts to provide for her children while dealing with her illness in the only way she can. The portrayal of depression is subtle, authentic, and just gutting. The domino effect of being a low-wealth family is clear and devastating to witness.
Rocks breaks stereotypes by portraying a dark-skinned Black girl as happy, popular, intelligent, big hearted, talented, super smart, witty, and beautiful. I love watching "unknown actors" on film because I can easily believe in the people who are sharing their lives with me on screen. The value and care invested in these artists pays off on screen. In a faux self-made culture, we forget that behind every success is a village of people who cared enough to give support and resources so the success could flourish.
Rocks is a wonderful example of how we are interconnected and that creation does not happen singularly. Stories unite us in our humanity. Rocks made me laugh so hard I spilled my lemonade in one moment, and broke my heart open, making me cry right along with the young women on screen who captured my heart. We "grown folk" never know what adult problems young people are dealing with. Rocks inspires us to proceed, with love. I highly recommend and am grateful to have been able to experience Rocks.
Currently streaming on Netflix, a Fable Pictures and Film4 production.
Jeanine T. Abraham
Jeanine is a Writer, Actor, member SAG/AFTRA, AEA, Podcast host, Producer, CEO VisAbleBlackWoman Productions, Certified Health Coach and Conscious Dance facilitator. Jeanine's mission, centering Black women's stories to preserve our legacies.