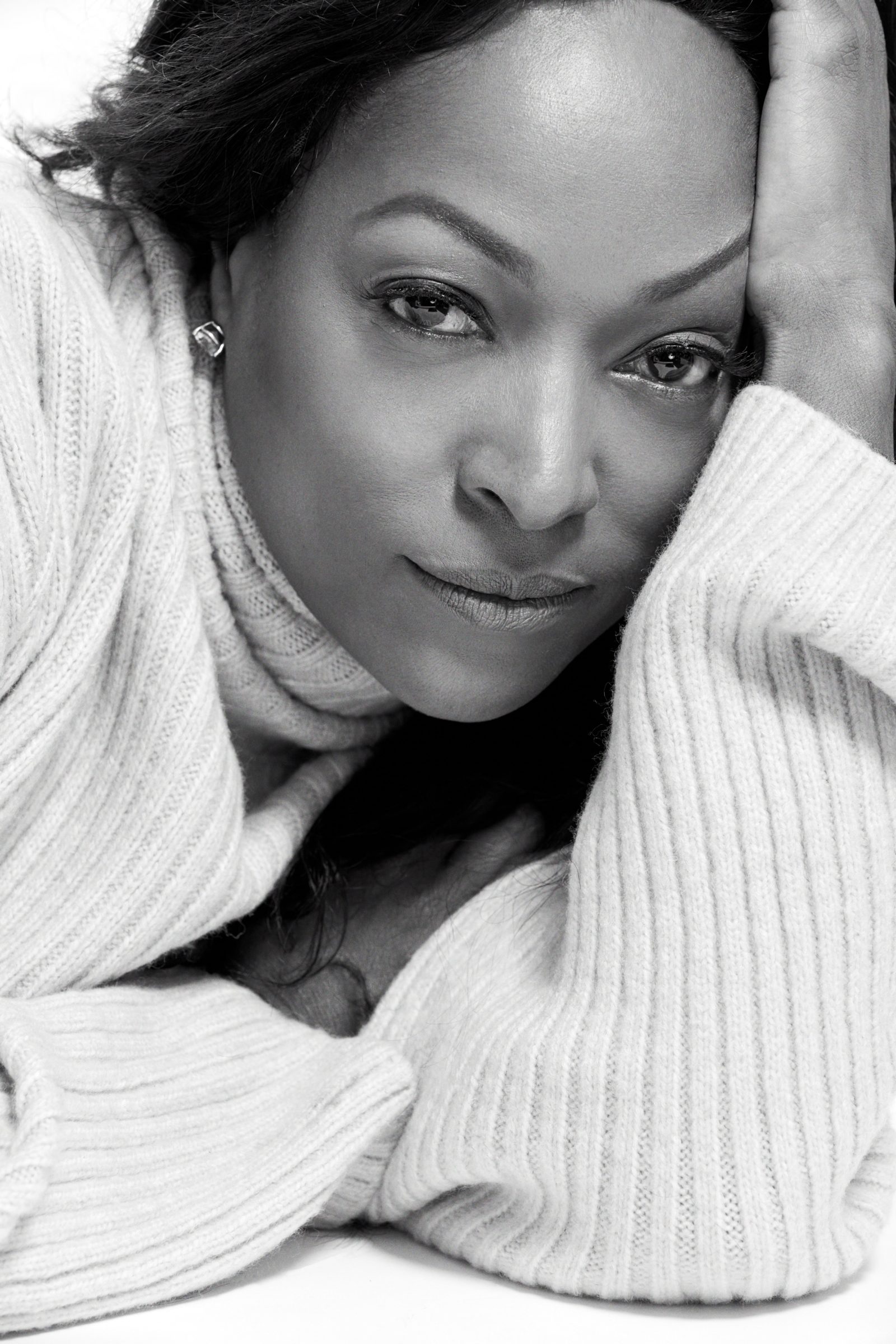 Actress and comedian Kellita Smith will make you hurt yourself laughing. It's a gift she's given her fans for more than 20 years.
After roles on shows like The Jamie Foxx Show, In Living Color, Martin, and Sister, Sister, Kellita's break happened in 2001 with The Bernie Mac Show starring the late King of Comedy, Bernie Mac. She was nominated three times for an NAACP Image Award and once for a BET Award for her role as Bernie's wife, Wanda McCullough. In 2012, she played First Lady Katherine Johnson on First Family and was nominated for another NAACP Image Award.
Kellita also starred as Lt. Roberta Warren in the SyFy network's original series Z Nation from 2014 to 2018. She made history as the first Black actress to lead a TV series on the network. She did a cameo as Warren in the SyFy movie Sharknado 3: Oh Hell No!
The Chicago native currently stars with Dorien Wilson (The Parkers) in the comedy series In the Cut, on the Bounce network. Season 5 premieres July 15.
I talked to Kellita about her In the Cut character Cheryl Weaver, working with a comedy legend, her passion for acting, and future projects.
Thanks for the opportunity to interview you, Miss Smith!
Okay. [Laughs.] We're going there, huh?
I'm being respectful! [Laughs.]
I'm not about vanity. Kellita works, darling!
Thank you! I was able to watch Season 4 on bouncetv.com. The season ended with the wedding between Cheryl Bowman and Jay Weaver (Dorien Wilson). What's next for Cheryl and Jay when Season 5 premieres?
All I can tell you is, in the middle of shooting Season 5, we were picked up for Season 6. Whatever we were doing, they [Bounce] liked it. Season 6 starts in October. What we've shot so far is Cheryl and Jay returning from their luxurious honeymoon. The story goes on with how they learn to cohabitate and transition into living together. You have two strong, Black entrepreneurs who choose to find love and make it about them and whatever issues that come into their lives.
Right.
They are morphing into a team. They are now a couple who are willing to go through the ups and downs together.
Will Jay and Cheryl's businesses merge as one? Since Cheryl's beauty salon is next door to his barbershop?
Oh, that'll be a problem! We gotta keep that wall up! [Laughs.] I think what they will probably end up doing is going into some type of business together. Their barbershop and beauty salon will remain established and separate. That's not going nowhere. That's their bread and butter!
Have you worked behind the scenes on the show producing or directing?
Oh no, girl. At the time, I was working on two shows, Z Nation and In the Cut. I would do six months of Z Nation, have a month off, then do In the Cut, and resume on Z Nation. Being an actor is plenty. You know how people can be on the computer and have other stuff going on? That's not me. If I'm going to sleep, I focus on sleep! [Laughs.]
You had back-to-back gigs.
Plus, the shows were two different genres. As an actress, my goal is to show that I have range. Don't pigeonhole me into one thing. While comedy allowed me to sustain a living, I got most of my background working in theatrical drama. In this business, you want to be recognized for the ability to accomplish all genres.
I talked to Crystal Fox (The Haves and Have Nots, Big Little Lies), and it's a big deal for Black actresses who are past the age that Hollywood thinks will be successful to get these opportunities.
Well, we no longer look like what Hollywood thinks 50 and over is. I'm 50. If you don't give the actor an opportunity, how do you know what they can or cannot do?
Were you always interested in being an entertainer?
My plan was to be a lawyer. I was raised by the Black Panther Party. I wanted to help brothers who were unjustly incarcerated. I wanted to look back at cases and right the wrongs. I visited the law library — and there's a lot of books. [Laughs.] It was overwhelming, but a marvel at the same time. Lawyers are probably the smartest people on the planet!
I switched gears after a major breakup. The breakup taught me to go after the thing I really wanted. If my ex taught me anything, it's when you believe in your dreams, nothing else matters. Dreams manifest into what you put out. I wanted to be an entertainer. Acting allows me to put out images that shift and morph into images we [Black people] need to see and what other cultures see about us. We are way more than what you read about us and how the media depicts us.
When you started acting, when did you say, "I can do this"?
I did not have that moment. I said, "I love it!" I connected to passion. Once I found that, I was off and running. People said, "Oh my God, you need work." I didn't look at it that way. It takes the shame out of it when, to quote Constantine Stanislavski, "…you fall in love with the art in yourself, and not yourself in the art."
What was it like working with Bernie Mac?
It was awesome! It's like when Phylicia Rashad played opposite Bill Cosby on The Cosby Show. I auditioned for three weeks, and they told me "no" twice! When I got the part of Wanda, I screamed, "What?!" for more than an hour! It was the best feeling ever because I busted my ass for a job like that. Then to have it on the air for five years? The series won an Emmy, NAACP Image, a Peabody, Teen Choice Awards, and more? Bernie was so awesome to work with. It was the best job ever.
Do you keep in touch with co-stars, Dee Dee Davis (Bryanna "Baby Girl" Thomkins), Jeremy Suarez (Jordan Thomkins), and Camille Winbush (Vanessa Thomkins)?
Yes! The children are older, and they're amazing people. We're going to form a production company and produce projects for them and others. I will also produce some things, including a stand-up project called, Conversations Standing Up.
When can we expect that to happen?
Within a year. I've been working on it for a while. Before Bernie died, he asked me to open for him at the MGM Grand in Las Vegas. The invite happened because I used to entertain the extras on the set in between filming. I started out as an extra and I hated it. I don't care what the project is, or what my status is, I always hang with the extras. I tell them this is a learning experience and an appreciation as to where we are. They are part of what we all are creating.
Season 5 of In the Cut premieres July 15, 9ET/8CT on Bounce TV.
Lisa D. DeNeal
Lisa D. DeNeal, of Gary, IN, is a freelance journalist, editor, and, author. Her latest novel is the romantic comedy, "Extra! Extra! Love!" Other books include, "Dead Lies," "The Panthers Club (with Alethea Pascascio-Gordon) and, "Unflappable (with Carolyn E. Mosby)."