What the hell is going on with Issa and Lawrence? Will Molly finally have a breakthrough in therapy? Will Tasha find out about Lawrence and Issa's hookup? Here's everything and then some that went down on Insecure Season 2, Episode 2, "Hella Questions":
Issa (Issa Rae) admits to Molly (Yvonne Orji) that she and Lawrence (Jay Ellis) had sex, though the two haven't really said anything since hooking up. Issa's beyond unclear as to the status of their relationship, though she's hoping for the best…meanwhile Molly is grossed out to be sitting on the couch filled with love-making juices.
Lawrence tries to work things out by working out, but can't find the words to express how he feels to Issa… via text.
On the other spectrum, Molly is finally making a breakthrough in therapy as she complains about her colleague making more than her. Her therapist makes note that Molly repeatedly says things "should" be falling into place, implying Molly has never thought of how her life could be if things didn't go the way she planned. Molly is confused by the comment and essentially gives her therapist the cold shoulder regarding future sessions.
Kelli (Natasha Rothwell), Issa, and Molly pop up for Amber (Amanda Seales)'s art gallery show and the ladies all learn of Issa and Lawrence's possible get-back-together sex session. Amber lets it slip she and Derrick had their own issues (where he spent half a year in a hotel because of some indiscretion on his end), but she's happy at the thought of Issa and Lawrence possibly getting back together. Kelli tells Issa to move on, going on to accidentally blurt out that Lawrence had been seeing a new woman — Tasha (Dominique Perry).
Molly immediately finds her on Instagram and Issa tries to go the adult route… until she has one of her imaginary rap sessions in the bathroom and her "growth" goes out the window. #PullThatBitchUp
Issa takes a visit to Chad (Neil Brown Jr.)'s house to see Lawrence and is greeted with an amazing lesson in deflecting while sipping on grape drink and complementing her new hair conditioning regimen.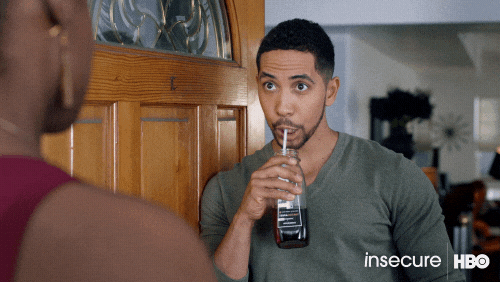 Tasha and Lawrence are watching this Regina Hall slavery show, Due North (it has a name!!), when she casually — but not — invites him to a family function. Lawrence blurts out to Tasha he had sex with his ex but says he's not sure what it means and Tasha tells him to bounce on out. At home, Issa starts Insta-stalking Tasha and at the office, Molly makes her move on the partners by orchestrating a meet up at a hockey game.
Issa and Frieda (Lisa Joyce) make a last-ditch effort at the High School they're attempting to do outreach for by having a chat with the Vice Principal Gaines (A. Russell Andrews). Issa tells him they will have to move on if they can't get students and he promises to work on it while making an insensitive joke about the school's influx of Latino students ("We might have to build a wall and make them pay for it!").
Chad takes Lawrence to an open house for an apartment where Chad rips Lawrence for telling his "new joint" about sexing his ex. Lawrence has some apprehension about moving, but the realtor aka Germy Patty (Kiki Harris) tells him he's got to move quickly since the neighborhood is coming up. 
While at P.S. 41, Freida finds herself unable to wrestle with Principal Gaines' joke, however, her feelings are temporarily pushed to the side when there's an amazing turnout of students for We Got Y'all. That same night, Molly does her best to make a great impression on her seniors by showing up to a hockey game and seemingly making fun and engaging small chat.
At the high school the next day, Frieda and Issa are amazed by the reaction from the students to We Got Y'all, but Frieda's conscious regarding Gaines' treatment of the Latino students has gotten to her. She calls out Issa for turning a blind eye by asking if it would only be a problem if Gaines was white. Issa tells Frieda to back off since she put herself on the line for the school, causing Frieda to walk off. Moments later, Issa's yet again confronted with Gaines' racist jokes. In the office, Molly tries to continue her winning streak with the seniors, however, they completely ignore her. Later that evening, Issa continues her cyber stalking of Tasha and realizes Tasha works at Lawrence's bank. The next morning she drives over, and after imagining she jalapeno popped Tasha in the mouth, she sits in her car waiting to make her move.
Later that evening, Issa continues to cyber stalk Tasha and realizes the bank teller works at Lawrence's bank. The next morning she drives over, and after imagining she jalapeno popped Tasha in the mouth, she sits in her car waiting to make her move.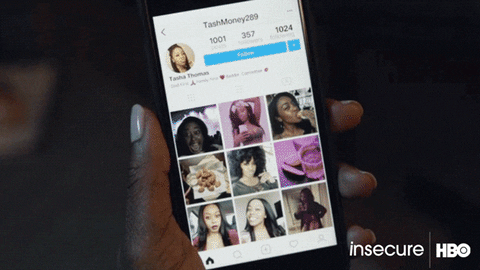 During a walk near work, Lawrence bumps into Molly, who was in the area "meeting" a client (read: scheming to bump into Lawrence). Molly tells him Issa still loves him and is completely torn over what she did. She asks Lawrence if he'd ever take her back at the same time Issa sees Tasha leaving work. Molly calls Issa and breaks the news to her that Lawrence is done with their relationship and plans to move out.

Still at work that evening, Molly talks to her old boss and mentor, Hannah, and offers to help her out with cases at the Chicago office. Hannah readily takes Molly offer, provided Molly is OK with splitting her time between Chicago and L.A.
Lawrence heads over to Tasha's place to apologize for sleeping with Issa, and Tasha brushes it off, saying they were never exclusive. As Lawrence makes his way to leave, Tasha invites him in for dinner. Back at the Dunes, Issa readjusts to life on her own by putting her clothes in Lawrence's old space in the closet and moving her pillow to the center of her bed. She also hits up an online prospect and asks if he "tryna f—k" before shutting out the lights. Damn. 
Catch a new episode of Insecure Season 2 airing Sunday, August 6 at 10:30 PM ET on HBO.
Afiya Augustine
Afiya Augustine is an eternal student and dreamer from Brooklyn, NY. On the occasion she's not trolling for her blerdy pleasure, she's a freelance writer and editor. She's also a crafter and jewelry designer for her online shop, Pretty Poet Ink. In Afiya's spare time, she enjoys listening to music, live-tweeting TV shows, and writing on her blog, Alja the Writer, Follow her on Twitter at @LaJoliePoeta and get to know her.