Afiya Augustine
Afiya Augustine is an eternal student and dreamer from Brooklyn,…
Are Tasha and Lawrence finally going to be a real thing? Is Issa really down to smash new dudes, and what's going to happen with Molly and work? Here's everything that went down on Insecure Season 2, Episode 3, "Hella Open":
Issa (Issa Rae) meets up with one of her online dating app profiles played by Luke James (hey, Luke… We see you, boo!). They try to get it on, but while Luke is ready to get down, Issa's still hung up on this how-to-be-single post-Lawrence (Jay Ellis) situation and their hot night of sex is dampened immediately.
Issa heads to work and as she does, she takes a look at the charred wall from the winedown. On her way out, she gets a flier from the new management about a noise violation and bumps into her neighbor, Eddie, who tells her the party was great.
Over at P.S. 41, Issa is confronted by Frieda (Lisa Joyce), who points out to Issa that all the students coming in for We Got Y'all tutorings are black. Frieda tries to encourage the students to bring some of the Hispanic students and makes note of Vice Principal Gaines (A. Russell Andrews)'s agenda to alienate the Latino population. Issa brushes it off and tells Frieda to "take the W."
While hanging with some coworkers at Meridian, Lawrence learns of the company "startup Saturdays" mixers. He says it's the same weekend as Tasha's family barbeque, but he'll come another time.
Issa heads over to Molly (Yvonne Orji)'s place to hang and learns Molly has put therapy on hold. Issa tries to enlist her help in "ho-ing" so she can get over Lawrence by getting under a couple dudes. Molly, who is faux offended by the notion, signs up for the training sesh and she takes her homegirl out to the club to find a dude for Issa to just have some fun with.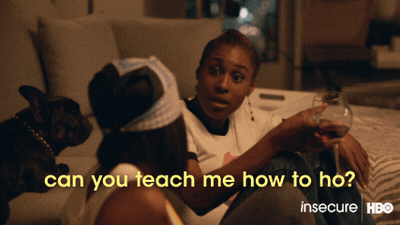 At the club, however, Issa strikes out big time while Molly (who's been playing wing-woman) inadvertently gets one man(push through, Sterling K. Brown!)'s attention. After asking for her number, Molly hands over her business card and keeps it moving.
Having made up with Tasha (Dominique Perry), Lawrence tries to get back into the swing of things, but quickly realizes their "chill," "no pressure" situation is starting to feel a little bit serious — especially when Tasha reminds him about her family barbeque.
After a failed night of ho-ing, Issa strikes out yet again when she can't get any love from her vibrator 'cause the batteries are dead.
In the office, Molly complains about being stretched thin at work, while at We Got Y'all, Frieda and Issa are applauded for the attendance of their students. Frieda hints at the inequality, but Issa tries to rope her into the praise. Frieda is obviously uncomfortable about the situation, but Issa tries to keep the positivity among the ladies.
Molly heads out on a date with Lionel aka Sterling, and he openly tells her he enjoys her company and would like to have a life where he was just married and happy. Molly drinks at the notion, but is obviously not all-the-way in agreeance.
Tasked with bringing lawn furniture to the family gathering, Lawrence is hit with all kinds of welcoming jabs from the various members of Tasha's family. Suddenly, Lawrence gets a text from his co-worker Brooke about the mixer and takes off, telling Tasha he has a "work thing" to go to.
While shopping for cupcakes, Molly bumps into a couple she knows while Issa continues to stare at the wall from the winedown party nights prior. She attempts to paint over it but also makes a crucial mistake — ie. taking the plastic off the roller (really, girl?!). In running to the sink, she sees Eddie hanging by the pool.
Molly calls Issa and tells her about her date, saying everything was great but something was off because he felt like a dude just "checking off boxes" on a list. She mentions bumping into Dro and his wife and says the pair were so carefree. Issa tells Molly that Lionel sounds just like her and Molly is taken aback by the gesture.
Issa continues to check on her neighbor and gets the bright idea to choose him to lose her ho-ginity. Under the pretense of returning his iPhone charger, Issa goes downstairs and awkwardly starts up a conversation with him.
At some point, Lawrence gets a text from Tasha, and he tells her he's still stuck at the work event, but he'll be making his way back shortly. At the work event, Lawrence gets hit on by the waitress and returns a flirtatious look at her. His co-workers ask whether or not he's got a girlfriend, but he coyly says he's dating. When the waitress tells him it's bad he's not staying long, he decides to stay a bit longer with another round of drinks.
With a little bit of courage (and a bathroom rap session), Issa goes full steam ahead — with head-butting, awkward sex positions, and her head repeatedly hitting the headboard.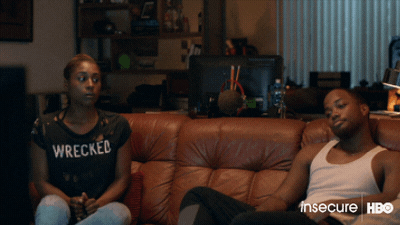 It's been several hours since he last spoke with Tasha, and Lawrence gets a call from the now-irate banker. He tries to tell her he was caught up with work, but she fires back by saying she was embarrassed by his actions and if he didn't want to meet her family, he should've just said so. Lawrence then blurts out he's not looking for a relationship, and Tasha calls him a "f—k n-gga." In fact, she adds he's not just a "f—k n-gga, but he's a worse — he's a f—k n-gga who thinks he's a good dude."
Issa tries to sneak out post-romp to head back home. On her way out, she sees her neighbor's iPhone charger and realizes he knew he didn't leave it upstairs all along. Issa then hops back on his dating app and makes a date with a new dude.
After all of that, I've got one question: Who's #TeamLawrence now?

Catch a new episode of Insecure Season 2 airing Sunday, August 13 at 10:30 PM ET on HBO.
Afiya Augustine
Afiya Augustine is an eternal student and dreamer from Brooklyn, NY. On the occasion she's not trolling for her blerdy pleasure, she's a freelance writer and editor. She's also a crafter and jewelry designer for her online shop, Pretty Poet Ink. In Afiya's spare time, she enjoys listening to music, live-tweeting TV shows, and writing on her blog, Alja the Writer, Follow her on Twitter at @LaJoliePoeta and get to know her.