TV series Single Parents centers on a divorced dad in his thirties who is so focused on being a good dad that he has lost sight of who he is as a person outside of the context of parenting his daughter.
When other parents see how involved he is with the PTA and all-around excessive over-parenting, a group of adults who are also venturing through single parenthood band together to help him embrace his own identity again.
On Single Parents, Kimrie Lewis (Scandal, Peeples) plays Poppy Banks, a single Black mom raising a 10-year-old son, Rory Banks (Devin Trey Campbell). While we've seen the single Black mom character before on television, what sets Poppy Banks apart is that she is not stuck or defined by her single parenthood. She's a successful businesswoman who has a full life. The daughter of a mom who is a news executive producer and a dad with industry experience as a news sound engineer and cameraman, Lewis was ever mindful to not allow her role as a single Black mom to be portrayed stereotypically. Lewis makes it clear that it is important for talent, especially talent that comes from demographics that are traditionally marginalized in Hollywood, to not be afraid to write and create their own content.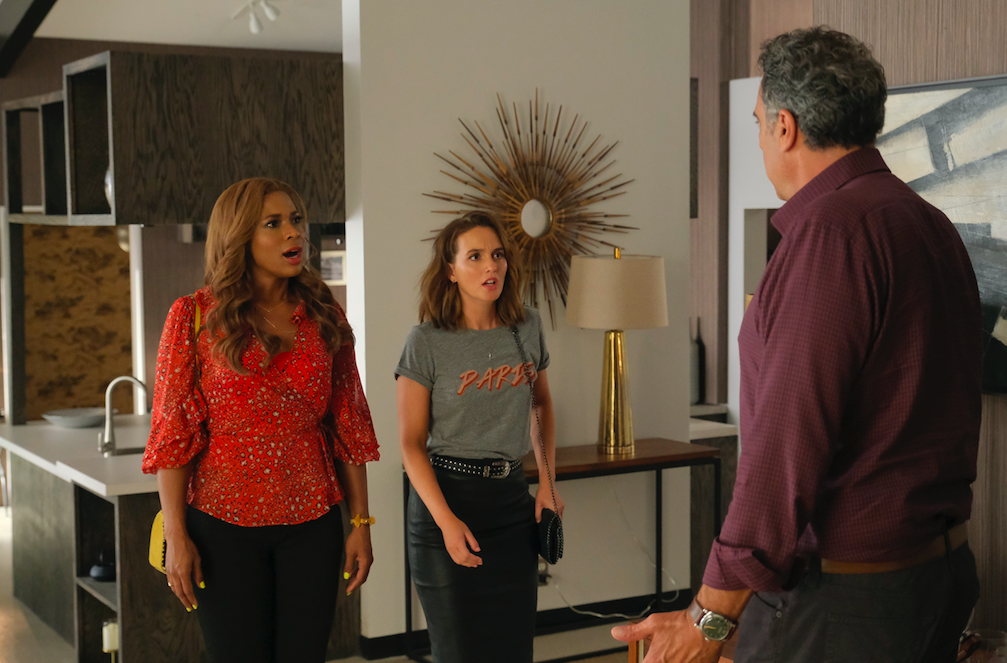 BGN recently had the opportunity to chat with Lewis about her role on the show, her reverence for Black single moms, and how this show has shaped and reinforced her ideals about parenting. Lewis also gives great advice to any actor or creative who may be waiting for their big break or opportunity.
As a result of playing the role of a single Black mom on the show, have you discovered a newfound respect for single moms?
I have always had just the utmost respect for single moms. I was raised by a single mom, and she's always been my hero. She worked hard taking care of me and my brother. She made sure that we had a great education, extracurricular activities and all that good stuff. So, I know that I want to be a mom just like her. However, I do understand that playing a mom on television is definitely different from being a mom in real life. It definitely has given me a greater appreciation for what moms go through.
There are so many stereotypes about Black womanhood and single Black motherhood. How deliberate are you about not allowing Poppy Banks to become a caricature or stereotype?
I am very deliberate about the way that Poppy is portrayed. I am actively aware of stereotypes concerning Black women, specifically single Black women and single Black moms. She is single, but that doesn't mean that she doesn't have a life. A lot of times when you see Black women on TV, and they're single moms, we're always missing like a sock or two. It was always something wrong with us, but we can be put more put together than that. I know my mom was put together. Several single moms that are my friends are as well, who are very much living their lives. We have to be professional at our work setting. What I love about Poppy is that she's an entrepreneur. She owns a business first and foremost. She's a mom, but she has a life to live. I've spoken up and said, "Hey, you know, this is not a good look for us and here's why."
That's great. So, they give you that space to give feedback? What a gift.
Our writer's room is very good about me saying, "Hey, you know, this doesn't feel quite right." Or, "I don't feel comfortable saying that. Maybe let's try this as another option." Or, "I see what you are going for here. How about we lean in more on this side of that joke so that we don't raise those stereotypes or play into what might offend somebody?"
What would you like for viewers to gain from watching the character Poppy Banks?
I want viewers to look at her and understand that she's not perfect. She puts motherhood first. With everything that she has going on, she always makes sure that she's there for her son. I think that's a true reflection of what so many single moms and single dads have to do on an everyday basis. They try to live their lives, but at the end of the day, they're going to be there for the kids no matter what. So, I think that's what I really want folks to lean into with Poppy.
What advice or encouragement would you offer single moms or moms in general?
Keep wine on deck. There's so many pressures that we have: societal pressures, financial pressures, relationship pressures. At the end of the day we have to take care of ourselves so that we can be there and show up for others. So, get your wine on. If you are not a wine drinker, get some sparkling water. Just put your feet up every now and then. Just take a minute to read and meditate. I'm a big, big advocate for meditation. It changed my life. I'm an advocate of self-care.
What other projects are you currently working on?
Thank you for asking. I am a writer and director as well. I just directed a short film. It's called, He Was Asking For It, and we're in post-production now. What I love about that particular production is that it was very important to me to hire folks of color on the show. Even the producers are women of color, and more than 70% of the crew were women. I can't wait to share this with you all. We have some power-hitters who are in the cast. It's a dark comedy that will be out later this coming year. Also, I write for a Kevin Hart platform called Laugh Out Loud — that's a comedy. The show is called The Donors, and people can watch it now.
How did you break into the writer's room?
I broke into the writer's room because I started with stand-up comedy eight years ago. I've always been a big believer and supporter of education, furthering your education, and learning new stuff. I went to NYU, but I took some writing classes at UCLA Extension.
As a Black woman writer in the room, even though there are not a lot of us in the room, you got to learn not to be intimidated and that you are just as good as anyone else. I strongly encourage all actors, especially Black actors to be writing their own stuff. We can't afford to just sit around and wait for the phone to ring or wait for the perfect role to come. The shortcut is to write your own stuff, and put it out there.
Single Parents airs weekly on Wednesdays on ABC.
Lynnette Nicholas
Lynnette Nicholas is a NYC based writer, freelance journalist and voice actress. She writes about: women, black women, parenting, faith and pop culture. You can find her on Twitter posting inspirational content for women and young girls (@truelylynnette), or Instagramming (@lynnettenicholas).