Guest Blogger
BGN works to feature strong, unique content from writers who…
On the latest Once Upon a Time:
Why, oh why, do people keep doubting Hook's status change from bloodthirsty pirate to hero? Don't get me wrong, I'm all in for a ladies night out, especially when I get to experience drunk Snow White. That was brilliant. As great as she was at darts while drunk, I'm positive she would be amazing at beer pong.
Snow White aside, it was frustrating to see everyone give up on Killian so quickly. They never gave up on Regina, they never gave up on Emma, and they for sure didn't give up on the Evil Queen. Come on now, since when is Hook worse than the Evil Queen? Also, if Kilian really left, don't you think he would take all his stuff, box of trinkets and magic shells included?
I have to hand it to Gideon, he is one smart cookie. Not only did he manage to split up Captain Swan, but he got her to cry as well, leaving him to capture her tears. In case you forgot, because I did and I had to do some research, a tear of lost love can trap a person. We saw an example of this when Merlin was a tree. It was very upsetting that no one thought to mention, maybe Gideon was behind Killian leaving. I do think it was a very smart play on Gideon's behalf to get Emma to kill the Black Fairy. That might actually work.
Meanwhile Ariel and Jasmine are quickly becoming bff's and somewhere my 12-year-old self is doing cartwheels in excitement. Jasmine's backstory is proving her to be the kick butt princess I knew she was. Scared and emotionally unavailable as she seemed to be, her actions speak for themselves. She tried to do what was right when it came to her kingdom, but was bested by Jafar many times. It was nice to see her put love on the backburner while she tried to figure out her responsibilities. Having Killian there as a, sort of, confidant for Jasmine and Aladdin was ironic, if not spot on. Kilian, while helping Jasmine and Aladdin, as kept his mind on Emma and a way to get back to her. It's love in the truest sense. Although Ariel was a little out of place, her knick-knack's and mermaid magic came in handy when her friends needed her the most. A true nod to The Little Mermaid.
Jasmine and Aladdin finally shared a kiss and, apparently, it was worth the wait. It broke a few curses. Aladdin is free of his genie prison and Agrabah is free of its entrapment. Now Jasmine can be the princess she always wanted to be, with her true love at her side. It's all so magical! I am glad, she bested Jafar on her own. There was no need to have it be otherwise. If there is one thing Once Upon a Time has showed us, it's the women in this show don't need a man to get things done.
The second half of the season is bent on proving to us just what true love can do. I'm taking the bait and ready for love to prevail, especially in the case of Killian and Emma. I do wish they would break Snow and David's curse already. Till next time, which looks to be a lot of fun. If you havn't, catch up with Once Upon a Time only on ABC.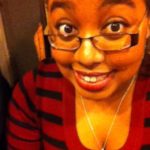 Catalina Combs is an aspiring film critic from California. She loves reading, writing, film, baking, music, drawing, traveling, Disney, and playing soccer. Her life usually revolves around all of these and her family. The oldest of six, Catalina tries to set a good example for her siblings. She graduated from Santa Clara University in 2010 with a BA in English Creative Writing and is pursuing an MA in Film. I also blog on WordPress and contribute to the website Examiner.com. Twitter- @tiggercraze | Facebook- Cat Combs | Instagram: @tiggercraze
Guest Blogger
BGN works to feature strong, unique content from writers who speak to our niche. If you are interested in having your work highlighted contact jamie@blackgirlnerds.com to be featured as a guest blogger on the site.