Jamie Broadnax
Jamie Broadnax is the creator of the online publication and…
If you're a TV geek, you may have heard of Jodie Turner-Smith — she's starred in such episodic series as Nightflyers, The Last Ship, and True Blood.
Now Turner-Smith will appear in her first leading role in a feature film, the upcoming action-adventure drama Queen & Slim. She plays Queen, a single attorney living in Cleveland who decides to go on a date with Costco employee Slim, played by Daniel Kaluuya.
The Jamaican-born actor first moved to Los Angeles as a model, landing campaigns like Levi's and Fenty Beauty. In her very first feature, she was cast as Beverly in the 2017 film Lemon directed by Janicza Bravo. You can currently catch her as Daisy in the Cinemax series Jett, and she will play Grace Jones in the upcoming Marvin Gaye biopic Sexual Healing as well as Colin Ferrell's wife in After Yang. 
During the set visit for the Queen & Slim filmed in New Orleans, Turner-Smith tells us the story of how Queen meets Slim. It all begins with Tinder.
How exactly does an attorney go on a date with a retail clerk? 
I mean, Tinder, you know what I mean? Queen goes on this date as this moment of, "I just need to get out, and I need to have this connection with somebody." She's not close to anyone so it wasn't like having this moment of she's coming out of losing a case. [She's] just in this really negative head space and wanting to reach out to someone. So, she turns to Tinder. It's like one of those things — expectation vs. reality, you know?
What drew you to this film?
When the press release came out about the project, I emailed my team. I remember I read the Deadline article and I forwarded it to my team. I was like, "What is this project? I want to know what's going on here?" This concept of it being a Black Bonnie and Clyde, I was like, "Hi." It was that one that everybody knew about, and we were all trying to be in the mix. So I think that was really it for me. Lena and Daniel and the story just seemed so interesting. Then I read the script, and I was like, "What's up with this?"
On paper, it was such a fascinating project. This is a really interesting and complex woman who is in a lot of pain as well, which I thought was so interesting. To sort of pivot into the situation the way that she does, being so familiar with the injustice of the criminal justice system and being at this low already, is what kind of spins her out. Because in Ohio, capital punishment is still very much in effect. Shooting or harming a police officer or killing a police officer while he is in the line of duty is a capital crime. Unless you can prove mitigating circumstances, that is an automatic death penalty. So you know, it is really a desperate moment for her. That just spins her out.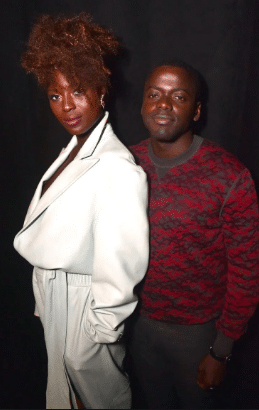 So Lena [Waithe] said you were more Malcolm and Slim was more Martin Luther King. Could you elaborate on that a little bit?
Yes. That's so true. You know, she's never said that to me, but now that you say that, I'm like yeah, absolutely. Queen is more like the militant. She has structured her life around this fight, seeing what is happening to Black men in prison, Black men and Black women. The criminal justice system is really structured [so that] a lot of times it's about people not having access to good attorneys or having the money to navigate the system. Essentially, that is what it's turned into in a lot of ways in America. Wealth helps you navigate the system. How many brothers and sisters are in prison just because they can't afford bail? How often are our people forced to take a plea deal? 
In my mind, Queen is more of an Angela Davis kind of character, you know what I mean? And Slim is more peaceful. So in that sense, there's a very broad parallel in that way. But we have two different methods of dealing with it. I [my character] have used my education to get myself to this place where I feel like I can fight the system. I can speak out against the system. I can speak truth to power. Meanwhile, his methods are a little bit more subdued and different. 
Did you meet Daniel Kaluuya before filming?
I did not, no. The first time I met him was in the chemistry read.  I've seen him in Black Mirror, and obviously Get Out. I saw that four times in the theaters. I was a huge fan of this guy already.
What did you guys talk about? What was that conversation?
I think that there's an element of claustrophobia to it which kind of makes it very easy — when you're trapped in a situation. I think of it as these two people end up getting handcuffed together, do you know what I mean? When you back an animal into a corner, you're going to see how it's feeling. These two people essentially get trapped in this car together. It's like you want to almost kill the other person because this is not the way you thought this was going to go. At the same time, you need each other, so it's very easy to put that energy forward and go through those emotions.
It's so dope how this is a film where Black women are all over this project. How important is that? 
It is extremely important. I saw that this was going to be directed by a woman, and by a Black woman. That was another thing that made this all the more interesting to me. Not only those above the line or behind the camera, but also hair and makeup. That's another thing that has been so great about this project — working with a Black hairstylist. All of these things, not just female directors, or Black female directors, but also a Black crew and a Black glam squad. Getting the opportunity to do that with the people who are involved with this — it feels real Black, and it feels real good.
You look so good by the way.
Thank you. See I was going for a Denzel Washington as a Malcolm X hair situation — that's what I was going for. Thank you!
This interview was edited and condensed for clarity.
Here is a first look at the trailer below:
Queen & Slim is set for release on Thanksgiving weekend, November 27, 2019.
Jamie Broadnax
Jamie Broadnax is the creator of the online publication and multimedia space for Black women called Black Girl Nerds. Jamie has appeared on MSNBC's The Melissa Harris-Perry Show and The Grio's Top 100. Her Twitter personality has been recognized by Shonda Rhimes as one of her favorites to follow. She is a member of the Critics Choice Association and executive producer of the Black Girl Nerds Podcast.