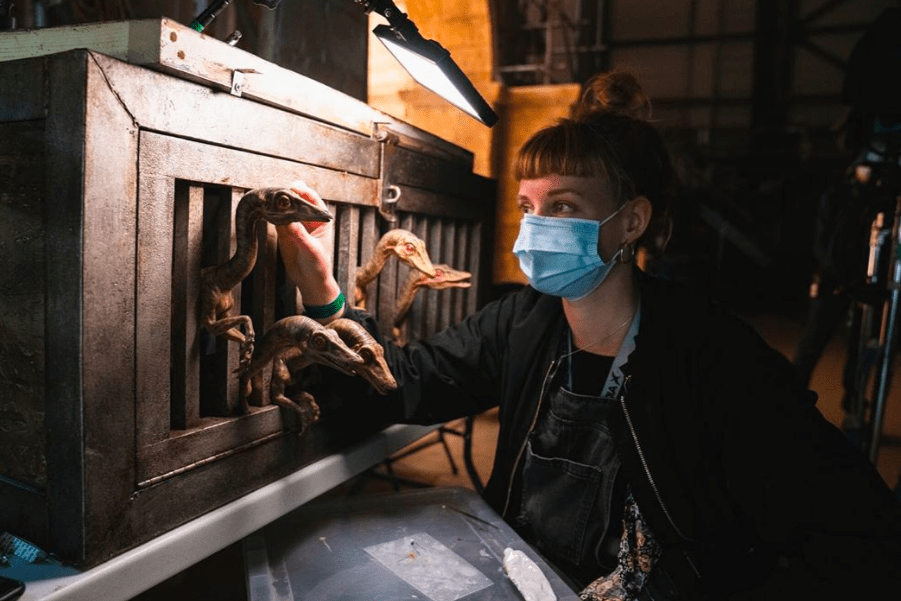 A new image relating to Jurassic World: Dominion has been revealed, along with revelations on the safety details surrounding the restart of production, given it was paused just a month ago.
According to The New York Times, the protocols are detailed in a 107-page safety manual that covers "everything from the infrared temperature scanners the cast and crew encounter upon arrival to the vacuum-sealed meals provided by masked workers standing behind plastic partitions in the takeout-only cafeteria."
The cast/crew has been separated into construction and the Green Zone. The construction crew includes props that don't need to be seen when shooting and those who craft them. Green Zone refers to those essential film set workers such as the stars Chris Pratt and film crew such as the camera operators and sound department.
"Those working inside the Green Zone receive COVID-19 tests three times a week, and the sets are fogged with an antiviral mist before each use. The chairs that the actors sit in between takes are surrounded by orange cones to remind people to remain socially distant. When there is more lag time during a day, the cast can retire to a special Green Zone 'living room,' complete with couches, blankets, lamps, and plants. There are numerous sinks, and each time someone leaves or enters the Green Zone, he or she must wash hands. The costs associated with the safety protocols total roughly $9 million." according to The New York Times.
Fans of the franchise can look forward to seeing the movie on June 11, 2021. Fans of Chris Pratt can also look forward to seeing him, as he has three upcoming movies outside of Jurassic World: Dominion according to IMDB: Cowboy Ninja Viking, Guardians of the Galaxy Vol. 3, and The Tomorrow War. Cowboy Ninja Viking is an action-adventure comedy directed by Michelle MacLaren and screenwriter Ryan Engle. Guardians of the Galaxy Vol. 3 is a followup to the previous Guardians film, seeing the cast and crew reprise their roles. Lastly, The Tomorrow War is a Sci-fi/action-adventure story written by Zach Dean and directed by Chris McKay starring Yvonne Stahvoski and Betty Gilpin starring alongside Pratt.
Source: EW