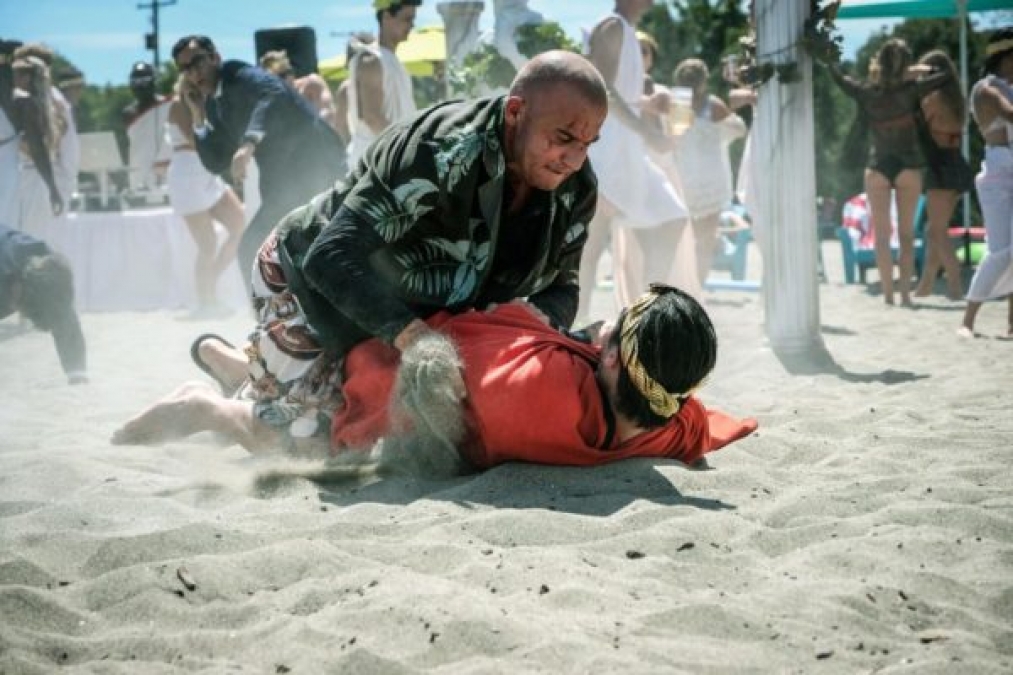 I have to admit, when I sat down to watch the season premiere of Legends of Tomorrow, I was already on guard. I knew they were going to be cutting somebody soon. And then the team spent half an episode with their hands tied by Rip! For that first half of this premiere, I sat there like a kid pissed off at his parents for taking away his favorite toys. Yes, I was in full pout until the second half.
Let's take a closer look at the episode.
We open with a rehash of last season and all that action to find that Legends have lost their star shine. Sara, the bad ass assassin, works for a douche of a manager at a big box store. The guy's idiotic nagging has you longing for the old Sara, who would have thrown a knife or a throat punch to shut the guy down. She dreams it, but that's it. Meanwhile, Ray is working for a short-sighted millennial who scoffs at the man's groundbreaking research to tell the great scientist to stay in his lane. Nate isn't doing any better, trying to compete (and losing) to Wally West over the title of the city's hero.
I have to say showrunners, y'all were wrong for playing with our emotions and having a girl fitting the physique and hair type of Amaya waiting for him. The rejection that must have rippled through all her fans, including me was uncalled for. And then we find that they broke up and she is in the 1940s??? I know that this is Legends of Tomorrow and they time travel all the time. However, the team no longer has their ship and then there's the info we know from the DC story world that Amaya is the great-grandmother of Mari McCabe or the modern-day Vixen. She has to birth Mari's mom to make that happen. If Nate is correct, she is doing just that.
Which means our beloved Legend named Vixen is gone too. I'll pause here for necessary mourning activities.
Okay, the episode moves on. Rip is ripping the group a new one once they reassemble and nearly get killed coming into his new headquarters to inform of an anomaly Rory found. Yes, dear Rory, the only one of the Legends who seems to be living his Oprah-prescribed "best life" on a beach, on an island somewhere. He is genuinely upset to find Julius Caesar, prompting a call to the group as he secures the man.
The rest of the episode wants to run like a regular Legends caper, but with the group still restricted like a bunch of grounded teenagers by "daddy" Rip, there isn't a whole lot that they can get away with. Then we get the scene where Jax and Professor Stein talk about leaving and things are even more depressing. New Furer Rip was not near as problematic and hurtful as Victor Garber playing Professor Stein and telling Jax (Franz Drameh) that they can no longer be half of Firestorm. I knew it but was still shocked. This news came well after the show revealed that Amaya had broken up with Nate and went back to the 1940s.
Le Sigh. Where was I?
Oh yeah. So the crew steals back the Waverider and get to work in helping send Ceasar and his boys back. Of course, there is a kink. Ceasar reads Nate's history book to find out what happened to him. He then mounts up like Mario van Peebles in the 1990s black Western film Posse to go back and give Brutus and the rest what they deserve. This is the type of twist Legends of Tomorrow is known for. Seeing it in the second half helped restore my bad mood with the show. Just a little though.
So once history is corrected, the real news is not the lecture from Daddy Rip that we all knew was coming. It was the flashback to 1942! In Zambesi, my favorite Legend strolls out of a hut that has become surrounded by poachers. Using her best "you don't want none of this" voice, she tells the armed men that the area is now under her protection and they need to leave. Of course, the poachers overstay their welcome by drawing weapons and charging. Of course, our Maya calls on her animal magic to mop the brush with their bodies.
I have never been so proud of our girl.
So what next? I think we all need to have a serious talk with the CW about the screen-time our favorite black superheroes are LACKING this week. I hope this is not a trend. The story was ok, but Legends has had better premieres. I just see too many problems shaping up if the show continues on this road.
Alright, CW and Legends of Tomorrow showrunners. We are watching you.
Until next week, blerds…
Jonita Davis loves, reads, studies, and writes about comics, books, TV, culture, and more. You can usually find her in a corner somewhere, dragging a pen across paper in an effort to make sense of the world. 
Guest Blogger
BGN works to feature strong, unique content from writers who speak to our niche. If you are interested in having your work highlighted contact jamie@blackgirlnerds.com to be featured as a guest blogger on the site.