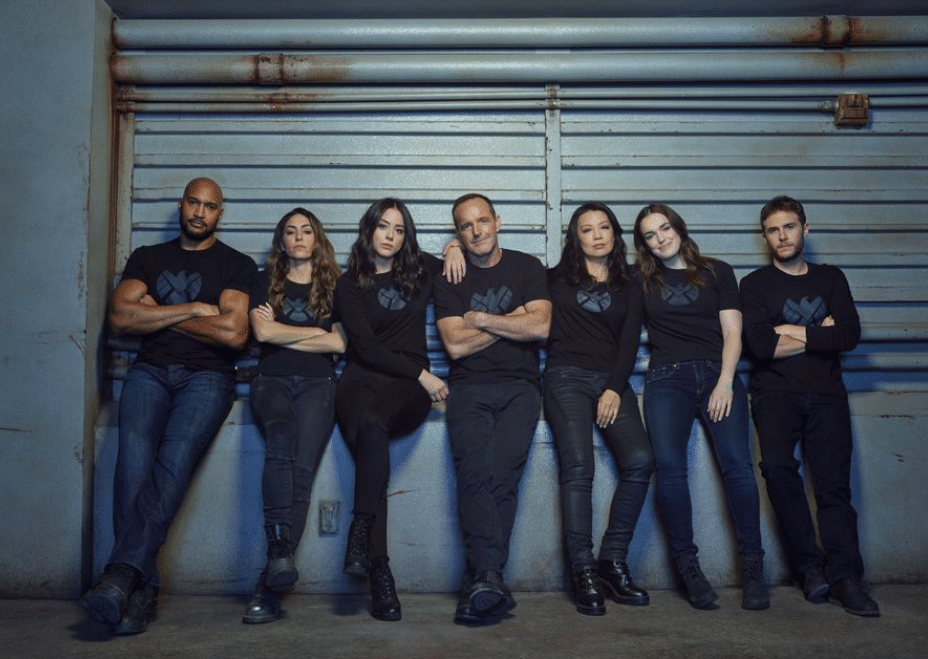 During the Saturday arena panel of WonderCon,
Marvel's Agents of Shield
took the stage.
With Jeph Loeb as moderator, the panelists included: Clark Gregg (Phil Coulson), Elizabeth Henstridge (Jemma Simmons), Iain De Caestecker (Leo Fitz), Natalia Cordova-Buckley (Yo-Yo), Henry Simmons (Mack), Jeff Ward (Deke Shaw), Jed Whedon (Creator), Maurissa Tancharoen (Creator), and Jeffrey Bell (Executive Producer).
The panel started with a quick snippet of everyone saying May. Of course, there is a character by that name, but that's not what was being talked about. Jeph announced, for the first time ever that Season 6 of Marvel's Agents of Shield will return on Friday, May 10. Thunderous applause took over the room. Jeph was excited to be on stage and excited to back with the show for season 6. He also announced that Marvel's Agents of Shield is the longest lasting show that Marvel Television has ever done.
During a special moment on stage, Jeph took a moment to pay special tribute to Stan Lee, who as you know passed away November 2018. One of the questions asked of the panelists was what their favorite memory of Stan was. Elizabeth mentioned her train scene with Stan Lee during season 1 episode 13 of the season. Jeph mentioned the fact that Stan even knew who he was after meeting him once, then 20 years later. Stan Lee will continue to be missed very much.
After that, Jeph mentioned that it was Clark's birthday. The entire arena, without delay, sang happy birthday. A fun moment to be sure. Clark then chimed in saying, "That was great. Can someone tell me what song that was?" He was poking fun at the fact that it was not in unison. Jeph then asked Clark if he had a birthday wish. We all knew where this was going. A clip of some sort to be sure. After a bit of witty banter by Clark and Jeff Ward, who is hilarious by the way — Jeph agreed to show us the entire first episode. Clark announced that he directed the pilot episode of season 6 and was excited to share it. Roll tape!
The episode was awesome and we get to see our heroes back in action. Without spoiling anything, let's just say, the drama is there. There are so many revelations. Make sure you all tune in on May 10th because if you watched the ending of last season, you definitely have questions that you want to be answered. Everyone on the screen looked good too. But honestly, when does Agent Mackenzie look bad? Rhetorical question. He doesn't. The episode is definitely female empowering and the crowd was loving it.
After the screening, audience questions were asked. The first question was about their fondest memory:
Creator Maurissa Tancharoen kicked things off by saying, "This is the first show together with Jed. It was like our first child. We were very precious about it. We started a family on screen and then we started our own family off screen."
Elizabeth: "Any scene with Iain. The first time I walked on set when we shot the pilot was a surreal experience.
Natalia: "I've never been on a show with this kind of fandom. It's really special to be a part of something with such an external family."
Jeffrey: "At the end of season 1, the very last shot of the season with Clark carving in the wall, all the other actors were wrapped and it was amazing to see them all come back and watch this final scene."
Clark: "I can't think of anyone else who got the call, you are gonna have a lot of fun in the Avengers…until you don't. #FU, just kidding, #CoulsonLives. Boom 9 years later. The fans are still the greatest thing."
Henry: "My first day there were so many people, so many names that I got to know. Then I graduated and got to do my first scene with Iain, which I loved. I can't say it's one scene or one episode because it just keeps getting better and better. The wonderful experiences keep outmatching themselves."
Jed: "The 100th episode was super gratifying to watch. The viewers wanted to see FitzSimmons get married, so we give the people what they want. We shot on location with this magical looking tree and when Elizabeth came out in the wedding dress, everyone gasped."
Jeff: "Well when I got to be a series regular. The first day during my scene, everyone was laughing and we couldn't get through a take. We had just met each other, so I thought what a fun group of people to work with, this is going to be great. Then I got the call to be a series regular.

To wrap things up an audience member asked about the rumor going around that Marvel's Agents of Shield would end after Season 7. Jeph said that they are not ending. It looks like we can look forward to at least three more seasons of Marvel's Agents of Shield. Tune in on May 10th for the premiere of season 6.