On the set visit of
Annabelle Comes Home
, BGN got a chance to chat with the new leading ladies in the Conjuring Universe.
The new film comes in as the third installment of the Annabelle story and takes place after Ed and Lorraine Warren place Annabelle in their vault of possessed items. One night, horror strikes the Warrens as Annabelle awakens all the possessed objects and sets their sights on Ed and Lorraine's 10-year-old daughter Judy and two teenage friends.
The three young ladies in this film are all in it together. In the new film, Mckenna Grace plays Judy Warren, Madison Iseman plays her babysitter Mary Ellen, and Katie Sarife plays Mary Ellen's best friend Daniella. The three of them equally have their share of horror in Annabelle Comes Home.
You may know Mckenna from some awesome movies and TV shows. The latest movie is Captain Marvel, where she plays a young version of the Captain herself. The latest TV show was Chilling Adventures of Sabrina, where she plays a young version of Sabrina. This girl is on fire — and only 12 years old. Something is in the water these days, because these tweens/teens are killing the game. Mckenna spoke with BGN on her character.
Mckenna Grace: [Judy] is very kind. She knows a lot about paranormal stuff because she's Ed and Lorraine's daughter, which is pretty cool! Madison — [who plays] my babysitter — [and Judy] have a really good relationship. They're kind of like sisters to each other. Well, Judy feels like Mary Ellen is a sister to her. She feels a lot more comfortable around Mary Ellen. She feels more safe and happy. She can have more fun around her.
Madison Iseman came to the Annabelle world having done a different version of scary stories. She can be seen in Goosebumps 2: Haunted Halloween and Jumanji: Welcome to the Jungle. She told BGN about her character in Annabelle:
Madison Iseman: Mary Ellen is the babysitter of Judy Warren. She's this almost perfect, idealistic girl. She's very pure. She has her whole life planned out in front of her. She's very put together. When everything goes wrong, her objective is always making sure Judy is taken care of. Mary Ellen is very close with the Warrens, so she feels a huge responsibility, especially once everything goes array. She takes [on] a huge responsibility when her friend comes over as well. She takes on the burden of everyone else, in a sense. She's a babysitter and caretaker. She's very close with the Warrens, and she's been babysitting Judy forever. Judy trusts Mary Ellen a lot and uses her to lean on. Mary Ellen is also this pure, spiritual person, so there's that sense of it, too, especially when all the demonic stuff comes to play. She's the kind of girl who's shut off to everything, in a sense. Like, "If I don't talk about it, it doesn't exist," in her mind. So, when things start happening, she doesn't really want to believe they're actually happening in the first place.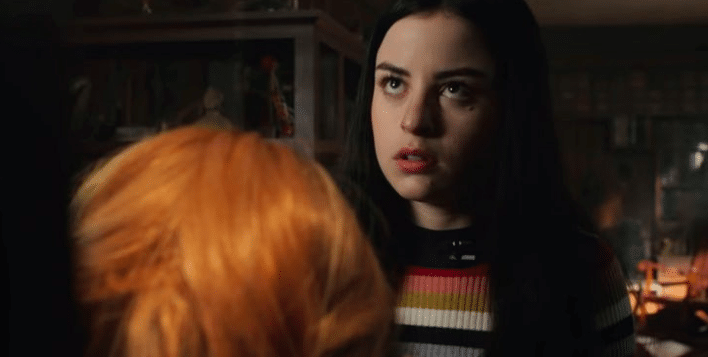 Katie Sarife will always be known as Marie from that meta-musical 200th episode of Supernatural, "Fan Fiction." (That episode is genius, and we loved every minute of it.) To others, she may be known for her role in Teen Spirit, an ABC Family Original Movie. But who can top Supernatural? So the demonic and possessed wasn't that far of a leap for her in Annabelle Comes Home. It's no wonder she plays the cool one in the film. She tells us more here:
Katie Sarife: [Daniella] is fun. She's fun loving. She speaks her mind, and she's best friends with Mary Ellen, Madison's character. She's definitely the more outgoing of the two. She pushes Mary Ellen out of her comfort zone. She is really interested in the afterlife because she had an experience with a lost loved one. So that is where that stems from. She's got a lot of heart. She's cool.
A good chunk of this film is all about the ladies. The story is driven by terrifying events shown from various female perspectives. And, the film deals a lot with youth. It has a good balance of fun and absolute horror. Horror films these days sometimes struggle with the combination of terror and fun. We like to be scared, in doses. It seems as if the Conjuring Universe has figured out how to do it in a way that works. BGN looks forward to seeing these ladies in action. Make sure you do, too!
Here is an exclusive sneak peek at a clip called "Barrier of Protection" from the impending film.
Annabelle Comes Home arrives in theaters June 28, 2019.