Our Former First Lady, Michelle Obama, will soon begin promoting her new book Becoming. According to Deadline, her first stop is the late-night show Jimmy Kimmel Live! She will be making an appearance on the show this Thursday, November 15th. Lin-Manuel Miranda, the composer, lyricist, playwright, and rapper, who starred in the Broadway musical Hamilton will also appear on the show this Thursday. Miranda will be promoting the upcoming Disney film Mary Poppins Returns.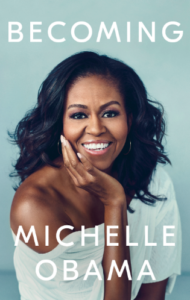 Michelle Obama's book Becoming will be available for purchase worldwide on November 13th. Her book tour will take place in 10 different cities including New York, Chicago, and Boston. The book is a deeply personal memoir. She discusses her childhood in the South Side of Chicago, motherhood, and work. She also gives readers insight on what it was like being the First Lady of the United States.
One topic that Obama discusses in Becoming is Donald Trump's involvement in the promotion of the "birther" conspiracy theory. The birther conspiracy suggested that Barack Obama was not born in the U.S. and claimed that he held the office illegally. Although this was false, there were still repercussions.
Michelle Obama made it clear that Donald Trump's involvement in spreading the lie put her family in danger. She writes in her book that she would never forgive him for doing so.
Lin-Manuel Miranda will discuss his role in the Disney sequel, Mary Poppins Returns. Mary Poppins Returns takes place about 25 years after the events of the 1964 original. Mary Poppins returns to London to visit Michael and Jane Banks, the children of whom she nannied. The children that Poppins once took care of are now adults. Michael is a father to three children and lives in the house on Cherry Tree Lane. After a tragedy occurs, Mary Poppins comes back to visit the Banks family and helps them rediscover the joy that they experienced as children.
Lin-Manuel Miranda and Emily Blunt were cast in February 2016. Miranda will be playing the role of Jack. Jack is a street lamplighter and apprentice. He joins Mary Poppins and the Banks family on their journey of discovery and wonder. Mary Poppins Returns will be Miranda's first major cinematic work.
In an interview with Entertainment Weekly, Miranda describes his experience working on the film. When describing the highlights of the filming processing, he talked about the whimsical and out of the norm experiences involved. He said, "today we're dancing with penguins, tomorrow we're dancing with Meryl Streep, the next day we're biking in front of Buckingham Palace." In order to prep for his role, he listened to Anthony Newley and other 1930s music hall recordings.
Jimmy Kimmel is likely to ask Michelle Obama numerous questions regarding the birther conspiracy, as well as Trump's response. When a reporter asked Trump to respond, he said that he "will never forgive [Barack Obama] for what he did to our United States military. By not funding properly, it was depleted. Everything was old and tired. And I came in and I had to fix it."
Kimmel is likely to ask Lin-Manuel Miranda to talk about his experiences on set, filming in London, and working with huge actors such as Emily Blunt, Angela Lansbury, and Dick Van Dyke (Bert, Mary Poppins – 1964).
Becoming will be available on November 13th in over 30 languages.
Mary Poppins Returns hits theaters this Holiday season on December 19th.