Carolyn Hinds
Carolyn is an aspiring film critic, Bajan nerd living in…
"Find Your Voice" is the newest trailer for Pixar's Coco, the story of Miguel, a boy who despite the family rule of "'NO MUSIC", wants to do nothing else but play music.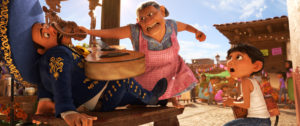 This Thanksgiving, journey with Miguel through the Land of the Dead, as he seeks to fulfill his mission of finding his Great Great Grandpapa Ernesto. With the aid of his ancestors, and new friends, Miguel finds more than he could hope for.
Psst, see if you can spot Pepita, Coco's own Alebrije.
Like COCO on Facebook: https://www.facebook.com/PixarCoco
Follow COCO on Twitter: https://twitter.com/pixarcoco
Instagram: https://www.instagram.com/pixarcoco/
Visit the official COCO website here: http://movies.disney.com/coco
Carolyn is a Bajan nerd living in Toronto, Jane Austen fan. I enjoy speculating on plot theories for my favourite TV shows, such as The Walking Dead, The Expanse, and black-ish. I will do karaoke anytime, anywhere.
Carolyn Hinds
Carolyn is an aspiring film critic, Bajan nerd living in Toronto and an avid Jane Austen fan. I enjoy speculating on plot theories for my favorite TV shows, such as The Walking Dead, The Expanse, and black-ish. Oh, I will do karaoke anytime, anywhere. Follow on Twitter @Carriecnh12