Guest Blogger
BGN works to feature strong, unique content from writers who…
Written by: Megan Maher
On behalf of Nobody's Fool I was invited to take part in a pamper party with a special appearance by the film's star, Tika Sumpter. The practice of self-care and seeking moments of joy are so imperative right now and the pamper party did not disappoint! Nobody's Fool will be Tyler Perry's first R-rated comedy and Tika Sumpter shared with The Hollywood Reporter, that Mr. Perry was different in his approach to this film, "he let loose, he had a good time, and we were free in our characters". The pamper party was extremely reflective of Tyler Perry's approach to his film, we let loose, we had a good time, and we were free to relax!
Nobody's Fool is an upcoming American comedy film written and directed by Tyler Perry. It follows a young woman named Tanya (Tiffany Haddish) who is released from prison and reunites with her sister Danica (Tika Sumpter), only to learn she's in an online relationship with a mysterious man who might be "catfishing" her.
The pamper party put together by the team of Nobody's Fool was an intimate gathering with a 4-step procedure to create some ultimate moments of joy and relaxation! Invite a friend, treat yourself, indulge, and engage into some cathartic discussions to release some of those pent-up agitations.
Invite a Friend!   
The team of Nobody's Fool sent out an invitation for their event with a message stating to "bring a friend." Entering new environments, especially intimate groupings with new faces can sometimes be a bit overwhelming, so the extended invite of bringing a friend along immediately helped to get rid of those pre-anxiety jitters. I chose to invite my friend Angela (who is present in many of the pictures), and she is looking forward to seeing the upcoming film Nobody's Fool just as much as I am! She accepted my invitation and met up with me to journey forward into this evening filled with of joy and relaxation.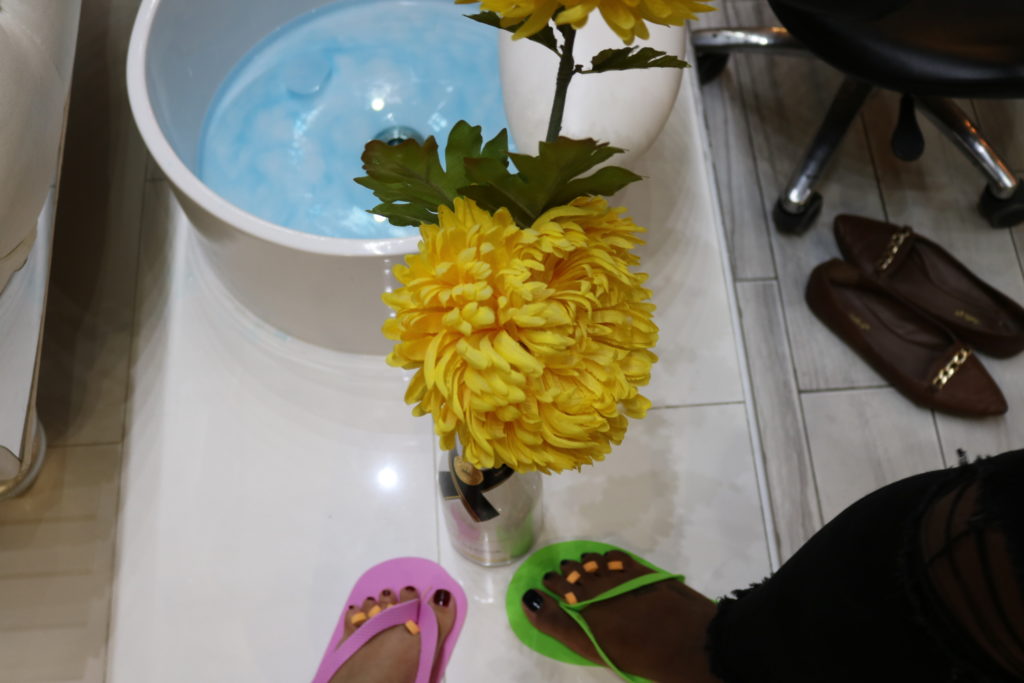 Treat Yourself!
The DJ was great, she continued throughout the evening with a playlist that was relaxing, soulful, and with a slight twang of ratchetness to create a fun time for all! On the overhead TV screens, were hilarious clips from Nobody's Fool playing throughout the evening.
After taking in our environment, Angela and I were invited to treat ourselves to a pedicure by Laqué Nail Bar. This was my first time at Laqué Nail Bar and the employees were super inviting, plus the aesthetics were very trendy. The salon is pristine, eloquent, and comprised of many social media opportunities to archive the experience.
Usually, I am not flexible when it comes to nail polish and I suffer from the common dilemma of taking forever to choose the color that I want. Laqué Nail Bar only added to that conundrum with their wide variety of color options, a quintessential champagne problem to have for the evening. However, we did not want to impede on our evening of joy. Therefore, Angela and I decided to choose colors that were inspired by the dresses that the ladies of Nobody's Fool dawned during their New York Premiere. We chose colors that were rich, vivacious, and multifaceted just like the cast.  
Indulge!
After our pedicures were completed, all that was left of the service was to sit back and let our nails dry. While sitting back, Angela and I indulged in the food and champagne utopia that was presented in front of us. We had appetizers, champagne, and my personal favorite, crêpes! The crêpes chef had the most adorable French inspired set-up with delicious desserts that coupled perfectly with the drinks. At this point in the evening, all of the attendees were relaxed and free to mingle with one another. So, we sat back and bonded over the hilarious clips from Nobody's Fool that were being shown.
Catharsis!
The team of Nobody's Fool brought out the special guest and star of the film, Tika Sumpter. Ms. Sumpter is most definitely a "girl's girl" and led all the attendees into a cathartic discussion from trust and maintenance in relationships to skincare routines (side note – Tika Sumpter is beautiful and her skin is flawless). I can't remember the specific talking points that everyone made, but the feeling of being settled comfortably into a relaxing, safe, and inviting space that welcomes you to speak your mind was the pinnacle of my relaxation and joy!
Ultimately, the team of Nobody's Fool and the film's star, Tika Sumpter created a wonderful evening of relaxation and joy! Angela and I are both excited for November 2nd where we will be sure to follow the 4-step procedure to achieve ultimate moments of joy and relaxation! Only this time instead of treating ourselves to pedicures, we will be treating ourselves with the movie-going experience to watch Nobody's Fool!
Nobody's Fool premieres today in theaters nationwide.
Guest Blogger
BGN works to feature strong, unique content from writers who speak to our niche. If you are interested in having your work highlighted contact jamie@blackgirlnerds.com to be featured as a guest blogger on the site.