Jamie Broadnax
Jamie Broadnax is the creator of the online publication and…
This year gave us some of the most groundbreaking movies.  After all, this was the year when Black Panther, a film that not only entertained us but changed a culture, made its debut. We have put together a list of some of the best films of 2018 that you have to watch and a few selections are comments from BGN film critics adding their two-cents on how it impacted them and why.
Our list includes both theatrical releases and streaming original film releases.
In Fabric
Making its debut at the Toronto International Film Festival and later sold to A24, is the horror-comedy In Fabric. The tale is about various owners of a cursed dress, who pass it from person to person as it destroys their lives. Peter Strickland wrote and directed the haunting ghost story.
Film critic Sezin Koehler described the film as the following:
In Fabric is the kind of movie that will provoke many different interpretations, all of which will be valid. Beyond the family drama, emerging love story, horror film, and 1980s period piece, Strickland puts an entirely new spin on the idea of fashion victims. Yes, a haunted dress is murdering people. But the subtext in In Fabric's diverging and converging plotlines suggest as well that capitalism at its heart is violence, consumerism kills, and through these structures we still need reminding that women are not objects.
"I have not been able to stop thinking about Peter Strickland's film since I screened it during TIFF. The imagery haunts me. And inspired by its message, I have even rid my own home of many haunted dresses and other objects. This movie changed me as a person." -Sezin Koehler
Colette
Based on the true story of French author Sidonie-Gabrielle Colette, the movie Colette is about a woman who agrees to ghostwrite a semi-autobiographical novel for her husband. When the novel becomes incredibly successful, she's inspired to fight for creative ownership and overcome the societal constraints of the early 20th century.
Film critic Lynette Nicholas described the following in her review:
"Westmoreland's Colette is not the typical stuffy period piece. This contemporary screenplay gives a fresh take on female empowerment that is not the least bit didactic and redundant, but rather inspirational. While it's a 19th-century biopic, it is executed with great attention to historical context coupled with modern, progressive ideologies." -Lynnette Nicholas
BlacKkKlansman
Spike Lee has struck gold again with his new joint and may possibly take home a Golden Globe for the unforgettable dramedy BlacKkKlansman. Based on the true story of Ron Stallworth — the first Black detective to serve in the Colorado Springs Police Department. In a daring move to prove himself, Stallworth goes undercover on a mission to infiltrate and expose the Ku Klux Klan.
"A powerful and compelling story about race. Spike Lee is unapologetic about his feelings towards the white supremacist movement under the Trump administration and I loved every second of that" – Jamie Broadnax

"This may have been Spike Lee's dream movie. To bring a true story of a Black detective infiltrating the KKK and its leader David Duke, plus go after the white supremacist movement and the Trump administration? He deserves the accolades. And John David Washington's coming more into his own as an actor." – Lisa D. DeNeal
Consequences (Posledice)
Released in October, the Slovenian film Consequences (Posledice) is about an 18-year-old who has to fight for his place within the group of inmates after being sent to a detention center. He eventually draws closer to the informal leader, all while struggling to keep his repressed secret in the dark.
Film critic Sezin Koehler added this to her review:
Consequences is a dark and moving film, that feels so much like a documentary. Director Štante's original intention was in fact to make a documentary inspired by his own time as a teacher in a Slovenian detention center. But bureaucracy and ethics shifted his vision for Consequences into a stunning fiction filled with captivating performances. Newcomer Matej Zemljic as Andrej gives a beautiful and nuanced performance as a lost boy falling into a terrible rabbit hole of his own creation.
"Darko Štante's Slovenian LGBTQ drama is another film I haven't been able to get out of my head since TIFF. This peek into an Eastern European pre-carceral system for wayward youths got under my skin and stayed there. Matej Zemljic's nuanced portrayal of Andrej should be considered one of the year's breakout performances." -Sezin Koehler
Monsters and Men
The Sundance release of Monsters and Men came with a standing ovation at the premiere. John David Washington, Chante Adams, Kelvin Harrison Jr. and Anthony Ramos star in this drama about a young man who records a police officer shooting a Black motorist in a Brooklyn, N.Y., neighborhood.
"Monsters and Men is so timely given the current political, social and emotional state of America. This film is timely and carefully raises the question, "How will we separate the monsters of society, from the men?" -Lynnette Nicholas
Halloween
One of the best comeback horror films of the year with a very successful run at the box office was the John Carpenter classic Halloween. The film made its debut at this year's Toronto International Film Festival and wowed audiences. Jamie Lee Curtis reprises her role as Laurie Strode and is stalked and terrified once again by the creepy Michael Myers.
Film critic Jonita Davis describes it as the following:
The tale of the effect trauma has on multiple generations also pays an homage to horror films of the 1970s and 80s in several tongue-in-cheek depictions of the campy, yet classic horror faux pas. Getting out of the car when the adult says not to, walking up to the body of a killer to see if he is dead, and leaving doors open that killers like Myers easily walk through are a few examples. They make for light moments that remind audiences that Curtis, Halloween, and Myers have been in the game long enough to have to watch it change before their eyes. It also gives everyone some good laughter releases.
"Revisiting Laurie Strode and the town of Haddonfield in real time 40 years later was a powerful statement about trauma and its longevity. Jamie Lee Curtis stuns in this nuanced and vulnerable role — the performance of her life — and the ending was everything I could have hoped for." -Sezin Koehler
Black Panther
The Marvel Studios film Black Panther was not just a film — it was a movement.  From trending hashtags like #WhatBlackPantherMeansToMe to shifting the way African-Americans saw themselves depicted on screen in a royal setting, the movie was a gamechanger. From its elaborate costume design, star-studded cast, and memorable moments, Black Panther will forever be one of the greatest comic book films of all time. Black Panther is also one of the first comic book films to win several awards nominations and we are all waiting with bated breath to see how many awards it will when in the new year.
"I've waited for this film for over a decade and it exceeded everything I hoped for and more. This film has created a cultural shift in what we see in our movies and was a gamechanger for Hollywood to see what audiences want" – Jamie Broadnax

"One of the places I grew up was post-colonial Zambia and seeing Wakanda was simultaneously hopeful and heartbreaking. The Africa that could have been without Western interference on display. Still, the focus on the incredible women as well as Michael B. Jordan's moving performance as Killmonger makes this a top pick of 2018." -Sezin Koehler

"From the moment when cast announcements came out, to the official posters and trailers, I knew this film was set for legendary status. This film was needed, not just for entertainment, but inspiration, especially for Black youth. For them to see a film that included an African and African-American cast, directed by a Black man, opened their eyes as to what they can be. Leaders in all areas." – Lisa D. DeNeal

"The need for African-Americans to see ourselves as heroes is evident.  The need for all to see people of color as honorable, intelligent, and heroic was even more important.  To ignore the significance of this movie is irresponsible, but the failure to recognize that it is just a good movie, with a great story, script, director, music, and actors is even more irresponsible.  Wakanda Forever." – EAngel
Blindspotting
Making its debut in the mountains at Sundance, the dramedy Blindspotting added something new to stories depicted in the city of Oakland. The story is about a man named Collin must make it through his final three days of probation for a chance at a new beginning.  Things soon come to a head when Collin witness an unarmed suspect shot in the back by a police officer. The film stars actors Daveed Diggs and Rafael Casal.
"Blindspotting is a true gem. This film rhythmically weaves the narrative around the minds of the viewers in such a way that one can't help, but to re-examine their own personal perceptions of race, the double-standards associated with racial constructs and ponder the residue that is left behind when a community is gentrified and cultural legacies erased." -Lynnette Nicholas
Revenge
Revenge is a French rape and revenge action horror film directed and written by Coralie Fargeat. During a romantic getaway, Jen is with her wealthy boyfriend until his two sleazy friends arrive for an unannounced hunting trip. As tension increases in the home, the situation violently intensifies, culminating in a shocking act that leaves Jenbrutalizedd and left for dead. She survives and soon begins a relentless quest for bloody revenge.
"Revenge handles its subject matter of sexual assault with a great deal of finesse." – Sezin Koehler
Mandy
The film Mandy as described by film critic Sezin Koehler — Mandy is a bizarre and hallucinogenic journey through living hell (and back?) as Red wreaks absolute vengeance for Mandy's murder against Jeremiah and his followers, some of whom seem to be actual demons from the netherworld, Hellraiser style.
"Mandy is just a beautiful and grotesque voyage into deep circles of hell." – Sezin Koehler
Green Book
It may appear to look like Driving Miss Daisy in reverse, but the critically acclaimed Peter Farrelly film Green Book is so much more. Based on the true story of Dr. Don Shirley and Tony Lip as they travel down the deep south on a travel route referred to as the Negro Motorist Green Book.
Film critic Jonita Davis describes it as the following:
The story of an affluent, Black, gay man traveling the Jim Crow south with a white man as his chauffeur is a tale that will catch the attention of families today. In 2018, Black families and families of color are struggling to reconcile the microaggressions and dog whistles dealt on a daily basis — many of which come from the office of the current President. The use of a prolific Black figure and an important historic document only works to make the holiday film more rooted in our own history, more relatable, and more likely to have the elements that will make it a classic.
"It's one of those films you can watch 100 times and never grow sick of it.  I loved the relationship between Dr. Don Shirley and Tony Lip. I will remember Green Book every time I eat fried chicken!" – Jamie Broadnax
Avengers: Infinity War
All good things must come to an end and Marvel's Avengers: Infinity War had us on the edge of our seats as we wait to see who will live or die among one of the most popular comic book ensembles in history. This is was part one of the 4th sequel to the box-office giant franchise and recently the trailer for the second part of the film was released. Comic book nerds everywhere had their expectations blown away by one of the most important stories in the Marvel Cinematic Universe.
"Marvel hit the superhero film genre out of the park once more with Infinity War. Even the purists have to admit Infinity War was a visual masterpiece that left everyone breathless at the end." – Jeandra LeBeauf

"The previous Avengers movies established the viability of showcasing a team of heroes.  The opportunity to see all the current heroes in the Marvel Cinematic Universe was an opportunity that was highly anticipated by fans.  While the ending allows for some changes and possible rebirths to support cast changes, it reminded me of the dark screen at the end of one of the Lord of the Rings movie, where all you all you could say was "really?" – E.Angel
Bohemian Rhapsody
Bohemian Rhapsody is definitely not another film that bites the dust.  In one of the most charismatic performances of the year, actor Rami Malek became Freddie Mercury and honored the legendary performer in his groundbreaking role.
I reviewed the film for BGN and had this to say about Rami Malek's depiction:
Rami Malek, drenched with charisma and sex appeal embodied Freddie Mercury in Bohemian Rhapsody. He didn't portray him nor imitate him. He was him. This is by far Rami Malek's strongest performance of his career and buzz about this role during awards season will not surprise me. Malek did everything from capturing his vocals (Rami's vocals were mixed in with Freddie's) to encapsulating idiosyncrasies like Freddie pursing his lips over his overbite. It's very noticeable if you've ever watched Freddie Mercury's interviews.
"Rami Malek can do no wrong in my eyes, and after seeing him play Freddie Mercury he is simply perfect" – Jamie Broadnax
Oceans 8
Debbie Ocean goes on the biggest heist of her career to obtain a $150 million dollar necklace during the New York Met Gala. She recruits a team of experts including jeweler Amita, street con Constance, suburban mom Tammy, hacker Nine Ball, and fashion designer Rose. The Warner Bros film Oceans 8 was an action-packed delightful comedy putting women in the front seat of the story.
"The idea of a remake of Oceans' Eleven with an all-female cast was a great draw.  Like the other Oceans' movies, the cleverness of the heist is not immediately evident.  Sandra Bullock gives another great performance and carries the lead well, but Rihanna's character and her portrayal make me want a movie about her exploits and that of her family.  This is a nice non-rom-com movie to watch with your significant other." E.Angel
The Hate U Give
Based on the Angie C. Thomas best-selling novel of the same name is the film The Hate U Give, a provocative story about state-sanctioned police violence. The story follows Starr Carter, a young girl conflicted between two worlds. Race, social class, family and police violence are all themes behind this poignant story.
Film critic Jonita Davis writes:
The Hate U Give is a groundbreaking film about how systemic White supremacy has become so embedded in our country that it threatens the American Black family. That family must fight in order to achieve the normalcy White families take for granted. The police violence is a piece of the systemic threat. So is the drug dealing, felony records, and gang violence that plague Black neighborhoods. These things ultimately change the way family looks and functions in the Black community—but the love is still there.
"I'll admit that this film hit home for me in ways I didn't expect because I knew as a black woman I'd be able to relate, but I did not know that this film would also explore ways on relating to classism and the opposite race. George Tillman Jr, Audrey Wells, and Angie Thomas do something amazing. They created a film that speaks through a black lens in a way that every race can understand and fully relate to." -Alisha Netis  
Venom
Although Venom isn't exactly a critically acclaimed film and had some very mixed reviews from fans, this was a favorite for our comic book journalist E. Angel.  The story of Venom is about the notorious alien symbiote notably known for his run-ins with Spider-Man in the comics.  In human form, he is Eddie Brock, and in the film, he is played by actor Tom Hardy. Here's what film critic Jonita Davis had to say about the movie:
The fight for the body is hilarious at times and does dip into the sympathetic as we see this man losing more and more of himself to the "parasite". In fact, Hardy's explanation of the weird behaviors as, "I have a parasite," actually stirred ripples of laughter in the theater. Even his mumbling vocals that fans had a problem with during The Dark Knight Rises and Bane seem to work here on a character struggling to rest his body from an alien.
"For me, this movie suffered from bad advertising.  The idea of a Venom movie infected our minds, while the visuals related to the symbiote originally kept many away from opening week.  However, Tom Hardy was marvelous portraying the duality of the symbiote-infected Eddie Brock, and my aversion to the special effects for the symbiote was quickly diminished as I got lost in the story.  Just about every scene was essential to the story, even if it didn't seem so in the beginning. If you passed on this one, give it a chance and take a look." – E.Angel
Deadpool 2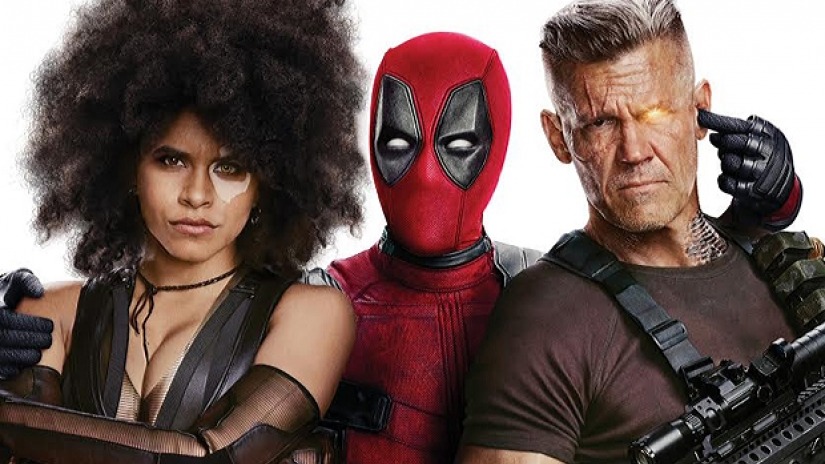 Our favorite mercenary Wade Wilson is back in the highly anticipated sequel Deadpool 2. In this story, he meets an angry teenage mutant who lives at an orphanage. When Russell becomes the target of Cable, Deadpool realizes that he'll need some help saving the boy from such a superior enemy. He soon joins forces with Bedlam, Shatterstar, Domino and other powerful mutants to protect young Russell from Cable and his advanced weaponry.
Here's what movie critic E. Angel had to say about the some of the characters:
I was greatly amused by all the cameos, but awe-struck with the arrival of my new MCU favorite character Domino, played by Zazie Beetz.  Domino does not disappoint. Nor does Russell (Julian Dennison) who provides the fulcrum for the movie and does a great job balancing it all on his back or better put his butt (wash that pen!!!).
"I have never been a Deadpool fan and I don't believe there was one curse or swear that was missed in this movie.  However, from the casting to the story, this is a better movie than the first. Also all hail the arrival of Domino played by Zazie Beetz. For no other reason than the cultural easter eggs and the self-deprecating humor of Ryan Reynolds, this is a fun movie, but the language and imagery are probably not suitable for kids. Rest in Peace Green Lantern."  E. Angel
Where Hands Touch
The UK film Where Hands Touch made its debut at the Toronto International Film Festival this year. Directed by Amma Asante, the movie came with a bit of controversy based on the story's premise.  Before the movie trailer was released or before anyone had the opportunity to see the film, minds were made up about a Nazi Germany war story involving an interracial romance. I reviewed the film myself for BGN and had this to say:
Contrary to the popular uninformed opinion about Where Hands Touch stands as it relates to being a film about "Nazi sympathizers" — it is far from that. Every Nazi soldier is inherently evil and even when you think for one moment that there is a thread of redemption in any of these men, the film reminds you how terrible these people truly were and how harsh they treated Jews and people of color.
"Black, British, African, female – director Amma Asante is a gentle persistent fire. Her film Where Hands Touch is timely, poignant and revelatory, exposing the history and treatment of Black Germans during World War II. I love how it celebrates the fierce bond between a mother and daughter, one which endures despite harrowing obstacles." – Utibe Gautt Ate
The Girl In The Spider's Web
Fired from the National Security Agency, The Girl In The Spider's Web is about the story of hacker Lisbeth Salander assigned to steal FireWall, a computer program that can access codes for nuclear weapons worldwide. The download soon draws attention from an NSA agent who traces the activity to Stockholm. Film critic Sezin Koehler, who wasn't a fan of the film, had some thoughts in her review:
Ultimately, The Girl in the Spider's Web couldn't decide on what it should be. Is it a Bond-esque spy thriller with a female lead, devoid of emotion, empathy, and compassion with a means only to fulfill a certain goal for money or honor? Or a family drama about horrific histories of violence and how this dynamic will eventually implode and explode? The plots ran concurrently, and there was no emotional buildup.  Maybe by someone who actually bothered to understand the complexities of Lisbeth Salander and her family history of violence.
"I didn't expect to like this film but the hardened brokenness of the main character makes it fascinating to watch. Claire Foy's performance as melancholy, vengeful computer hacker Lisbeth Salander is worth the ticket and there's also plenty of international intrigue. This ongoing movie series has gone farther than the books but so far, it's not a cheat. For those interested, there's also a little eye candy in Lakeith Stansfield (as an NSA researcher) and in Sverrir Gudnason who returns as journalist Mikhail Blomkvist." – Diedre Johnson
Crazy Rich Asians
Based on the wildly popular best-selling books by author Kevin Kwan, the movie Crazy Rich Asians wowed audiences and received tons of love at the box office. The movie was given the green light to a sequel while it was still in theaters and now is earning several awards nominations. The story follows Rachel Chu and her longtime boyfriend, Nick, to his best friend's wedding in Singapore. She's surprised to learn that Nick's family is extremely wealthy and he's considered one of the country's most eligible bachelors. Thrust into the spotlight, Rachel must now contend with jealous socialites, quirky relatives, and Nick's disapproving mother.
I reviewed the film for and absolutely loved it. Here's what I had to say:
Seeing it through the prism of Asian men and women who rarely play leading roles or to be frank, roles that don't include being a martial artist or some dramatic period piece. It's a beautiful contemporary story that will resonate with anyone who's ever been in love or even out of love.
"Crazy. Super Rich. Asians. It's all in the title – beauty, elegance, entertainment built right in. The first major film in twenty-five years to feature predominantly Asian characters within a contemporary context does not disappoint. Constance Wu, Ken Jeong and Awkwafina in one cinematic experience, we need more of this!" – Utibe Gautt Ate
This List Could Go On Forever
Here are some honorable mentions that we also loved!
Jinn
Night Comes On
A Quiet Place
First Match
Hereditary
Eighth Grade
The Guilty
Come Sunday
A Boy. A Girl. A Dream: Love on Election Night
Searching
The Kindergarten Teacher
Pimp
Can You Ever Forgive Me?
Boy Erased
Sorry To Bother You
What Happened To Monday?
What They Had
Ben Is Back
If Beale Street Could Talk
Widows
Hearts Beat Loud
A Star Is Born
Did we miss a film that you think should have been included on this list? Let us know in the comments below and tell us why it was important to you!
Jamie Broadnax
Jamie Broadnax is the creator of the online publication and multimedia space for Black women called Black Girl Nerds. Jamie has appeared on MSNBC's The Melissa Harris-Perry Show and The Grio's Top 100. Her Twitter personality has been recognized by Shonda Rhimes as one of her favorites to follow. She is a member of the Critics Choice Association and executive producer of the Black Girl Nerds Podcast.