During Black History Month, Paramount+ is spotlighting its platform to celebrate shows and movies that celebrate Black women.
"Celebrate Women" is one of the categories that make up Paramount+'s Black Voices Collection, which features a wide range of movies, series, comedy specials, docs, dramas, and more to stream during Black History Month. 
Here is a list below of what is available on the streaming app.
While patrolling Federation space, the U.S.S. Shenzhou encounters an object of unknown origin, putting First Officer Michael Burnham (Sonequa Martin-Green) to her greatest test yet. Starring Sonequa Martin-Green, Michelle Yeoh, Doug Jones.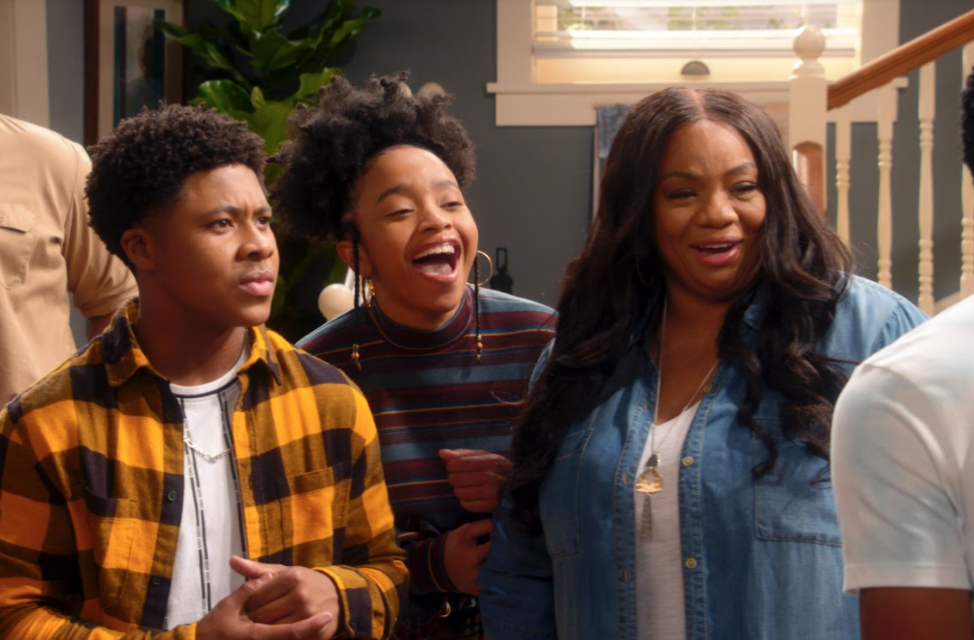 Based on Ms. Pat's stand-up comedy and memoir, The Ms. Pat Show is the story of a former convicted felon turned suburban mom, whose hustle and resilient spirit were forged on the streets of Atlanta. To much reserve, she now finds herself in conservative middle America alongside her penny-pinching husband, a struggle of a sister, and two distinct sets of kids raised under very different circumstances.
Mary Jane Paul (Gabrielle Union) is part of a growing American statistic – the single, black female. A news anchor with style, class, and almost everything else a girl could want; she reports on the lives of others every night, but now we pull the curtain.
Academy Award nominee and multi-hyphenate Queen Latifah stars as Robyn McCall, an enigmatic former CIA operative who uses her extensive skills to help those with nowhere else to turn. As McCall acclimates to civilian life, she is compelled to use her considerable resources to help Jewel (Lorna Courtney), a teenager accused of murder and on the run from the criminals who framed her for the crime.
Picking up one year after the events of the final episode of The Good Wife, an enormous financial scam has destroyed the reputation of a young lawyer, Maia Rindell (Rose Leslie), while simultaneously wiping out her mentor and godmother Diane Lockhart's (Christine Baranski) savings. Forced out of Lockhart & Lee, they join Lucca Quinn (Cush Jumbo) at one of Chicago's preeminent law firms.
Wanda Sykes pulls no punches as she shares her thoughts on George W. Bush's presidency, the insanity of airport security, and the real reason women fake orgasms.
Million Dollar American Princesses: Meghan Markle
How did Prince Harry and Meghan Markle meet? How is the actress changing the face of the Royal family? How will they change her? As another American princess enters the British aristocracy, compare Meghan's story to other actresses and heiresses who crossed the Atlantic to marry into European nobility, such as Grace Kelly and Rita Hayworth. It's a modern royal fairytale that is as much about love as it is about the monarchy's new attitudes on class, race, acceptability, and tolerance.
Set in Atlanta's fashion, music and celebrity circles, Single Ladies strives to find out what women really want in a relationship.
Black Ink Crew follows the daily goings-on and associated drama at a Harlem, N.Y., tattoo empire, where a tight yet dysfunctional staff of artists serve a growing celebrity clientele. The shop is a magnet for hip-hop stars as well as pro athletes, video vixens and a who's who of urban elite. Ceaser, owner, and creator of the Black Ink brand, has made the business into a New York hotspot for fresh ink. Embarking on new journeys and business endeavors, Ceaser employs some close, very vocal friends who make up the "crew," including quick-witted, fiery manager Sky and Cleveland-born tattooist Donna.
The best friends featured in this series have more than mutual companionship in common: They are either the wife, ex-wife or girlfriend of an NBA superstar. Though they drive expensive cars, live in mansions, and wear designer clothes and jewelry, life is not always glamorous. Protecting what they have takes a lot of work… like fending off groupies, dealing with the jealous kind, and trying to find stable ground in their often unstable world. Shaunie O'Neal, Shaquille's ex-wife, is the show's featured star and one of its executive producers.
Mimi Faust, Karlie Redd, Jessica Dime, and Rasheeda take their careers to the next level in the popular competition series for rap stardom in Atlanta. These fiery women won't let any obstacle, personal or professional, stand in their way.
Tia and Tamera are twins who were separated at birth, with each being adopted by a different parent. One day, the teens have a chance encounter while shopping at a clothing store in the mall. After the families meet, Tamera's adoptive father reluctantly allows Tia and her mother to move into his home so the girls can be together. But just because they're twins doesn't mean Tia and Tamera are identical in any way other than looks — Tia is intelligent and from inner-city Detroit while Tamera is the boy-crazy twin from the suburbs.
Half-sisters Mona and Dee Dee are virtual strangers who have grown up separately and suddenly become neighbors in the same San Francisco apartment building. Mona is a budding music executive raised by her single mother to be free-spirited and independent. By contrast, younger Dee Dee is a privileged honor-roll collegian who grew up in a two-parent home but seeks her identity out of the shadow of her overbearing mother.
Moesha Mitchell is a teenager juggling school, friendships and romance. Previously the female head of the household, she is learning to love and trust her father's new wife. While at home, she does her best to be the "glue" that helps hold her family together.
Brandy Norwood stars in a multi-camera romantic comedy as newly single mom Zoe Moon, who's in rebuild mode after divorcing her more famous husband, boxer Gemini Moon. Zoe attempts to be a positive role model to her smart, precocious 8-year-old son Xavier while trying to balance dating, a complicated relationship with Gemini, and her dream of starting a cosmetics line. Zoe's confidantes include fashion-forward assistant Valenté, publicist and best friend Pearl, and hunky contractor Miguel.
A documentary film by award-winning director Dawn Porter looks at how the art world responded to the death of Breonna Taylor by using art not only as a form of protest, but as a space to heal.
With white Jewish lesbians for parents and two adopted brothers, Brooklyn teen Avery grew up in a unique household. But Avery's curiosity about her roots compels her to contact her birth mother, thrusting her into an exploration of race and identity. A documentary film by filmmaker Nicole Opper.
Happy TV viewing!