Luca is the inspiring tale of two young sea creatures that venture into the world of humans. Taking risks and stepping out of their comfort zone, these two best friends find adventure in the summer of a lifetime. With the beautiful Italian Riviera as the backdrop, Luca promises to snare the senses with bright colors, pasta, gelato, and the essence of youth and friendship.
BGN was treated to a special presentation with the Pixar team responsible for Luca. In a private interview, we got to chat with the film's director Enrico Casarosa and the film's producer Andrea Warren. They both gave insight into what it takes to craft such a compelling and authentic cultural presence in an animated feature. Take a look at the conversation below.
I am so pleased to be here with both of you. We've only seen around 30 minutes or so, and I'm already obsessed. What were some of the culturally specific things, Enrico, that you wanted to make sure were added to the film?
Enrico Casarosa: What I loved about visiting a town like this, and the reason in many ways that I wanted to have it a little bit in this timeless fashion, being a little bit of a period piece in the '50s and '60s, is that it's very specific to the place. It's a tough land to live in. The Ligurian people have had to live with difficulties over there for many, many years. It's a very blue-collar town. Something quaint about it. Some people have had a long, tough life there. My memory of it was more from the '80s and '70s when I was a kid, but I remember being in all sorts of small towns. It was always generations being close to each other. Everyone's on their stoop, they're outside, the grandmas and the grandpas playing cards. Scopa is a big thing; it's a card game. Some things are just from my memory of it. Sometimes it's a sound. I was very, very precise about the sound of swallows. I was like, "No, those are not the right swallows." There are certain swallows that hunt before the evening that have this wonderful little cry, and I was like, "That says summer to me." The cicadas in a similar way. I was trying to bring all those beautiful little details that are very specific.
The obvious one, of course, is how do you share the beautiful food? The beauty and taste for food? So, even then, I was like, "Okay, well, we've got to put focaccia." Focaccia bread is very specifically from the region. If you're Italian and you visit Liguria, you want to have some focaccia. So we wanted to make sure we did that. The villain is always having a focaccia sandwich together with espresso. I knew plenty of kids who were drinking espresso. I still remember that nowadays. That was kind of a strange thing. But, that will be part of the story.
Then, of course, the most obvious one is how do you animate an intense little girl who is Italian. We had huge, long discussions about what kind of gesticulation and intensity she would have. It's quite specific, and it is wonderful. It was important to not go into stereotypes but to have that flavor. It's a unique thing. I hope that we can embrace it. In many ways, it's expressive opera. That's another one. I wanted to put as much opera in this. I grew up with that in my house. So we wanted to put some good Barber of Seville in it.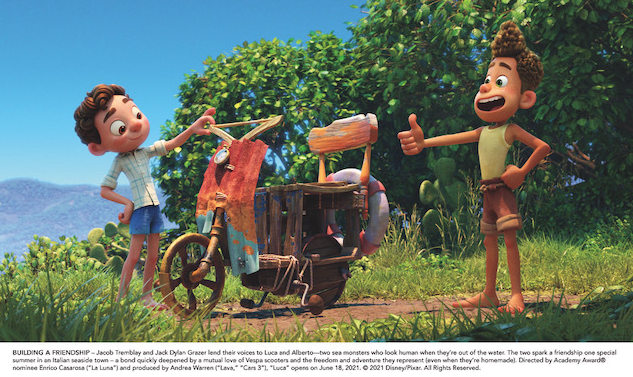 When you first pitched this story to the rest of the Pixar team, did you have that cultural and diversity element in mind?
Casarosa: I feel like specificity and authenticity are now absolutely needed, and true of the moment. I feel like we want to take the world to a place that can feel authentic and specific and exciting. I think from day one, I knew that I could take from my memory, so that was helpful. Also from my friendships, I knew the other side of it. I could speak to a relationship that I think people could relate to because we've all had strong friendships. We've often had friends, strong friendships, with people who are very different from us. Those are the ones I wanted to talk about. That was important. We had a lot of discussions about making sure that even I wouldn't trust just my memory. We wanted to make sure that we talked with other Italian people from different regions. We're all very different in Italy. There are a lot of different feelings. We wanted to make sure that they would chime in, and that was very helpful. Disney Italy was very helpful. Sometimes, we would send them the script. We took the opportunity to give it as much flavor because we knew this is all English, but we needed to bring a language. So that was a fun thing. We talked a lot about cognates, words that sound similar, and what they mean because we wanted to bring as much flavor as possible to the table. But yeah, you're absolutely right, that bringing authenticity is the important part. When you talk about something that feels true, that was experienced, and it's specific, it becomes a wonderful thing. The other little side note is that we also have a story that is a metaphor for feeling odd, feeling different. We hope that everyone who comes in has their own prism of that sense of shame of self or missing self-acceptance. We have an anxious kid who is afraid of showing himself and his journey is, without giving too much away, of course, is to go to a place, as many of our stories are, of self-acceptance. Learning to say, "Here I am world; deal with it." That was an important thing.
Andrea Warren: All those things are so wonderful in this story. I think that there's also this element of bridging difference. I think you see it in the Luka and Alberto relationship because they're bridging a pretty big personality difference. This difference exists between humans and sea creatures. Part of what's in there, that we don't talk tons about, is they call each other monsters, but they don't refer to themselves that way. They call people land monsters, but we would say they're people or humans, and they call them sea monsters, but they would call themselves sea folk. So I think that there's also that message I think is important in there, which is about bridging differences by getting to know people, by hearing authentic stories. How much more could we connect if we could just all sit down over some pesto pasta and hear each other's stories? I do love that theme in there about bridging differences.
Andrea, was it harder as a producer coming into such a culturally specific film and trying to be sensitive to everyone's opinion but also wanting to make sure the most specific and Pixar-ish movie was made?
Warren: Absolutely. Enrico is the guide for us with his history here, but you are trying to capture something that's both relatable, open enough to be relatable, and specific enough to tell his story so that we can experience that idea of if I could walk in someone else's shoes, I could just better understand. So now, we wanted it to feel like the place and, as Enrico said, be authentic. We had consultants helping us with that. You're right, there's a lot of questions and sway. There are so many possibilities. It's animation, anything can be anything. So it ends up giving you a lot of choices. To some extent, that can be kind of overwhelming, but it is a matter of navigating through the middle, always with authenticity as your guide.
Luca comes to Disney+ on June 17, 2021.