Guest Blogger
BGN works to feature strong, unique content from writers who…
Have you ever gotten an invitation to an event that was so awesome that you have no clue how you received such an honor? Well, I do, and it's actually has happened to me a few times this year! This one, though, had to be the most surprising for me.  This past Tuesday I received an email through my LockettDown.com website inviting me to an event celebrating the release of a new Star Wars Collectible Toy that was taking place the next day. Now, like many website mailboxes, I get spam from time to time and initially thought it was. After all, I buy a few collectible toys here and there but I'm just a fan, not a product reviewer. But, my curiosity was peaked and I searched the hashtag included in the email: #ItsAllAbouttheBattle and low and behold, the event was real! I found a bunch of images from other events across the country and I said, 'What the hell, I'll go'.
Upon arriving at the event, I checked in with the reception desk and I was immediately asked to choose my 'drone' and was shown a selection of 4. When I heard the word 'drone', for some reason it didn't click that I was there to see a Star Wars drone presentation. I was expecting to see collectible statues of Boba Fett and Jabba the Hutt, not drones. Thinking nothing of it, I selected a Tie Fighter, (I originally wanted the Millennium Falcon in the picture but it isn't going to be available until next year), and resolved to send it to my brother once I received in the mail since he's a bigger Star Wars fan than I am. 
After walking through the reception area and gorging myself on awesome food and drink I started taking pictures of the drones, (still thinking they were just statues), their beautiful handcrafted boxes, and the wonderful crowd of people at the event. The presentation soon began with a video featuring Darth Vader and of the drones flying in action. They looked so realistic moving through the air, I thought that we were watching a clip from the new Star Wars:Rogue One movie!
The Spokesman of the Propel Company then came out to talk to us about their new line of Star Wars Battle Quad Drones. (And that's when it finally clicked in my head that these babies could fly! Go figure.) He explained that first and foremost that the boxes housing the Quads were handcrafted and collectible in and of themselves. The outside of it is hand sculpted and painted while the display case inside lights up and plays music from the Star Wars soundtrack. Then came the actual flight demonstration of the Quads. My breath was taken and my heart was almost beating out of my chest; the Quad of choice was a Tie Fighter. It took off with smooth grace before doing tumbles and turns in midair just like in the movie! Then the showstopper: IT SHOT LASERS!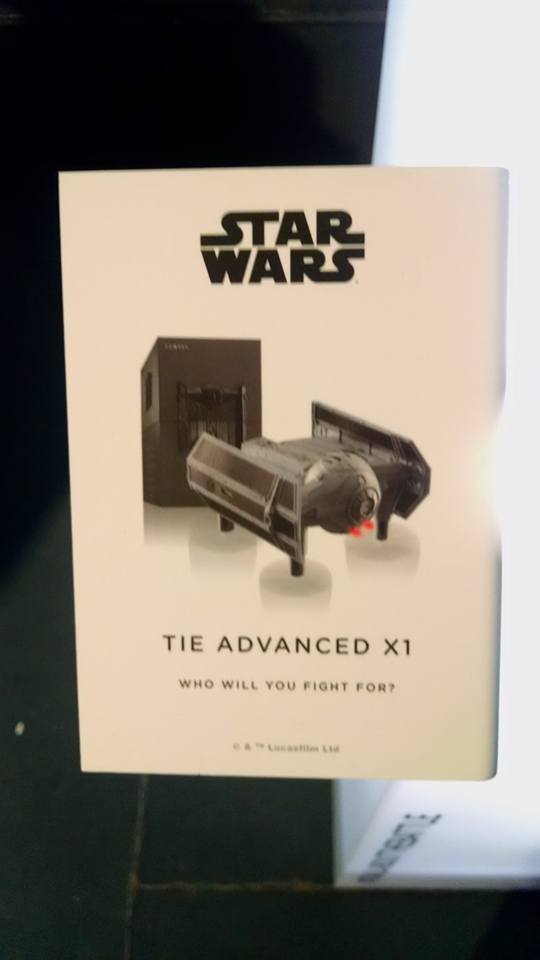 And last but not least the controller itself played voice playback from the movies and I hear Han Solo's voice loud and clear. I didn't think the demo could get any better until the Spokesman announced that actual gameplay could be done with the Quads and had several 'Pilots' demonstrate by flying 6 Quads at once; subsequently having a full on star battle, sans explosions, but chock full of laser tag.
After being thoroughly awestruck I finally forced myself to take some actual footage of the demonstration, which I'm including in this blog as well as pictures and a full product description of all them. The Star Wars Quads will be officially released in a week or two; just in time for Christmas. As soon as I get mine in the mail, I'm going to do a thorough product review and blog about it. If I fall in love with it: 1. My Brother's definitely not getting it. 2. I'm absolutely going to get that Millennium Falcon to add to the collection, (or possibly give it to my brother but we'll see!). So much for thinking this event was an accidental invitation, I think they emailed exactly who they were looking for.
For more information on the Quads and to reserve one, check out: https://www.propelsw.com/
About Official Star Wars Battle Quads:
These innovative, high-performance laser battling quadcopters remain true to the film and feature state of the art technology, including a first-ever infrared laser encoded to transmit to an app that allows users to battle each other and keep score. Each Star Wars Battle Quad has three-speed settings and uses a reverse propulsion blade system that achieves speeds of just over 35 MPH.
Considered a collector item, these Star Wars Battle Quads are extremely detailed, hand painted with a high-quality finish, certified, individually numbered and packaged in a case with a three-dimensional scale model of the ship on the front. When the top of the package is opened, Star Wars theme songs and quotes relevant to that specific ship project from speakers in the case.
The Propel Star Wars Battle Quad collection is available in three models, designed after the Star Wars films to represent both the rebellion and the empire:
–       74-Z Speeder Bike
–       T-65 X-Wing Starfighter
–       Tie Advanced X1
Regine L. Sawyer is the Owner/Writer at Lockett Down Productions, a small press comic book company specializing in cutting edge Sci-Fi and Horror Comics. She is also the Founder and Coordinator of Women in Comics Collective International, an organization that highlights the merit and craftwork of women working in the comic book industry.
Guest Blogger
BGN works to feature strong, unique content from writers who speak to our niche. If you are interested in having your work highlighted contact jamie@blackgirlnerds.com to be featured as a guest blogger on the site.