Jacqueline
Jacqueline is the Director of Festivals and Conventions for @BlackGirlNerds…
By Jacqueline Coley
Short Version: Raw is a thoroughly enjoyable coming of age /coming of cannibal story by writer-director, Julie Ducournau and star Garance Marillier. Raw will leave you shocked by the gore and enthralled by the visuals.
When Raw debuted in at the Cannes film festival this year, it was titled Grave, which means serious in French. Though the US title is fitting 'serious' seems to be more so, as that is what happens – almost immediately things get serious. By the time that I saw the film at Fantastic Fest, it had already garnered an infamous reputation.
Over 400 films screened at The Toronto International Film Festival, but only Raw invoked reactions that required medical attention. According to The Hollywood Reporter, paramedics were called during a midnight screening of the cannibal horror film Raw to treat multiple people who had passed out. The visuals of Raw are colorful and cinematic despite the gruesome imagery. It is no surprise some moviegoers couldn't handle the combination.
In Raw, we follow Justine a young high school graduate recently dropped off at veterinary school. Her sister Alexia attends, one year ahead of her, and it is suggested that both parents attended, as well. Alexia has grown up in a home where meat is not a part of the diet. Justine's family views eating meat as immoral and disgusting. When she arrives at the school Justine is shy, sheltered, and inexperienced. Though an excellent student she is like most teenage girls self-critical and constantly worrying how she's seen by the typical teen girls' primary focus – teenaged boys. Alexia, her sister, is not at all helpful in Justine's acclimatization. She doesn't warn her about any of the schools hazing rituals or the intense pressure to fit in. In one ritual the students are forced to eat a raw rabbit liver. Justine is naturally repulsed but Alexia, seemingly unfazed, advises her that refusal will result in instant ostracization. Justine, therefore, buckles under the strongest forces of adolescence – conformity and peer pressure – and eats the liver, tasting flesh for the first time. The meat eating has some pretty on-the-nose parallels to the other aspects of Justine's life. The choice to conform and "do what the other kids are doing" can equally be applied to her sexual experiences in college as well as the hazing.
Unfortunately, like with the choice to have sex, the cannibalism results in some unexpected consequences. That first bite awakens a hidden desire for human flesh. The condition is evidently hereditary as Alexia, who experienced the same side effects, is only forthcoming about it AFTER Justine does the ritual. It becomes clear that Alexia knew this would happen and was more than happy to let Justine join in her misery. The rivalry between the sisters is an interesting thread to pull. After the film, you are left questioning both sisters' actions towards each other, but particularly Alexia's. Justine spends the majority of the film trying to navigate her first year away from home, along with her newfound hunger. Her lack of success with both garner the biggest laughs of the film. To be clear – the visuals of the film are beautifully shot by Ducournau, but the imagery may be hard to stomach. The cannibal scenes are unflinching in their realism, and Garance Marillier sells every bite with cringing authenticity. Though not for the faint of heart (see above), Raw is a hilarious and gory teen comedy that you didn't know you wanted until you've seen it.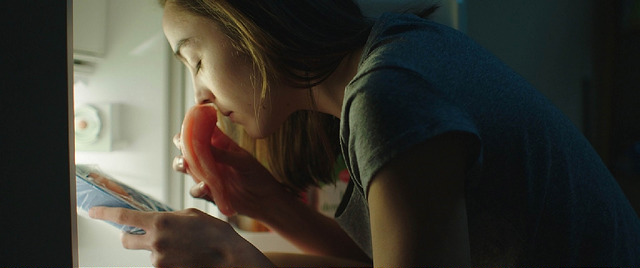 Raw is in theaters March 17th
Jacqueline
Jacqueline is the Director of Festivals and Conventions for @BlackGirlNerds and a film correspondent for @RottenTomatoes. She is also a Gamer, Cinephile, Theater-kid, internet addict, and lover of all things geek. Follow her on Twitter @ThatJacqueline