If you're still trying to fill the Mindhunter-sized hole left after its cancellation, look no further than Apple TV+'s latest original Black Bird. Created and executive produced by best-selling author Dennis Lehane (Mystic River, Shutter Island), the six-episode limited series joins the slew of true crime dramas dominating the television landscape.
Inspired by the book In With The Devil: A Fallen Hero, A Serial Killer, and A Dangerous Bargain for Redemption by James Keene and Hillel Levin, the series makes sure to stand out enough to earn its place among heavy hitters like True Detective, Sharp Objects, and more recently, Yellowjackets. It's also one of the late Ray Liotta's final TV roles following his death on May 26, 2022.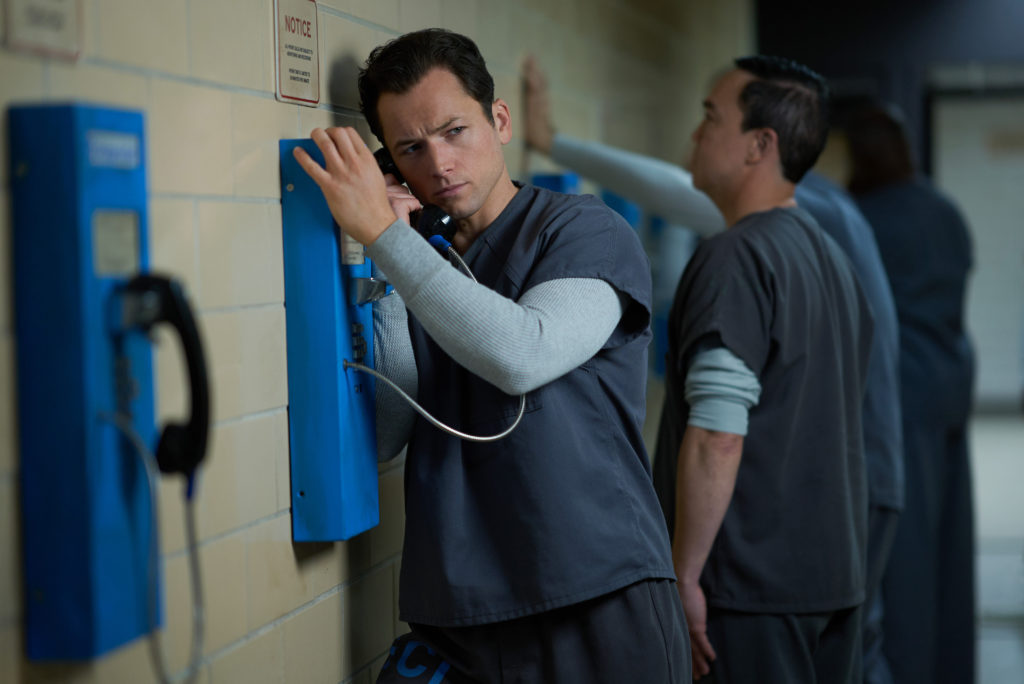 Former high school football star Jimmy Keene (Taron Egerton) is living a high life in Chicago until he's arrested for drug trafficking. As the son of retired cop James "Big Jim" Keene (Ray Liotta), he doesn't anticipate doing any hard time. However, he's sentenced to 10 years at a minimum-security prison, without the possibility of parole. He's presented with an opportunity to get out of prison completely.
All he has to do is: transfer to a maximum-security prison for the criminally insane in Missouri, get friendly with a convicted murderer, obtain a confession, and get the location of the bodies of multiple victims. It may seem like a no-brainer, but this is a place many characters refer to as hell.
Flashback to a few years prior, chief investigator Brian Miller (Greg Kinnear) works to solve the case of a murdered young girl in Indiana. He eventually comes across Civil War reenactor Larry Hall (Paul Walter Hauser). Illinois law enforcement had labeled him a "serial confessor" and dismissed him as a suspect in more than one case. Due to their astoundingly poor detective work, Hall continued assaulting/killing women and girls in several states. Miller is later joined by FBI agent Lauren McCauley (Sepideh Moafi), who, without Miller's knowledge, approaches Jimmy Keene about going undercover to befriend Hall.
Black Bird stands out among the countless other true crime series because, despite the subject matter, it's not the least bit gory, or a "gross-out serial killer story," as Paul Walter Hauser puts it. Instead, it focuses on the psychological aspects and the bizarre relationship established between the two prisoners.
Paul Walter Hauser gives a chilling performance as Larry Hall, reminiscent of Cameron Britton as Ed Kemper in Mindhunter. Hauser does comedy incredibly well, as we've seen in I, Tonya and Cruella. But his dramatic acting is just as impressive. Hall has unusual characteristics — a high-pitched voice, gnarly sideburns (which he calls "burnsides"), and a childlike giggle.
Taron Egerton balances Jimmy Keene's arrogance and charm with the vulnerability of a man whose life has drastically changed more than once in a relatively short period. The difference in prison environments is instantly understood, going from a somewhat comfortable situation in minimum security to a prison filled with extremely violent offenders.
Jimmy's father is an integral part of his harrowing journey. Dennis Lehane praised late Ray Liotta's performance as the "deeply flawed and compromised" Big Jim Keene, saying, "Ray found the nobility in a man who would run into a burning building" for his son. He also said that he had Liotta in mind when he wrote the character.
Black Bird has plenty of tense, dialogue-heavy scenes that had me hanging on every word. The combination of the haunting score with the jarring sounds of prison along with Hall's odd voice creates an atmosphere that's intimate and chaotic at the same time. We know what's at stake — when Jimmy's frustrated and impatient, so are we. There are moments when it seems like the pace slows down but overall, it keeps you intrigued. In those "slow moments," the camera lingers on a character's face as they're processing an intense exchange. Slow-motion sequences focusing on things like a girl riding her bike add more emotional weight to the story.
The series opening credits includes a montage of images, similar to the 90s VHS style of Yellowjackets. Truthfully, I kept forgetting that it was set in the 1990s since most locations are prisons, interrogation rooms, or open fields in the Midwest. The creepy rural environment has a True Detective vibe, but I wouldn't categorize it as southern gothic, more like Midwest macabre.
Black Bird's fantastic performances and the bleak tone make for a compelling psychological thriller. The true story is disturbing itself, but the cast and crew added elements that elevated the tragedy and horror. It favors drama over shock value and manages to be consistently suspenseful even though (if you're familiar with the real story) you know the outcome. It's a must-watch for any true crime fan.
Black Bird premieres its first two episodes on July 8, 2022, on Apple TV+, followed by new episodes every Friday.
Cassondra Feltus
Cassondra Feltus is a St. Louis-based freelance writer best known for film, television, and pop culture analysis which has appeared on Black Girl Nerds, WatchMojo, Mental Floss, and The Take. She loves naps, Paul Rudd, and binge-watching the latest series with her two gorgeous pups – Harry and DeVito.