Cassondra Feltus
Cassondra Feltus is a St. Louis-based freelance writer best known…
Have you ever wondered what goes on in an acting class? Do you imagine thespians reciting Shakespeare or taking notes on how to cry on cue? Enzo Cellucci (Escape at Dannemora) and Ash McNair (The Jim Gaffigan Show) give us a taste of what some of those classes look like in their short film, Class. Written and directed by Cellucci and McNair, Class looks at the bizarre methodology of acting classes and the over-the-top personalities of the people who teach them.
The short stars David Krumholtz (The Deuce) as Adam, Enzo Cellucci as Max Schrader, Ash McNair as Sam, Carson Higgins as Lance, Alina Carson (Dead Squad: Temple of the Undead) as Amelia, Kristin Friedlander as Kirsten, Joseph Huffman (Boardwalk Empire) and Brendan Dalton (Dickinson) as Brandon. It's produced by Hank Azaria (Brockmire) and Goosemango Films, along with Cellucci, McNair, and Krumholtz.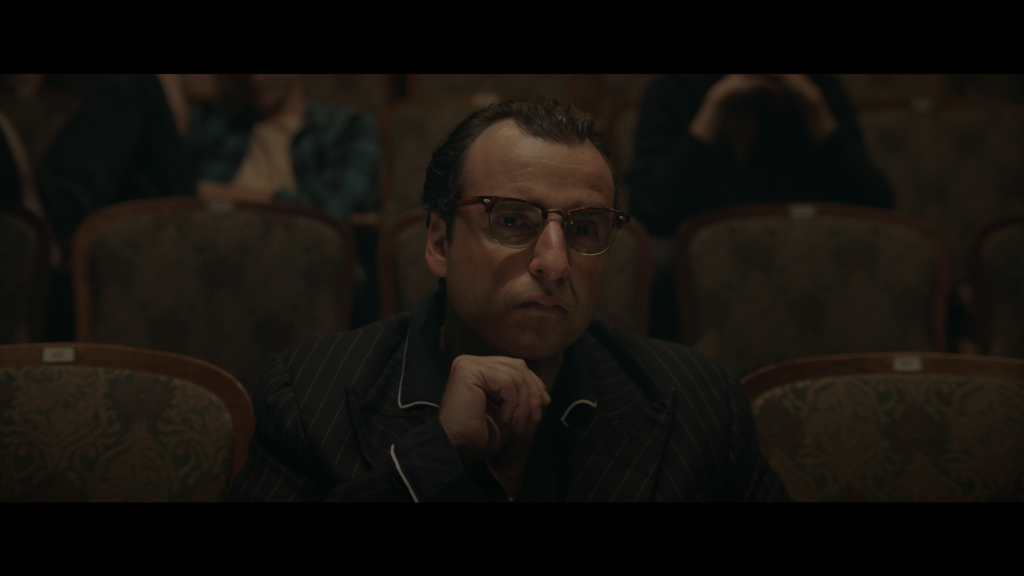 Class follows aspiring actor Max as he attends his first day of acting class. One of the first lines is from a student talking to him about her experience in this class. "Adam changed my life," she says. Adam is the instructor/mentor of this class. It's a bit of a dramatic statement, but they are actors, so that's to be expected. We see everything through the eyes of Max, making this our first time "in class" too.
Adam gives off major cult leader energy. He likens himself to the artist Michelangelo, saying his hands and voice are "merely instruments" for molding these students into brilliant actors. He talks about his mind's eye, which is usually a red flag. He's oddly dressed in silk pajamas under a pinstripe blazer with eclectic jewelry. His fluctuating British accent is one of the funniest things about him — it's Shakespearean but veers off into a John Lennon impression.
After Adam's opening words, everyone starts their weird vocal and physical warm-ups. The sequence kind of feels like the acting classes in HBO's Barry but instead of being silly and, at times, lighthearted, Class comes with a heavy sinister tone. Standing in a group of people while they make obnoxious noises and wildly move their bodies is very surreal.
Max silently observes as the class begins a series of intense acting exercises. They take themselves to these highly emotional places and end up in demeaning positions. Everything is so cringeworthy and anxiety-inducing. However, it's interesting that the three women in the class aren't in these positions, as one would sadly assume. They seem to hold some power, possibly even over Adam himself.
This acting class is undeniably cult-like. There's a feeling of dread as the class goes on and more people get to the point of crying and yelling in their performances. It's a similar vibe to Midsommar, with people who are welcoming and encouraging but who end up showing you how scary they can be. It's like a toned-down, gore-free Starry Eyes, suggesting that to be an actor requires a cultish level of devotion.
When Max is called to perform a monologue, which he didn't prepare, we get onstage with him. Anyone with stage anxiety (like me) will immediately feel uncomfortable. This spontaneous performance leaves him vulnerable to Adam's antagonizing criticism. I won't give away what happens in the final moments of the short. Just know that it gets increasingly absurd — simultaneously funny and disturbing to watch.
Class is based on firsthand experiences of the filmmakers and their friends. McNair admits, "Acting class is no typical place for a thriller or horror setting, but as we've experienced it, it can be quite horrific." The horror element is definitely present. The theater is small and dimly lit, immediately creating an unsettling atmosphere. From the seats to the stage, the confined space is claustrophobic. The haunting music feels straight out of a horror movie, with heavy violins to eerie, harmonizing voices that sound like siren calls.
Acting is inherently embarrassing work. Trying to let yourself go while also seeking approval from others is a stressful, near impossible balance. Class explores this concept of suffering for your art and putting yourself through ridiculous things deemed necessary to becoming a talented actor. Cellucci and McNair describe their short film as their "love/hate letter to the actor, a satirical insight into the process of being a performer and a glimpse into the soul of what it means to be an artist."
Class is intimate and experimental, almost like watching someone's nightmare about performing on stage. The film is a nice combination of funny, haunting, and intense. David Krumholtz's eccentric character is darkly realistic, showing the blurred line between frightening and genius. I'm interested to see if it becomes a feature film.
Class first premiered at Dances with Films Festival in September. It will be shown at the Athens International Film and Video Festival on Saturday, October 23.
Cassondra Feltus
Cassondra Feltus is a St. Louis-based freelance writer best known for film, television, and pop culture analysis which has appeared on Black Girl Nerds, WatchMojo, and The Take. She loves naps, Paul Rudd, and binge-watching the latest series with her two gorgeous pups – Harry and DeVito.