The first film I saw from director David Cronenberg was The Fly (1986). It was the late 90s. I was obsessed with horror films and Jeff Goldblum, so naturally, I gravitated toward it. It was creepy, bizarre, and brilliant. It turns out that Cronenberg is also a fan of the creepy and bizarre, and at times, is brilliant. He has been labeled the King of Venereal Horror (body horror), and his new film, Crimes of the Future (2022), exemplifies that. It makes sense that NEON is handling the distribution of this film. It's right up their alley.
Crimes of the Future is written and directed by Cronenberg. The film stars Viggo Mortensen, Léa Seydoux, Kristen Stewart, and Scott Speedman. The film highlights humans adapting to a synthetic environment. The body is constantly transforming and mutating, even creating new organs. Celebrity performance artist Saul Tenser (Mortensen) and his partner Caprice (Seydoux) publicly showcase the metamorphosis of Tenser's organs. 
The National Organ Registry tries to catalog such events. Timlin (Stewart), an investigator with the Registry, becomes obsessed with Tenser and his organs. Mysterious figures and plots are revealed that shed light on the next phase of evolution. It's mind-boggling to figure out what is happening and where things are going. You really have to sit with this one for a bit.
Disturbing, tragic, horrific, and bizarre are words I use to describe Cronenberg's vision in this film. It took me a moment to process what I had consumed on screen. That being said, I would also call it artful, intense, and creative. We are so used to absorbing films that are remakes and reimaginings that it's jarring when someone gives you something original.
Granted, this title comes from an early work of Cronenberg's, Crimes of the Future (1970), which features a man who continually grows new organs that are removed from his body. This is very similar to Tenser, but the plot as a whole remains decidedly different and creative. 
The cast really sells it. Mortensen and Seydoux have this chemistry on screen that spills over into every word, glance, and touch. Then there's Stewart, who is awkward and intense and played perfectly. The cast makes sense. Speedman's character purposely adds juxtaposition to the characters. He is quiet yet calculating, and, for some reason, you are rooting for him. The cast plays off each other well, and all have pretty strong performances.
Stylistically, Crimes of the Future is a piece of art. You don't quite understand it, but you know it has meaning, and it's interesting to look at. The dystopian world Cronenberg has created alters your perception of love, pain, pleasure, and even the definition of human. I feel pieces are missing, but this idea of a varied future feels varied because of these issues. 
The disconnect between the body and mind is a theme in Cronenberg's films. But Crimes of the Future takes a literal approach to show you what can happen when the mind and body are out of sync. It's fascinating and confusing all at the same time. It was a bit frustrating for me because I wanted to understand faster, but my brain couldn't compute what it saw on screen.
The visual and special effects teams had their work cut out for them in Crimes of the Future. Not only with the futuristic elements, but the way the human body is used in the film. There are multiple levels to being human in this film.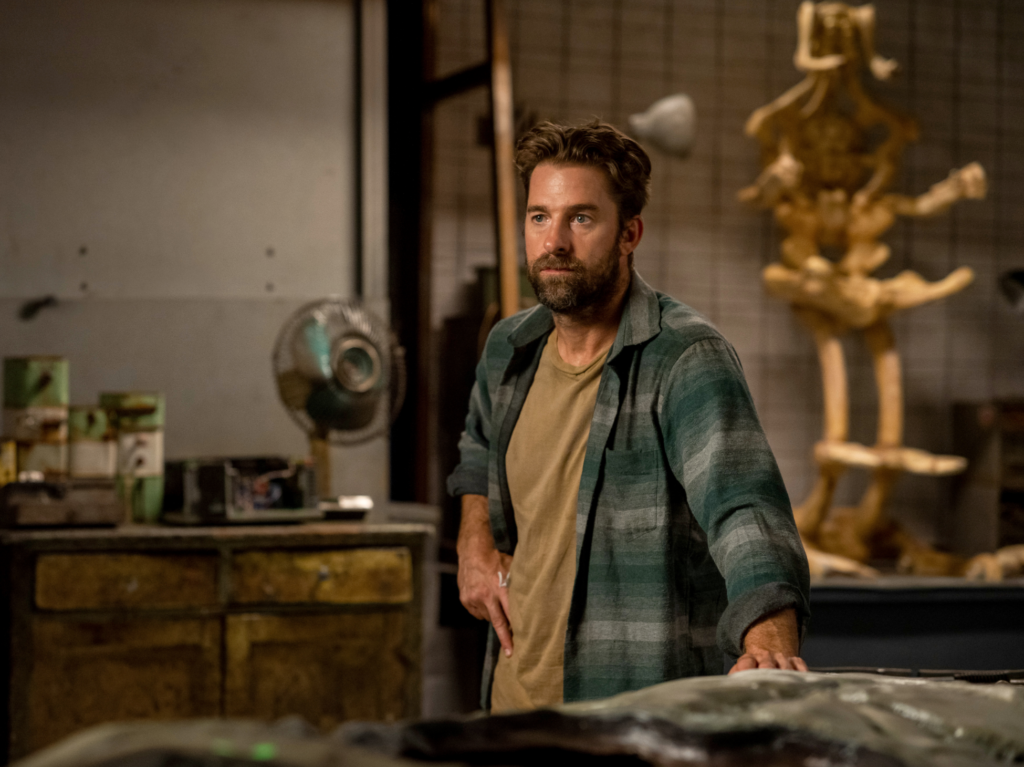 In a way, it also signifies your status in society. Not sure what the point of Crimes of the Future is, but it makes for interesting art. We aren't rooting for someone; there are no good guys or bad guys. The audience takes on the role of voyeurs. We are the real audience of this avant-garde act. Cronenberg does a good job making it all look believable.
Crimes of the Future plucks you out of 2022 and places you in a time in the not-so-distant future, but you can't help but wonder how we got here. I wish there was more exposition on what we did to deserve such a future. Did we not recycle enough? Did we not work out enough? 
There's usually that human flaw that lands us in the future we deserve. As such, the story was lacking when it came to the who and the whys. The film felt incomplete and scattered. But notably, the place we landed is an ambiguous local with diverse people. So, maybe we did something right so that we all get along.
Crimes of the Future is not a film I would identify as a can't miss. But, once you see it, you will want to see it again and again in an attempt to understand more and more. Will you be confused? Probably. Are there moments to appreciate the beauty and the art of cinematic storytelling? Yes.
NEON will release Crimes of the Future in theaters on June 3, 2022.