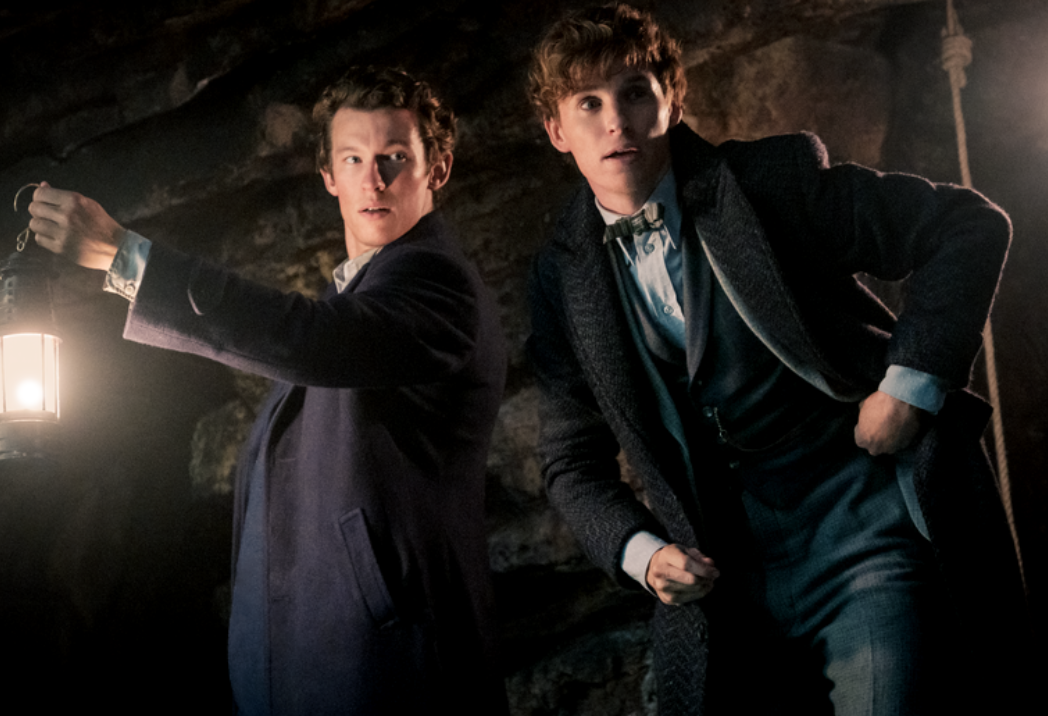 It's been three and a half years since the latest dive into the Wizarding World with Fantastic Beasts: The Crimes of Grindelwald. A Lot has happened since then in the real world and the wizarding world. What hasn't changed is the fantastical hold J.K Rowling's world has on us as her book characters come to life on screen.
Our love for this magical realm has only increased over the years due to a rise in social media takeovers, the Wizarding World website formerly known as Pottermore, and even an HBO special commemorating the 20th anniversary of the first Harry Potter film, The Sorcerer's Stone. Now we get a full dose of the wizarding world with cool creatures, Newt Scamander, Albus Dumbledore, and a visit back to Hogwarts.
Warner Bros. Pictures brings us Fantastic Beasts: The Secrets of Dumbledore as the direct sequel to Fantastic Beasts: The Crimes of Grindelwald, and the third installment of the series of films based on Fantastic Beasts and Where to Find Them, one of the companion books to J. K. Rowling's Harry Potter series. Overall, it's the eleventh film set in the wizarding world.
The film is directed by David Yates, with a screenplay by J. K. Rowling and Steve Kloves. Professor Albus Dumbledore (Jude Law, Captain Marvel) knows the powerful, dark wizard Gellert Grindelwald (Mads Mikkelsen, Doctor Strange) is moving to seize control of the wizarding world and go to war against the muggles (no-maj). Unable to stop him on his own, he looks to magizoologist Newt Scamander (Eddie Redmayne, Fantastic Beasts and Where to Find Them) to lead a heroic, if not random team.
On his side are muggle, baker Jacob Kowalski (Dan Fogler, The Walking Dead), head Auror and brother of Newt, Theseus Scamander (Callum Turner, Green Room), Professor Eulalie Hicks (Jessica Williams, The Incredible Jessica James), the world's most indispensable assistant, Bunty (Victoria Yeates, Call the Midwife), and French wizard Yusuf Kama (William Nadylam, White Material). They encounter new and old fantastic creatures and clash with Grindelwald's followers, who include Credence (Ezra Miller, Justice League) and Queenie (Alison Sudol, Dig). Long story short, it helps for character development to have seen at least one of the previous films.
As Rowling once described the latest installment of the Fantastic Beast series, "Answers are given." Boy, are they given, to the point where the entire film hinges on these answers and they are repeated throughout in case you forgot. It's almost as if Rowling was like, here! Here are the answers you've been looking for, now stop asking. All the folks out there who demanded proof in a book or on-screen of the LGBTQ+ community in the wizarding world. This is for you. But, don't worry, the blunt execution is not a disservice. It works with the story. I enjoyed this film a lot. Much more than its predecessor, The Crimes of Grindelwald. Was I caught off guard with the direct address, sure, but I enjoyed it.
All the right actors are playing these characters. It was fun getting a deep dive into Dumbledore and seeing the growth of Newt. With more character development of Dumbledore, it is clear that Law did his homework during quarantine. He fully embraced this beloved character and brought the swagger and charm to Dumbledore that we see from Michael Gambon in the Harry Potter series. It's this young(er) version of Dumbledore and his interactions with Newt, Professor Hicks, his brother Aberforth (Richard Coyle), and, of course, Grindelwald that we can see how he gets from here to the 100+ man who sacrifices himself for the greater good.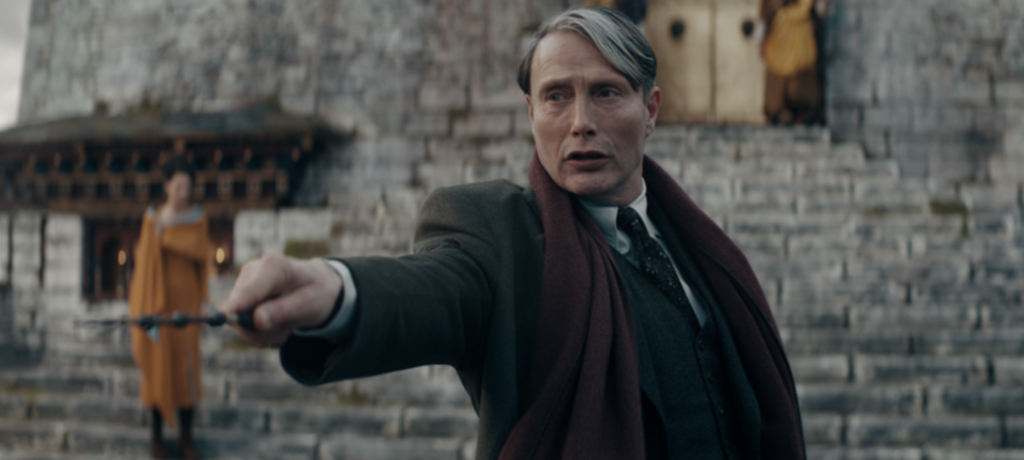 Speaking of the greater good, Mikkelsen in the role of Grindelwald did this series a favor. We've had four versions of this character (Jamie Campbell Bower, Michael Byrne, Colin Farrell, and Johnny Depp), and Mikkelsen knocks it out of the park. It's his mannerisms, his facial expressions, it's everything he does in this role that makes it ten times better. I fear this guy. Through the film, I wondered how good would prevail over evil with him at the helm. He is menacing and charming, which is what is needed in a character who wants to eradicate muggles.
Where the wizarding world always seems to falter is the representation of witches and wizards of color. Fantastic Beasts: The Secrets of Dumbledore gives us expanded roles for Professor Eulalie Hicks and Yusuf Kama, but it still wasn't enough. You have two powerful people who aren't used to their full potential. Professor Hicks is a Charms professor at Ilvermorny School of Witchcraft and Wizardry (the American wizarding school).
Newt is obsessed with her work, and Dumbledore even comments on how brilliant her charms are. She has two amazing scenes that make you wonder why they aren't using her powers more often. One involves Jacob, wine, a chandelier, and book pages. The other involves Theseus and an epic wand battle. Chef's kiss for that sequence. Then it's back to the background.
The biggest disappointment is Yusuf. He is a brilliant pure-blood wizard of Senegalese ancestry. In his previous encounter with Newt and his friends, he outwitted them all to fulfill his mission. He helped save a whole city in the last film. He's extremely skilled in tracking and deduction, so why does it seem like he drew the short end of the stick in this installment? Yusuf is a man of very few words, as in he barely has lines of dialogue. In the end, his role is useful, but how he's used doesn't seem fair.
Fantastic Beasts: The Secrets of Dumbledore has all the makings of a blockbuster hit. It has amazing, if not at times confusing, special effects. They still can't quite get quidditch players to not look like video game graphics but minor detail. It's a film that answers questions and allows us to ask new questions that I have no doubt will be answered in film four or five (which have already been confirmed).
If we can go back to focusing on Newt that would be great. I was a fan of the brotherly love shown by Newt and Theseus. Can we also have Katherine Waterston as Tina Goldstein back? I don't know why she was in all of two minutes, but we need more of her character. Please and thank you.
Fantastic Beasts: The Secrets of Dumbledore will open in theaters on April 8, 2022, in the UK, Ireland, and Japan, and on April 15, 2022, everywhere else.