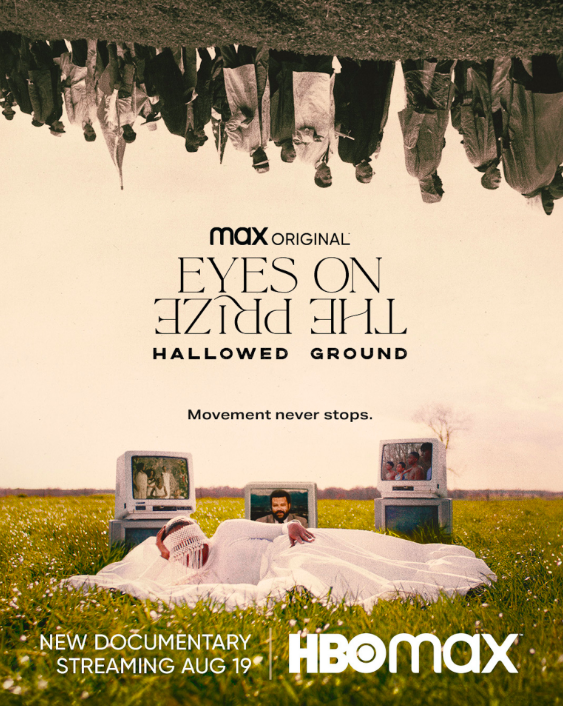 Can a documentary be a work of art?
Yes.
HBO Max's documentary special Eyes on the Prize: Hallowed Ground is exquisite. Director Sophia Nahli Allison takes documentary filmmaking to a new level of creativity. Historic footage from Henry Hampton's 14-part docuseries Eyes on the Prize is interspersed with footage of current instances of racial injustice, interviews with 21st-century activists, and thirty-second art-film-like "vignettes" in perfect rhythm. Allison crafts a moving reflection of the Black American continuum of trauma-induced activism, creative resilience, and community care. Music is always in the background and dance consciously flows into the most surprising places, adding a sense of urgency and beauty. The story miraculously unfolds in 60 minutes.
As journalist Tariq Ali said, "History rarely repeats itself, but it echos." The "Echoes" section of Eyes on the Prize: Hallowed Ground, weaves Mamie Till's call to action after her son Emmett Till's brutal murder with Trayvon Martin's mother Sybrina Fulton, reflecting the heartbreaking generational impact of white perversion (I no longer call it "white supremacy" or "white privilege) on Black communities through the surgical brutalization of our boys. 
The story then flows into a section titled "Ancestral Rage." Medgar Evers's wife Myrlie Evers reflects on the fury she experienced on June 12, 1963, as the body of her beloved husband lay on the street for hours under the gaze of her white neighbors. Then we feel the trauma inflicted on the community at Medgar Evers's funeral as the police show up to dishonor his memory, agitating the mourners with their violence. Fast forward to August 9, 2014, and Michael Brown's body was disrespectfully left in the street for four hours. Ferguson activist Kayla Reed recounts the police's predictable violent overreaction to Black people assembling in public to grieve. "Black mourning out loud was a threat and they [the police] reacted as if Black people being together in public was a threat. They wanted to suppress our mourning."
The editing in Eyes on the Prize: Hallowed Ground is beyond incredible and stands out, particularly in the "Rememory" section. Me too Movement founder Tarana Burke reminds us that social injustice did not end in 1968 and then come back again in the 21st century. The similarities between the uprisings at the end of the 1980s and early 1990s and what's happening right now are striking. Burke states, "Youssef Hawkins, Amadou Diallo, Abner Louima — I was in the streets for all of that. Million Youth [Peace] March in '98, that was huge. We were protesting, we were marching, we were organizing, but a lot of that was lost." 
Transitions are flawless as Allison takes us deeper into the traditional binary story of the civil rights movement. Martin Luther King did not work alone. Eyes on the Prize: Hallowed Ground shines the light on Black women, like Jo Ann Robinson, Diane Nash, Amelia Boynton Robinson, and queer and trans folx, like Bayard Rustin, Rev. Dr. Pauli Murray, Audra Lorde, James Baldwin, and Angela Davis, who were all integral leaders in the movement. Sophia Nahli Allison honors the complexity of Black women and girls as not only support systems but as leaders beyond patriarchy. Black Millennial and Gen Z women and girls are unapologetically trailblazers as they recognize the importance of rest as a form of resistance and spiritual practice. The documentary elevates young Black women who have radiant hope and unapologetic faith grounded in joy. Showcasing Black joy reveals that Black people have agency. We are and always have been living from a space of liberation, and from that space, equity is a reality.
Patrisse Cullors, Tricia Hersey (The Nap Ministry), Prentiss Hemphill, Philip Agnew, Fresco Steez, Janaya Future Kahn, Thandiwe Abdullah, Damon Davis, and Brittany Ferrell are wildly brilliant activists who share touches of profound wisdom as members of the 21st-century civil rights movement. They are not just activist leaders — they are multi-hyphenate artists and scholars utilizing the power of Twitter and social media at the speed of light to fight injustice through organizing that has created tectonic shifts in Western society. All of the modern-day activists interviewed in this documentary are connected to the Black Lives Matter movement. Like our enslaved African ancestors who skillfully utilized a diverse set of tools of resistance (that we rarely hear recounted), 21st-century Black activists are geniuses. There is not one traceable leader of Black Lives Matter by design. 
Activist Phillip Agnew reminds us Black folx, "This country teaches you to forget. We are supposed to forget. That is America. If it doesn't run on anything…it runs on forgetting. You forget what happened to you. Move on. That is the past. You walk it off. But…We. Must. Remember."
Eyes on the Prize: Hallowed Ground is much more than a companion piece to the original 1987 docuseries, Eyes on the Prize. This is a documentary art film with intention, which leaves viewers yearning to experience more. 5 stars out of 5.
Eyes on the Prize: Hallowed Ground premieres on HBO Max Thursday, August 19th.
Jeanine T. Abraham
Jeanine is a Writer, Actor, member SAG/AFTRA, AEA, Podcast host, Producer, CEO VisAbleBlackWoman Productions, Certified Health Coach and Conscious Dance facilitator. Jeanine's mission, centering Black women's stories to preserve our legacies.