For its tenth season, AHS creators Ryan Murphy and Brad Falchuk decided to try something different. American Horror Story: Double Feature is an ambitious but intriguing concept of split narratives — Red Tide and Death Valley.
---
Red Tide
---
Red Tide stars Sarah Paulson (Ratched) as Tuberculosis Karen, Evan Peters (WandaVision) as Austin Sommers, Lily Rabe (Tell Me Your Secrets) as Doris Gardner, Finn Wittrock (Ratched) as Harry Gardner, Frances Conroy (Joker) as Belle Noir, Billie Lourd (Scream Queens) as "Lark" Feldman, Leslie Grossman (What I Like About You) as Ursula Khan, Adina Porter (True Blood) as Chief Burleson, Angelica Ross (Pose) as The Chemist, Macaulay Culkin (Party Monster) as Mickey, and Ryan Kiera Armstrong (Black Widow) as Alma Gardner. It's produced by FX Networks, 20th Century Fox Television, Brad Falchuk Teley-Vision, and Ryan Murphy Productions.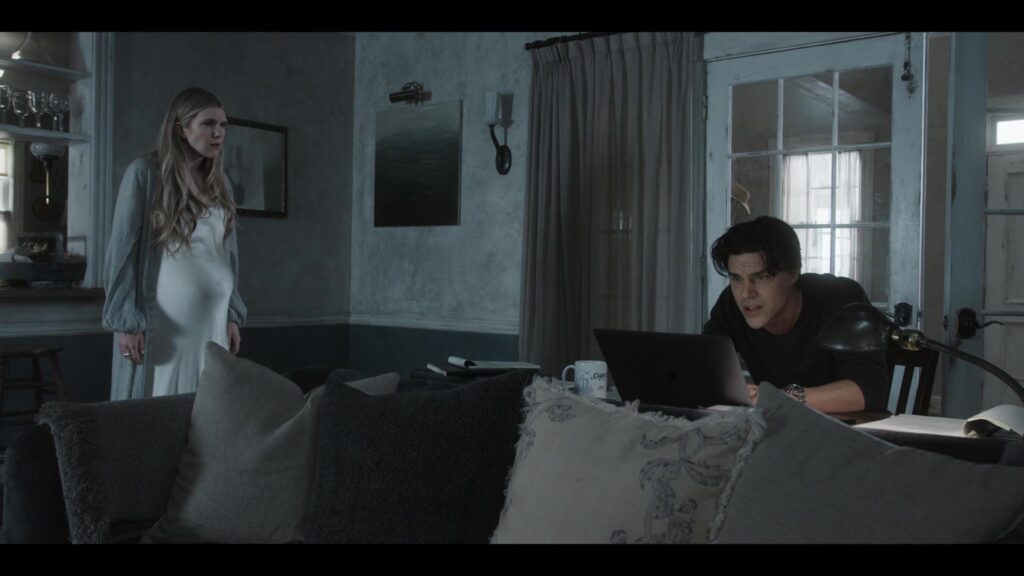 In Red Tide, struggling writer Harry Gardner moves from New York to the small town of Provincetown, Massachusetts, with his pregnant wife Doris and their daughter Alma. The Gardners are a family of artists: Harry, a writer; Doris, an interior designer; and Alma, an aspiring violinist. They plan to stay for the winter while Harry works on his pilot script and Doris redecorates the house they're living in.
The isolated beach town appears serene and the perfect place to get away from a bustling city. However, it's filled with seedy and tragic characters like TB Karen, an unhinged resident, nicknamed for her recurring illness. Paulson really brings the crazy this season, alongside Macaulay Culkin's Mickey, a sex worker with a drug problem. The town is also home to roaming opioid addicts referred to as the Pale People, though we find out it's not drugs they're after.
Harry visits the only bar in town, appropriately named the Muse. He meets the alluring Belle Noir and Austin Sommers, both writers like Harry. Belle is known for her steamy romance novels, while Austin is a successful playwright. The two artists offer Harry the secret to their success — a black pill that cures writer's block. He resists at first, but feeling pressure from his agent Ursula, he relents and pops the pill. Without giving too much away, the side effects of this magical inspiration drug lead Harry to make a series of fatal choices.
Red Tide is by far the better half of this season's double feature structure. The setting, the characters, and the plot all delivered that AHS greatness fans love. The final episode left much to be desired, and the story would have benefited from a full season rather than a six-episode run.
I was excited to see my favorites return in Red Tide — Sarah Paulson, Evan Peters, and Denis O'Hare. They all killed it as usual, as well as newcomers Macaulay Culkin and Ryan Kiera Armstrong. Finn Wittrock and Lily Rabe give exceptional performances as a couple in crisis. Angelica Ross also stands out as the mysterious Chemist.
---
Death Valley
---
Death Valley stars Paulson as Mamie Eisenhower, Rabe as Amelia Earhart, Grossman as Calico, Ross as Theta, Neal McDonough (DC's Legends of Tomorrow) as Dwight Eisenhower, Kaia Gerber (American Horror Stories) as Kendall Carr, Nico Greetham (Power Rangers Ninja Steel) as Cal Cambon, Isaac Powell (Dear Evan Hansen) as Troy Lord, and Rachel Hilson (Love, Victor) as Jamie Howard.
Death Valley jumps from the 1950s to present day in every episode. The scenes set in the 1950s are in black and white, giving off a Twilight Zone meets Plan 9 from Outer Space vibe, with heavy theremin and Dutch angles. President Dwight D. Eisenhower investigates the crash site of a mysterious aircraft where the military finds an alien corpse, along with a pilot who'd been presumed dead about a decade before.
At the air force base, an alien autopsy is performed, ending in bloodbath upon discovering some kind of face-sucking creature. Eisenhower is then visited by an extraterrestrial possessed housewife who is floating with glowing white eyes. The president tries to negotiate, but she says, "Mr. President, it is you who will listen to us."
The present-day storyline follows college students Troy, Cal, Kendall, and Jamie, reuniting to take a technology-free trip to the desert. They cut their trip short upon discovering a gruesome scene. It's implied that the four friends are abducted while on their drive home and return to Earth with no memory of where they'd been.
The title sequence of Death Valley is one of my favorites in AHS history. This second half started out promising, but quickly went downhill with the present-day shift. The modern characters are immediately unlikable, which may have been intentional, but nonetheless tiresome to watch. Had the four episodes focused on Eisenhower and his dealings with aliens, it would've been significantly better. Even in the past, the show jumps around in time, going from 1954 to 1963 to 1970, and so on. These flashbacks and flashforwards wouldn't feel as disorganized if we cut out 2021 altogether.
American Horror Story: Double Feature gave us two stories — "one by the sea" and "one by the sand." It's an interesting choice, and it almost paid off. Red Tide is the stronger of the two, though the finales for parts were underwhelming. For the most part, the acting was strong, especially from the AHS veterans, as well as the relatively new members of the franchise like Angelica Ross. Ultimately, the season as a whole fell short in several areas.
All episodes of American Horror Story: Double Feature are streaming on Hulu.
Cassondra Feltus
Cassondra Feltus is a St. Louis-based freelance writer best known for film, television, and pop culture analysis which has appeared on Black Girl Nerds, WatchMojo, Mental Floss, and The Take. She loves naps, Paul Rudd, and binge-watching the latest series with her two gorgeous pups – Harry and DeVito.