Stacey Yvonne
Stacey Yvonne is an entertainment journalist who is often found…
There's something triumphant about the crop of films that are coming out as COVID precautions become the norm. Something about being locked up and cut off from the world fostered a relief in artists once they felt safe in the world again. Every performance is steeped in passion and reverence, the cinematography and scores are bright and big and sweeping, corralling the audience in a sense of togetherness.
We're back! And quality film is here to prove it. I admit I wasn't expecting much when I heard about King Richard. Starring Will Smith as the titular Richard Williams and Aunjanue Ellis as his wife Oracene, the film chronicles Richard Williams' attempts to make tennis stars out of his eldest two daughters, Venus and Serena. 
I'd heard of Richard Williams being a helicopter dad, and I knew of the famous interview (also portrayed in the film) where Richard interrupts the interview to defend Venus. There's an old wive's tale that talks about how Black people view Black celebrities as family or instant community. Richard Williams was the Unc who owned the garage/gas station down the block. He'd fill your car and top of your tires whenever you came in for an oil change. Richard Williams was the deacon at church who would lovingly and exasperatedly yell at the boys to get their minds out of the gutter and put them firmly on God.
As cantankerous, difficult, and seemingly overbearing as Richard Williams seems, I knew that mentality. I knew the love behind it. So as others complained, I shrugged and watched the sisters as they began to dominate the sport. Not being that into tennis, I didn't follow the Williams sisters for a few years until they won as pairs in the 1999 US Open. I just knew Richard was luxuriating in vindication. 
King Richard tells the story of Richard's often controversial decisions on how to groom his daughters to be champions. However, it does more than just tell the story; it presents a very specific perspective and gives insight to the reasons Richard operated the way he did. He had a troubled childhood that was fraught with racial violence. There's a line in the film where he says no one has ever respected him, but he was going to make sure everyone respected Venus and Serena. A staunch and fierce advocate for the girls, Richard wasn't afraid to ruffle feathers to ensure his daughters were taken care of.
Will Smith's characterization is spot on and gives depth to what could easily be a caricature of a man. He has the external hardness that we all know, but underneath is fear and vulnerability — a dream whose fruits only grow when watered with patience and cunning. Richard was around 50 when Venus and Serena were turning 10 and working overnights as a security guard while his wife Oracene often did double shifts during the day. Smith himself is 53 and was able to tap into the indefatigable spirit that fueled Richard.
King Richard has so many bright spots. There's a lot of tennis and I don't fully understand tennis scoring, but even I was rapt during the scenes. The tension was palpable. Reinaldo Marcus Green's direction worked hard to infuse emotion into every cut. Shot by Oscar winner Robert Elswit with music by Kris Bowers, there's an artful feel to every scene that invades your heart. I'd also be remiss not to mention solid supporting efforts by Tony Goldwyn as Paul Cohen, the sisters' first coach, and John Bernthal as the longsuffering and irascible Rick Macci.
The girls who played the sisters, Saniyya Sidney as Venus and Demi Singleton as Serena, are both the very definition of "Understood the Assignment." Production on King Richard stopped a few months in due to COVID, and when they returned both girls had grown. This served the film well as there's a three-year time jump, and both of the young actors adjust beautifully. They are both sweet and play the roles authentically portraying true sisterhood. 
One of the best things about King Richard is the recognition of Oracene Williams. Aunjanue Ellis is a consummate actress with unparalleled talent. Oracene could have easily been seen as just a doting wife and mother, but as we see in the film, she was a conspirator and collaborator. She trained the girls just as much as Richard and even single-handedly coached Serena while Richard was with Venus. The movie doesn't shy away from showing Oracene's frustrations with some of Richard's antics. And she handles the confrontations where she lovingly puts her foot down beautifully. 
There's a scene where Oracene is doing Venus' hair and telling her to never forget where she came from. She quizzes them on who Sojourner Truth is and what the phrase "Ain't I a woman?" means to them personally. It's the kind of interpersonal training and rearing that often goes overlooked, but is vital in maintaining the girls' spirits so they don't burn out.
King Richard is a beautiful and inspiring film and definitely a contender come this awards season. It's a film that can appeal to anyone regardless of your relationship with tennis. After a screening at the Director's Guild of America, Clayton Davis of Variety hosted a Q&A with stars Will Smith and Aunjanue Ellis. I was able to ask a question about the legendary status of Richard Williams:
"This movie, in a way, redeems Richard Williams. We all know of the past thoughts of him being overbearing, and the movie really does put that in perspective. But what we also saw were his limits and the things that could be considered as flaws and limitations. How important was it to have those moments? And how did you go about using that to flesh out his character?"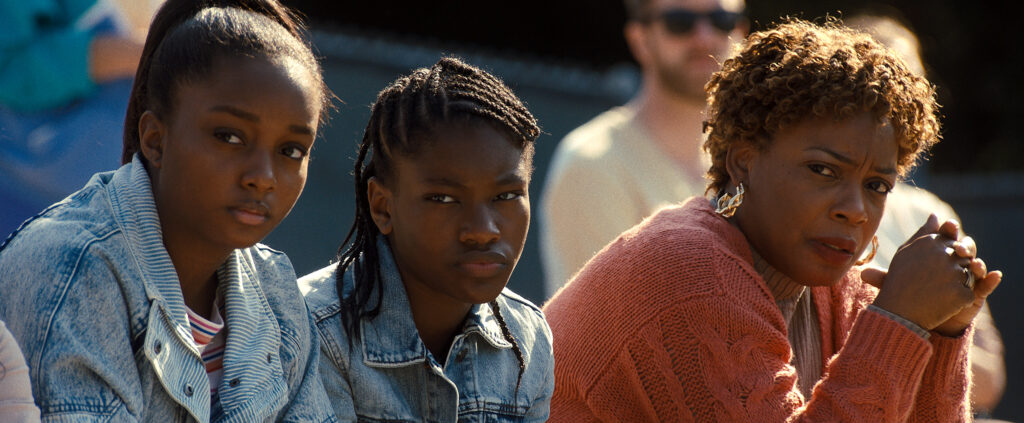 Will Smith took time to answer thoughtfully. "I think that was one of the aspects that was most interesting. For me, with Richard, I didn't want to clean it up. Richard was a hard man to interact with, and he was deeply flawed. He had really, really great qualities." Smith goes on to suggest that the audience go to Serena Williams' Instagram where there's a post with Richard playing with his granddaughter Olympia. Olympia is riding a bike as Richard films with his phone, cheering her on the whole time.
"He's so engaged." Smith continued. "That's the beautiful part of Richard Williams. But he's been so battered and brutalized by this world outside of his family that he is unwilling to let others in. He is completely and totally unwilling to risk being hurt by anybody other than his family. This world has essentially lost Richard Williams in that way, so it creates an interesting dichotomy that I hope I was able to portray on camera."
I can confidently say that Smith was successful in this goal.
King Richard premiered at the 48th Telluride Film Festival on September 2, 2021, and will be released in theaters on November 19, 2021, and on the HBO Max streaming service on the same day. Theater tickets are available for pre-order now.
Stacey Yvonne
Stacey Yvonne is an entertainment journalist who is often found in some corner of the internet pontificating about pop culture and its effect on women, Blackfolk and the LGBT+ community. You can see more of her work at https://syvonnecreative.com