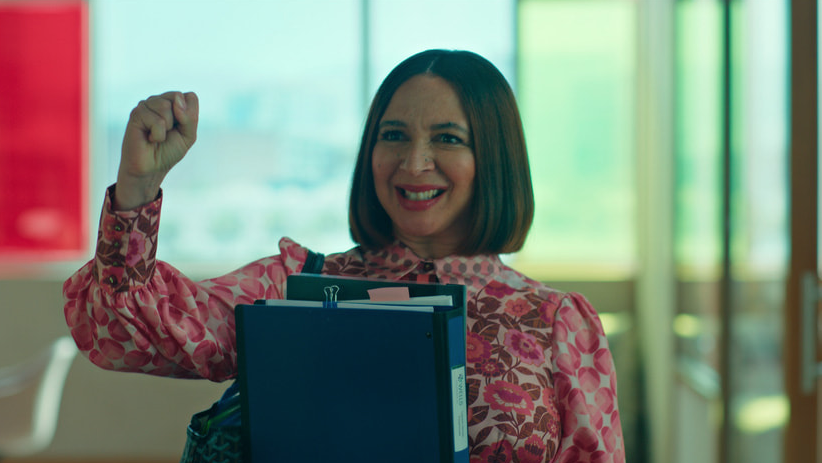 Stacey Yvonne
Stacey Yvonne is an entertainment journalist who is often found…
AppleTV+'s Loot is a charming comedy about how money can't buy you love and fulfillment, but it might help.
Starring Maya Rudolph as Molly Wells, Loot documents Molly's journey from loving wife to billionaire divorcee. Her husband John Novak (Adam Scott) has been having an affair with his assistant Hailey (Dylan Gelula), and Molly soon finds her world turned upside down. As a computer programmer and the inventor of multiple computer languages, John was a multi-billionaire (he owns three soccer teams!), so in the settlement, Molly gets half. She's thankful for the money but can't fight the loneliness and lack of purpose she feels. 
After a wild divorcee tour around the globe, Molly receives a call from Sofia (Michaela Jae Rodriguez), who is the CEO at Molly's forgotten charitable foundation. Sofia wants to talk to Molly about her behavior and how it affects their work at the charity. Instead, Molly becomes inspired to become more involved. This leads to some precarious missteps, but soon she begins to find her footing and her purpose. 
The beauty of Loot lies in the humor. There are silly moments evocative of Saturday Night Live and Parks and Recreation, both of which put talent at the helm of the show. But there are also moments of grounded reality that are relatable despite being felt by a billionaire. Beyond the class differences, wherein Molly's concerns are what to put in swaggy gift bags and planning what to do with the smallest pool on her yacht, there are her feelings of inadequacy and imposter syndrome, which allow you to see there's more to Molly than you'd think. 
Several choices were made, and they all work in congress. Rudolph is perfectly cast; she's surrounded by people who only elevate her performance. Scott plays the double-sided John with a smarmy charm that makes you wonder if he's not so bad and then instantly you're convinced he is. Rodriguez plays Sofia as tough and strong but compassionate. She has a softer center than her hard shell would imply, and it's sweet seeing the way Molly chips away at the exterior.
Rounding out the cast are comedy greats, Ron Funches as Cousin Wee Wee, Joel Kim Booster as Nicholas, and Nat Faxon as Arthur. They each serve a purpose that allows three dimensions for Molly when she's still operating on only two. It's oddly refreshing. Molly isn't a vapid starlet with no concept of the outside world. She's the epitome of "local girl makes good." She truly does appreciate her privilege, but she also knows that the money isn't a Band-Aid. 
Molly understands the importance of humanity and personal connection. The show isn't necessarily that "money can't buy happiness," it's more like "let's use our money to make the lives of others better, and maybe that will lead to happiness." It's an interesting concept and one that has several failures and successes throughout the season.
Another thing the show does well is understanding its own pacing. Molly is the protagonist and our main subject, but she has many facets to what she's doing and Rudolph balances them beautifully. Each episode contains a new obstacle, but it never feels like she's not growing or not learning. There are times when the audience can see Molly's blind spots when she can't herself. This adds a sort of intrigue as we see Molly rediscover her roots. 
It's worth mentioning that seeing rich people indulge in shenanigans is very fun. And the cast has a way of reacting and interacting in a way that isn't obnoxious or over the top. The situations are messy and wildly entertaining. To see them juxtaposed with Lil Wee Wee's homegrown authenticity creates a nice balance where Molly doesn't get off too easily. 
This is another notable strength of the show. It allows Molly to be held accountable for the decisions she makes. When she's finally able to give her own servings of comeuppance, it's deserved and well earned.
Finally, the show is full of what I love to call effortless diversity. Having a woman of color, especially a Black woman, portrayed as a billionaire is really something special. And having her family represented as Black Americans is also very cool. Rodriguez is Afro-Latina and, along with Joel Kim Booster, this means this is a cast that is thoughtfully diverse. They make it a point not to whitewash people of color, and everyone has the ability to showcase their own humor and personalities. 
All of this is supported by an excellent production team. The writing and direction are smart and concise, and the filming is beautiful. Loot is a fantastic adult comedy that gives you plenty to think about along with the laughs. The performances are dedicated and heartfelt and the production value is high. I highly recommend it. 
Loot premieres Friday, June 24, 2022, on Apple TV+.
Stacey Yvonne
Stacey Yvonne is an entertainment journalist who is often found in some corner of the internet pontificating about pop culture and its effect on women, Blackfolk and the LGBT+ community. You can see more of her work at https://syvonnecreative.com