Cassondra Feltus
Cassondra Feltus is a St. Louis-based freelance writer best known…
First-time feature film director Angel Kristi Williams tells a personal and heartfelt tale set in her native Washington, DC, that celebrates self-discovery through love, lust, and artistic expression. Really Love is a love story that begins as a fairy tale-like romance that's gradually invaded by reality and challenged by the harsh truths of balancing ambition and relationships.
The film stars a mix of new faces and seasoned actors with Kofi Siriboe (Queen Sugar) as Isaiah, Yootha Wong-Loi-Sing (Black Lightning) as Stevie, Uzo Aduba (Mrs. America) as Chenai, and Michael Ealy (For Colored Girls) as Yusef.
When Isaiah, an emerging artist in the Washington, DC, art scene, meets the alluring Stevie, a law student at Georgetown, at his art show, there's an instant connection. "Black people are extraordinary and normal at the same time," she says while admiring one of his pieces. The moment they share is brief but leaves a lasting impression. Not long after this, they find themselves together again on a night out with mutual friends.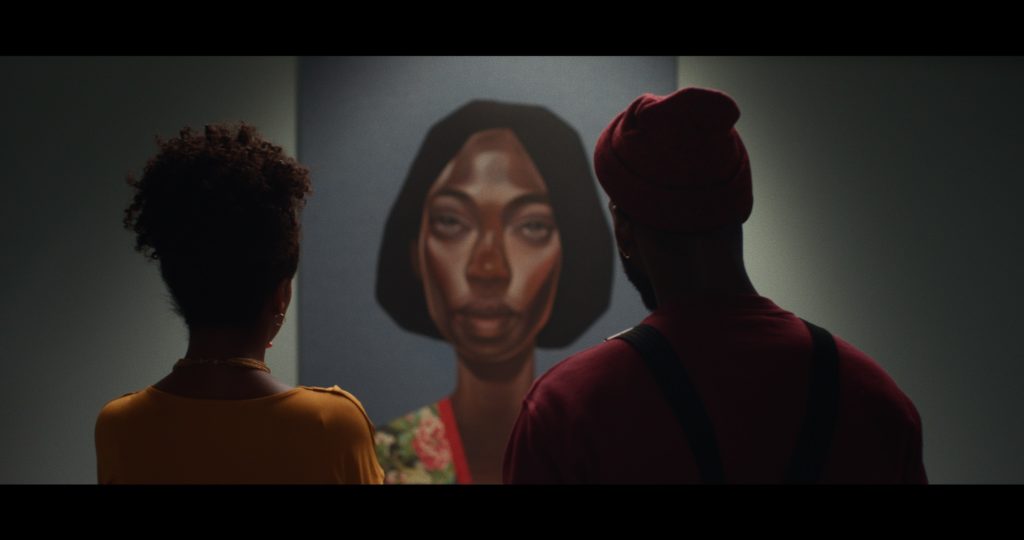 Consumed by insecurities and disappointment, Isaiah struggles to make a living as a painter. He has the raw talent but lacks the focus. Isaiah's mentor Yusef Davis and his agent Chenai have minor roles but bring the guidance to Isaiah's life that he desperately needs to become a great artist.
Stevie is unsure of her desire and motivation to pursue law and starts to question the trajectory of her career. She's drawn to Isaiah's creativity and freedom to be bold and expressive. Their bond blossoms from infatuation into a love affair. As they each deal with their own inner conflict, they manage to come together and create something beautiful.
Both have disapproving parents who focus on acquiring financial success and projecting a professional image rather than finding true love and happiness. Isaiah's family is working-class while Stevie comes from an upper-class, wealthy family. It's interesting to see how people on both ends of the economic spectrum share the same ideology of success.
Isaiah's struggle to find recognition bruises his ego. He's embarrassed by the power imbalance in their relationship stemming from Stevie's inherited wealth. He pulls away from her when he's stressed because he doesn't want her help and is determined to find success on his own. When he eventually starts to get noticed, Stevie fades into the background. Their shared uncertainties and familial pressures draw them together but ultimately get in the way of their relationship. Being in love and putting yourself before your partner is tricky even for the most dedicated couples.
The chemistry between Siriboe and Wong-Loi-Sing is the heart of this film. Both actors are charismatic and attractive, and watching them together on screen is more than enjoyable. The sexual tension from a slow courtship is something not easily executed, but Williams and co-writer Felicia Pride (Queen Sugar) keep this love story moving at a pace that's compelling. Every kiss and touch are fluid and intimate without being gratuitous or cheesy.
According to Williams, the process of casting her leads was magical. Wong-Loi-Sing's sultry voice and effortless elegance make Stevie a person anyone would fall for. Siriboe complements this with his natural coolness and intellect (like a significantly less aggressive version of Michael B. Jordan's Erik Killmonger at the beginning of Black Panther).
Smooth is a word that encapsulates the visual essence of this film. There's a cozy, artsy vibe in almost every scene, complete with mood lighting and the soothing sounds of jazz playing in the background. Even in a crowded club, the interactions between characters feel intimate. Director of photography Shawn Peters (Random Acts of Flyness) uses warm, rich tones of red, black, and gold that highlight the actors' skin in a way that makes everyone look like a work of art.
The film has an art gallery aesthetic bleeding into every space, featuring the work of Gerald Lovell, an artist known for his impastoed paintings of Black subjects. The gentrified Washington, DC, also plays an integral role in the film's atmosphere. The couple takes dreamy walks around the city's historical buildings and lush greenery.
The most striking aspect of Really Love is the simplicity of its plot. There's nothing particularly new with this, but the richness of the characters and their surroundings make it an irresistible must-watch. It's hard to believe that this is director Angel Kristi Williams' first feature film.
Financed and co-produced by MACRO, Really Love takes as a contemporary look at what it means to be in love and share a life with someone and grow together. Romance is a genre often occupied by rom-coms and steamy thrillers. It's refreshing to see a beautiful love story between adults that's realistic with elements of fantasy.
Really Love premieres on Netflix on August 25th. 
Cassondra Feltus
Cassondra Feltus is a St. Louis-based freelance writer best known for film, television, and pop culture analysis which has appeared on Black Girl Nerds, WatchMojo, Mental Floss, and The Take. She loves naps, Paul Rudd, and binge-watching the latest series with her two gorgeous pups – Harry and DeVito.