Jamie Broadnax
Jamie Broadnax is the creator of the online publication and…
30-year old filmmaker Jennifer Kaytin Robinson makes her feature film debut in the Netflix rom-com Someone Great.
It's a film centered on Jenny (Gina Rodriguez) a music journalist who gets the opportunity to move to San Fransisco to pursue her dream job at a magazine, however, her long-time boyfriend Nate (Lakeith Stanfield), breaks up with her unexpectedly.
Jenny's BFF's are two 30-something women Erin (DeWanda Wise) and Blair (Brittany Snow) who are there for comfort, guidance and to help Jenny move on with her life — kinda.
The director pitched the idea of Someone Great as a (500) Days of Summer meets Drunk History type of tale. However, this particular film lacks the whimsy of (500) Days of Summer and the hilariously garish attempts at humor in Drunk History.  The idea of Someone Great has the potential for this but misses the mark completely. Unfortunately, there is nothing remarkable or unique about the premise of this narrative. Having Manhattan, NY as the backdrop of a story revolving around single womanhood has become a cliché unto itself — Someone Great lacks substance, flavor, and depth.
Nate and Jenny have been together for 9 years but the two look as if they just started dating. There's little to no on-screen chemistry between Rodriguez and Stanfield and their inevitable split was a relief, as seeing the couple scene-by-scene interact with no real connection.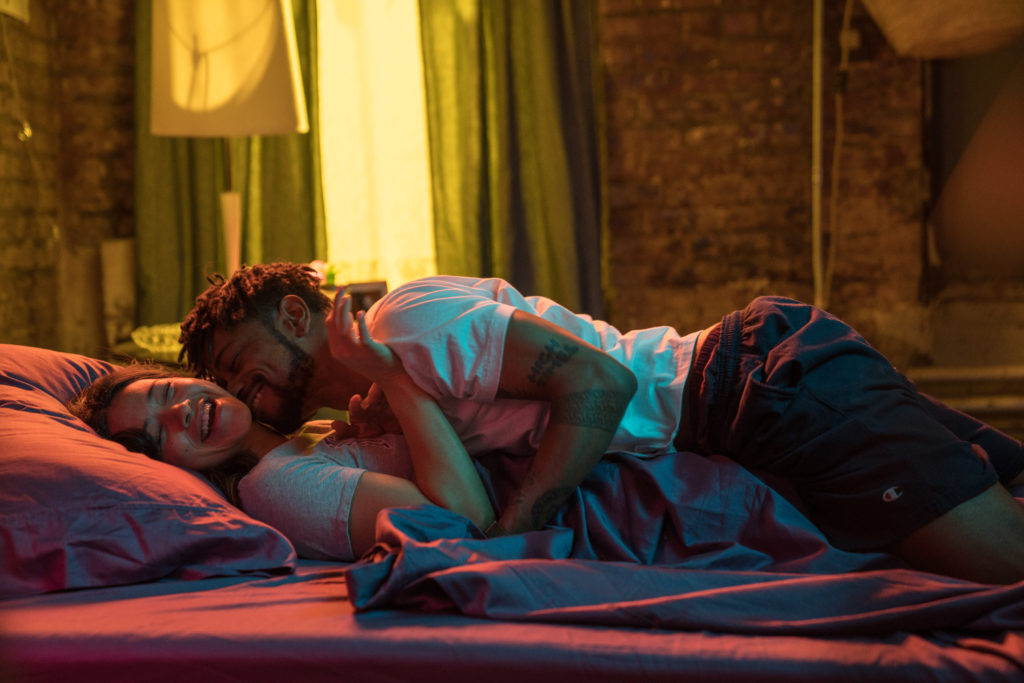 Jenny's best friends are a stereotype of their own and it is almost as if the idea was to take every female trope from a 90s TV sitcom and build their character development that way. Let me explain. Jenny's bestie Erin is a functioning alcoholic who loves her booze but is allergic to commitment. She's dating Leah (Rebecca Naomi Jones) who she's intimately involved with and sees the relationship more casual than Leah sees it.
Blair is in a relationship with a guy who at first, we think she's in love with, but later find out she's not all that into him. Blair goes off and has an extracurricular love life with someone else. Both Blair and Erin are the last people to give sound dating advice, but it doesn't matter because, at the end of the day, they're all close friends and will be there to catch one another when they fall.
There are cringe-worthy moments in the film when Blair is seeing holding a coffee mug with the label "Feminist" and in a later scene, Erin goes to Leah's apartment, and on her sofa is a pillow that is also labeled "Feminist". Now the term itself isn't the issue, it's the fact that both labels have the same color and font in each respective scene. That's just weird. Perhaps Blair and Leah shop at the same Target?
After Jenny's breakup with Nate, when he decides he's not going across the country with her, the story focuses in on her depression and later obsession with her ex. There are flashbacks to the good old days at the height of Jenny and Nate's relationship and the plot meanders back and forth from past to present leaving the viewer with vertigo wondering where is the story and what is the point?
As the film dives deeper into the problems of Erin, Blair, and Jenny it loses focuses on what exactly this story is supposed to be about. Should I care about the Jenny's problems or her besties?  What about Nate? Nate eventually comes back into the picture when the three women go on a girl's night out in the city and Jenny spots him at their nightclub hangout.
There's room for growth with Someone Great, because quite frankly, seeing Rodriguez, Wise and Snow together were refreshing and entertaining. Both Rodriguez and Wise have known each other since they were 17-years-old studying together as drama students at NYU. The chemistry between the actresses was palpable.
Rodriguez, Wise and Snow's scenes as a collective were far more interesting than their scenes apart, and perhaps that's what was missing from the movie.
Produced by Gina Rodriguez, in Someone Great, women are represented both in front and behind the camera. Seventy-four women counted themselves among the Someone Great crew, with others part of the cast and soundtrack. Actress DeWanda Wise, who is most notably known as Nola Darling in the Netflix series She's Gotta Have It, does a pretty remarkable job in this film but shines brighter when she has her own vehicle. Wise's supporting role in The Weekend also had this same issue.
Someone Great does include all of the elements of a contemporary day love story and its inclusive narrative from a Black queer couple to an interracial couple represents factions of couples not always depicted in feature-length rom-coms. However, the story just doesn't pique the interest of a viewer looking for "Something Greater".
Someone Great launches globally on Netflix April 19th.
Jamie Broadnax
Jamie Broadnax is the creator of the online publication and multimedia space for Black women called Black Girl Nerds. Jamie has appeared on MSNBC's The Melissa Harris-Perry Show and The Grio's Top 100. Her Twitter personality has been recognized by Shonda Rhimes as one of her favorites to follow. She is a member of the Critics Choice Association and executive producer of the Black Girl Nerds Podcast.