It seems that Blue Sky Production, Fox's animation sector, is hoping to make a splash with Spies in Disguise before we dip our toes into the 2020s.
Unfortunately, it's a lukewarm sensation. It's interesting when you leave the theater feeling like, Hey that happened, what's next?
This is the first animated film from 20th Century Fox to be released after the Disney purchase. The thing is, it's not bad, yet it's not overwhelmingly good either. It's just…okay. Spies in Disguise is like a rollercoaster. When you first get on, you are excited about what is to come. It can be a little boring as the climax builds. Then as you come down that hill, you are into it. You are laughing and shaking your head at the silliness of it all. Then as you come down, things start to get predictable and the happy ending takes shape. Then your ride is over. Thank you, that was cool. I don't need to get on it again.
Spies in Disguise is an animated comedy about the world's best spy who gets turned into a pigeon. James Bond-like, suave, and sophisticated, Lance Sterling is the world's greatest secret agent. He's assisted by Walter Beckett, a nerdy, socially awkward scientist who creates the high-tech spy gadgets Lance uses on his missions. But when Walter accidentally turns Lance into a pigeon with no antidote on hand, the two must work together to take down the bad guys and save the world.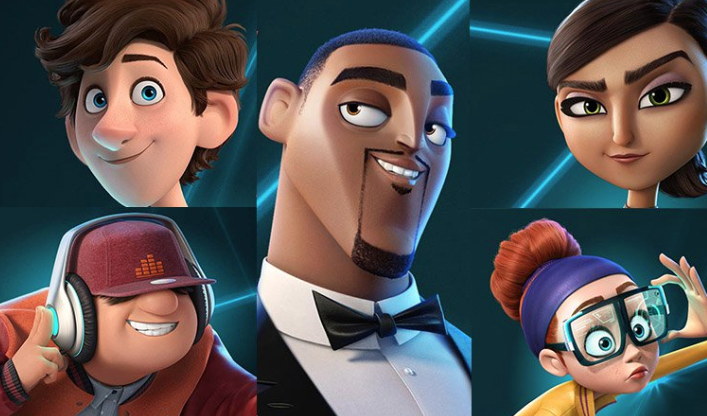 The film stars the voice talents of Will Smith, Tom Holland, Rashida Jones, Rachel Brosnahan, Masi Oka, Karen Gillan, and DJ Khaled. The film is brought to you by directors Nick Bruno and Troy Quane, both making their directorial debut. There's lots of action, some solid comedy, and some crude humor for the adults in the audience. Ultimately, it's very family-friendly.
One of the bright spots of the film is the soundtrack. It helps to have an actor who can also sing and record the majority of your songs. It quickly became evident that Will Smith would have a part in the soundtrack as well. It's an animated film, under Disney's wheelhouse; we expect nothing less. It did seem like this film was made for Will Smith. The only person to embody a James Bond, Jason Bourne-esque character with swagger would be Will Smith. He is the voice of spy, charmer extraordinaire Lance Sterling.
Looking at the animated character, you would think he was made for Will Smith. But, as the directors would confirm at the roundtable interviews in Los Angeles, that was not the case. It came down to really good casting which was one of the things for which actor Masi Oka praised the team in our press junket round-table discussion with him and the two directors. Oka voices one of the bad guys in the film, Kimura. He commented on how casting director Christian Kaplan did an amazing job trying to make sure the voices were very authentic. He even got to give input on the type of tattoos his Japanese character had. From Sterling himself to the K-pop drama that Walter, voiced by Tom Holland, is obsessed with. Holland was also perfect for the character of Walter Beckett. This is Tom's first animated film, and he's pretty awesome at it. We like him as awkward, adorable animated characters.
In animation, the one place the script can be spontaneous is with the actors. According to the directors, they were lucky that both Holland and Smith love to improvise. The movie shows the natural quality of their dialogue because of that. Unfortunately, this isn't always a good thing on the screen. There are times when the pacing feels off or there are gaps of no sound, making the images on screen awkward. The pacing at times can seem a little off due to the spontaneity of the dialogue. It didn't flow as well as it could have.
The story that makes up Spies in Disguise is a good one. It has the action woven throughout and it has some really great themes. One of the major story themes of the movie is teamwork and how important it is. This is the main topic that the directors are really proud of because of their own personal anecdotes. "We came together and we met on this movie," said co-director Nick Bruno. "It's been a honeymoon the entire time. We genuinely work very well together and love each other. We both have the same story that we want to tell." Their passion and excitement comes through as this theme is woven into the fabric of the script. Walter is a guy who firmly believes "we're better together." His whole idea is teamwork, and that is one of the things the directors hope come through in the movie. Co-director Troy Quane added, "Lance Sterling is an amazing spy, but he flies solo. He doesn't want to really believe that as a people, we're better when we come together." It's a bromance between the most unlikely of friends.
Another theme that stood out, which we wish would get more of a stamp of approval from the production team is, embracing your weirdness. It's a great concept that really comes through the film via the character Walter Beckett aka Tom Holland. In a way, it's a theme that speaks to all ages — embrace your inner "whatever" regardless of what people may do or say. For this Black Girl Nerds reviewer, this theme came through louder than any of the others. This theme is what made the movie special. As the directors put it, they had this responsibility of making this first kids spy movie, but at the core of it its about a world of people who don't trust each other and fight fire with fire. It's two people with opposing philosophies and different passions that learn to work together. Working together is what saves the world. There is this importance of loving who you are and what you bring to the table. Oka said in our interview, "I'd rather be a geek than not because to be a geek is to be human. You're passionate about something. I'd rather be passionate about something than be apathetic about everything. So yes, embrace your weirdness. Embrace your uniqueness."
While the themes are everything in this movie, it's missing a significant X-factor. There's no awe-inspiring moment. It's a happy movie and one the entire family can get behind for the holiday season. It's the perfect film to watch right after Star Wars to let your brain relax.
Spies in Disguise is in theaters December 25. Merry Christmas.