Cassondra Feltus
Cassondra Feltus is a St. Louis-based freelance writer best known…
Warning: Spoilers for Seasons 1 and 2 of Harley Quinn.
DC's Harley Quinn animated series is a boundary-pushing, wildly hilarious showcase of Batman's best (and worst) villains. Writer-creators Justin Halpern, Patrick Schumacker, and Dean Lorey pay homage to the acclaimed Batman: The Animated Series, while incorporating more recent incarnations of various cast-off characters. Boasting a stellar voice cast, Harley Quinn gives the DCU a funhouse feel that's anything but boring.
Premiering in 2019, Season 1 begins with Harley Quinn (Kaley Cuoco) landing in Arkham Asylum after the Joker (Alan Tudyk) uses her to distract Batman (Diedrich Bader) while he escapes their latest crimes. Always believing in her man, she expects him to come and break her out. A year goes by and she's still there, but Poison Ivy (Lake Bell), with the help of the Riddler (Jim Rash), breaks them all out of Arkham. It takes Ivy a frustratingly long time to get Harley to leave Joker for good, but when she does, it's the beginning of a brand-new, bat-wielding Harley Quinn.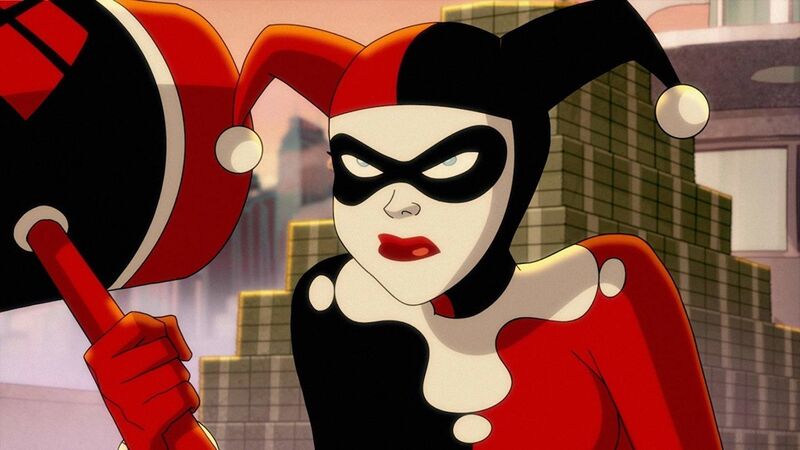 The rest of the season follows Harley as she establishes her own crew — Clayface (Tudyk), Dr. Psycho (Tony Hale), and King Shark (Ron Funches) — and tries to get into the Legion of Doom headed by Lex Luthor (Giancarlo Esposito). Unofficial members of HQ crew include their landlord Sy Borgman (Jason Alexander) and Ivy's "roommate" Frank the Plant (J. B. Smoove). Ivy also begins dating Kite Man (Matt Oberg) — in secret, given his extreme confidence and bro-ness.
One of the best parts of the series is the use of Batman's Rogues gallery. The series features familiar characters like Bane (James Adomian) and Scarecrow (Rahul Kohli), as well as the more obscure villains like Doctor Trap (Tudyk) and Queen of Fables (Wanda Sykes). Some appear as the villain-of-the-week, while others become semi-regular characters.
And you'd think it wouldn't matter that much, but just hearing the villains dropping f-bombs makes the characters infinitely more entertaining. In a panel for DC FanDome, Alan Tudyk said, "Cussing as the Joker seems natural. The Joker would have foul language."
It wouldn't be Gotham City without the Caped Crusader, though he's more of a supporting player in the series. His best scenes are with a despondent Commissioner James Gordon (Christopher Meloni), who's just trying to be a damn good cop. A very young, bratty Robin (Jacob Tremblay) makes a few appearances as well, including an episode where he tells everyone that he's Harley's arch nemesis.
Since appearing in 2016's Suicide Squad (and the much better subsequent films Birds of Prey and The Suicide Squad), I've been a diehard Margot Robbie fan. I can't imagine anyone else in the role, so I stupidly put off watching the Harley Quinn series when it first came out. Well, joke's on me because Kaley Cuoco is fantastic.
All of the voice actors are incredibly hilarious, especially Funches' instantly lovable King Shark. In addition to playing the Joker, Alan Tudyk also lends his voice to Calendar Man, Condiment King, and the failed actor Clayface. That character alone comes with many other characters of his making, like a co-ed named Stephanie. 
In Season 2, Harley is on a mission to take down the Injustice League, formed by Bane, Two-Face (Andy Daly), Penguin (Wayne Knight), and Mr. Freeze (Alfred Molina). The season also introduces new faces/voices including the sultry and aloof Catwoman (Sanaa Lathan) and the excitable Batgirl (Briana Cuoco).
The central story of the second season is the growing romance between Harley and Ivy, slowly transitioning from friendship into something more. They have one hell of a turbulent relationship, but it doesn't have anything to do with being queer. It's refreshing that a queer love story exists without a tumultuous "coming out" plotline. Honestly, these women have had enough trauma from their parents and exes. They don't need to play into tropes.
Season 2 ends with Ivy finally admitting that Kite Man wasn't the right person for her. She may love him, but Harley is her number one. Kite Man is definitely one of my favorite characters. It's sad to see him heartbroken, but it was bound to happen. Seeing Harley and Ivy declaring their love for each other and riding off into the Gotham sunset is what we all want, right?
The short preview from the DC FanDome 2021 event promises the two going on quite the adventure as a new couple on the run. Though it's only a sizzle reel, I was still satisfied seeing Harley and King Shark again. Keeping with the show's meta nature, Harley complains about the slow animation process and announces that the third season will air "sometime in 2022."
Tee Franklin's 6-issue comic series Harley Quinn: The Eat. Bang! Kill. Tour picks up right at the end of the Season 2 finale. It follows the newly coupled Harls and Ives as they take an impromptu honeymoon, partially to celebrate their relationship. Also, because Gordo is determined to catch them after his master plan to arrest all of Ivy's wedding guests failed.
Franklin maintains the uniquely endearing and raunchy tone set by the animated series, making Harley's world even more inclusive. Artist Max Sarin keeps with the show's style and expands Ivy's and Harley's wardrobe with some killer outfits I'm dying to see in the third season. The comic bridges the gap between seasons, debuting in August and recently concluding with the January 4 final issue. Hopefully, this means that "sometime in 2022" is very soon.
Harley Quinn is one of the best things in the DC Universe right now. The perfectly cast voice actors continue to amaze and entertain, bringing their own personalities to fan favorites. It shows just how ridiculous super villainy can be while exploring more serious topics like trauma, abuse, and identity. It's got comedy, heart, and beautifully animated violence. Whatever Season 3 has in store, it's sure to be a riot.
The first two seasons of Harley Quinn are available to stream on HBO Max.
Cassondra Feltus
Cassondra Feltus is a St. Louis-based freelance writer best known for film, television, and pop culture analysis which has appeared on Black Girl Nerds, WatchMojo, and The Take. She loves naps, Paul Rudd, and binge-watching the latest series with her two gorgeous pups – Harry and DeVito.