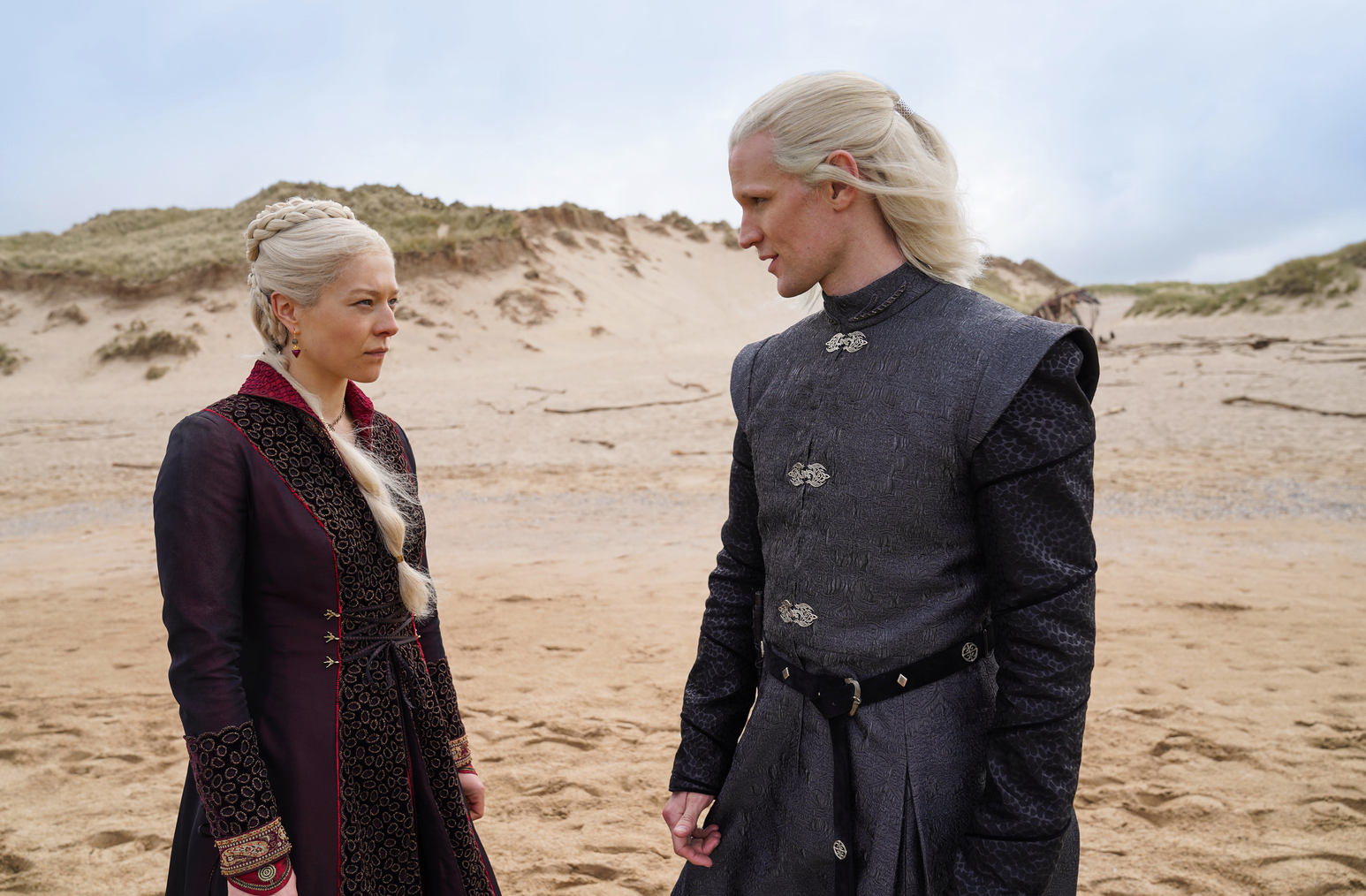 If there's one thing fans can all agree on, is that the Targaryens are the messiest, most controversial, and most cringeworthy of families in all of Westeros. The series House of the Dragon, set to premiere on Sunday, August 21, 2022, on HBO, will be based on George R.R. Martin's book Fire and Blood.
The events of House Targaryen will start from 200 years before Game of Thrones, in case you're wondering where the timeline begins on this new episodic tale. And if you're expecting the familiar from the previous series, expect to be disappointed. This show comes with a new cast, new showrunners, and a new story, where the dragons play a significant role in the plot.
The new drama in its first season will air ten episodes in its August debut.
Starring in House of the Dragon are: Paddy Considine, Matt Smith, Olivia Cooke, Emma D'Arcy, Steve Toussaint, Eve Best, Sonoya Mizuno, Fabien Frankel, and Rhys Ifans. During today's Hall H panel at Comic Con 2022, there were some interesting revelations made about the impending series.
X-Ray podcast host Jason Concepcion moderated the panel, which featured actors Smith, D'Arcy, Best, Frankel, Toussaint, Milly Alcock, Considine, Cooke, and Emily Carey, along with showrunner Ryan Condal and author George R.R. Martin.
Condal kicked off the panel by stating that the series House of the Dragon delves into the history of the Targaryen family. Condal said, "This series begins at the pinnacle of the dynasty. This show will have the most dragons it will ever have."
Actor Smith, who plays Daemon Targaryen, was asked about his relationship with his sister. "Our relationship is complicated, but there's depth and richness found in the work we did together while working on the story." This is indicates that we won't see the tempestuous relationship Daenerys had with her brother Viserys in Game of Thrones. Their relationship was not only complicated, it was downright toxic. So at least for this story, we can expect something a little different.
Actor Toussaint describes his character Corlys Velaryon on the show. "He is a famed nautical man and did his first solo voyage in his teens and went on his famed nine voyages. He has amassed is income that way and is extremely wealthy. He's a self-made man." Corlys also comes from a family of dragon riders but does not ride any dragons himself. The actor also added that from time well spent on the series filming on ships, he's managed to get sea sick.
The good news for fans of George R.R. Martin's books and those who have read Fire and Blood, the author himself has given his stamp of approval on the series. "I've seen nine of the ten episodes and I'm pretty happy," Martin said. That's good news, given the fact that Martin was pretty silent over the last couple of seasons of Game of Thrones, which deviated from his books, mainly because he still hasn't finished writing them.
One of the questions asked during the panel was which dragon out of all was the favorite, and everyone agreed it was defintely Caraxes. The huge red lean dragon is used by Daemon and will be up close and personal in the House of the Dragon series.
Carey discussed her role as Alicent Hightower. She added, "I had creative freedom to make up this backstory for Alicent. [She] doesn't have a mother, and there were some gaps I had to fill. I just started journaling to form some form of backstory. There is a lot of her family that you don't see. Its all about bloodline, which is what the show is about. It gave me a deeper understanding of her. People are expecting her to be the villain of the show. But there is a huge character progression in the show. It was so much fun going into depth with her."
The question of good and evil was proposed with during the Hall H panel, and George R.R. Martin jumped in to answer that question. As a man who knows how to write fully flawed characters well, here's what he had to say: "I've always believed the most interesting characters are capable of generosity but they are capable of being bad and shameful. The only thing worth writing about is human conflict in itself. All characters have good and evil in them."
House of the Dragon, the prequel to Game of Thrones, is coming to HBO and HBO Max on August 21.
Jamie Broadnax
Jamie Broadnax is the creator of the online publication and multimedia space for Black women called Black Girl Nerds. Jamie has appeared on MSNBC's The Melissa Harris-Perry Show and The Grio's Top 100. Her Twitter personality has been recognized by Shonda Rhimes as one of her favorites to follow. She is a member of the Critics Choice Association and executive producer of the Black Girl Nerds Podcast.