The Westworld panel in Hall H at comic-con featured Jeffrey Wright, Evan Rachel Wood, Thandie Newton, Tessa Thompson, Aaron Paul, Luke Hemsworth, and Directors-writers-executive producers Jonathan Nolan and Lisa Joy.
Luke Hemsworth arrived late sparking a rave of applause. The panel continued with Tessa commenting, "I never like to leave the house without a Hemsworth." Love her. 
The audience was then treated to the premiere of the new trailer for Westworld season 3 which will come out in 2020. The New World is the theme of this next season.
Nolan talked about the inspiration behind this new season. "Blade Runner is set to look like what you think the future looks like and we wanted to do something different. The thing about dystopias is that they can look beautiful. Just because it is corrupt in the inside, it can look beautiful on the outside.  We went looking for it and found some pretty rad stuff."
A fun fact that came out of this panel was the idea that while the architects are white men, their prototypes are strong powerful women. This is indisputably presented in the new trailer.
Evan Rachel Wood talked about her role as Dolores. "Dolores is a fish-out-of-water this season. She has taken these mysterious pearls with her. She has brought people back. We don't know who is in Tessa. But for Dolores, there is still a good mixture of Dolores and Wyatt in her."
We all saw that Tessa's character, while human performed more algorithmically then any of the other characters. The question Tessa asked herself was, "What does power look like in the future and can it be a young woman of color?" She continued by saying, "It was fun to see that and play that in Hale and in Halorous (a word coined to represent Dolores inside of Hale). When we were shooting last season and there were moments where I was Halorous but didn't know it. Then I get a call and form Lisa explaining how Dolores is inside me. It encourages trust and understanding that there are things that you don't know. I like the moments where I don't have free will."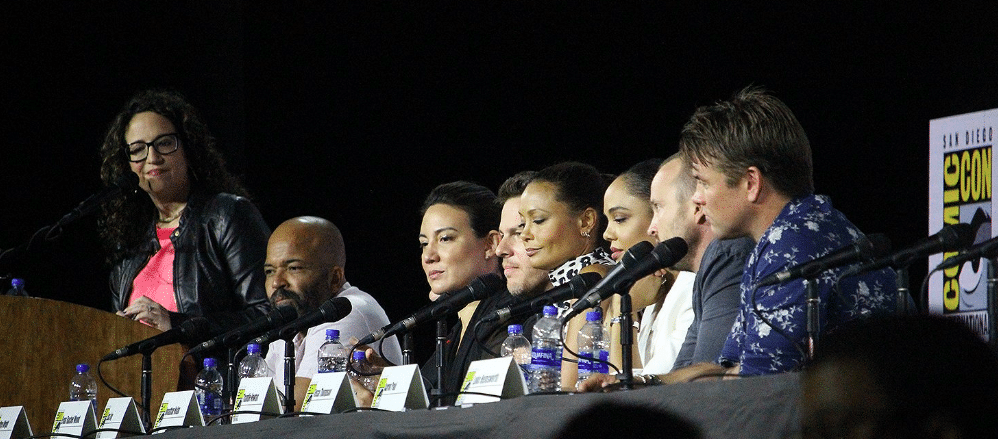 Upon finding out that Dolores was indeed inside Hale, Tessa asked Evan for tips on how to be Dolores. Evan mentioned, "Little physicalities like her right hand is in her left always in her lap when she sits." An iconic image we can pull, but was never directionally given to Evan for the character. She came up with it herself. 
New to this season is actor Aaron Paul playing Caleb, a construction worker. He talked about his first time on set and how amazed he was that he was even here with the rest of the cast. He is a super fan of Westworld. "On set for the first time was shell shock and star-struck and all the things. I have a robot named George. Caleb, as you will see, has a complicated past. But he is both a white hat and a black hat. He's trying to survive in the world and sometimes he has to do bad things."
Luke Hemsworth chimed in on his character Ashley Stubbs. "He's not very good at his job." (crowd laughs) "He's the head of security and doing a really bad job at it. He's throwing things out there and seeing where they land."
Jeffrey Wright talked about his character, Bernard. "He became empathetic. The true central question is, is it live or is it Memorex? That's the question." Jeffrey continued to explain his character's ability to emote while also being restrained. "We have a real gift in this gig, our bosses. We have the two most generous and incredible and engaging and challenging leaders we could ask for. I read the script and bombarded them with questions and I try to do that in performance. Being created by Ford then tortured by Dolores. It's intense."
Nolan talked about the real-world application of Westworld. "As we've been making the show, we started Westworld as a dystopia, and now it's kind of a best-case scenario. The AI we have are thoughtful, murderous, but thoughtful, and thinking about what the rest of the world looks like. It's kind of like the 'Netflix Effect'. A giant algorithm in the sky telling you what you will watch the rest of the night. Think about that algorithm telling you what you will do your whole life. We discard the metaphor and deal with the world as it is, kind of a shit show."
Nolan continued to talk about the real-life advances and development in AI. It's not just science fiction but in some way reality. "Everything in the show is heightened but based on something we are seeing in the real world," he said.
Thandie Newton discussed what she takes out of her own humanity when playing this character. "I've never had to go through anything like it so it's pure imagination. The set up we are given is extraordinary — as an actress, I found it really hard. This incredible being whose been through so much and gained her humanity. She's an expensive piece of hardware. She is treated like she has no value but she's expensive. So loving her finding her value. We as humans teach ourselves how to be. We aren't doing a good job. We aren't teaching our selfies the right things."
The panel gave their perspective on automation and privacy: Aaron Paul says it made him look at the world with a more focused lens. Tessa Thompson considers herself a nonviolent person. She adds, "But then when I had a gun to Bernard's head, I got emotional and upset and had a more challenging time shooting the scenes."
This new season will scrutinize the issue of wealth disparity and explore the tools used to separate the wage gap. The show will force viewers to confront the future we are creating in the present. 
Evan Rachel Wood adds, "I always gravitate towards a character that makes me feel complex deep-rooted emotions. I'm not afraid to open my heart and feel the torture the pain and the love that these characters are going through."
Westworld season 3 premieres in 2020.