Written By DaVette See
The creative team and cast members of Star Trek: Discovery, the latest offering from the sci-fi franchise founded by Gene Roddenberry, were clearly pleased and excited at the reception by San Diego Comic-Con attendees last week.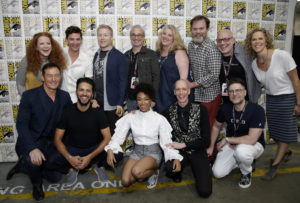 The new series takes place approximately 10 years prior to the time of the first series, during a time of war. It also happens to feature an extremely diverse cast of characters, including a Black female First Officer of the Discovery, Commander Michael Burnham, played by Sonequa Martin-Green; Captain Georgiou of the Starship Shenzhou played by Michelle Yeoh; and Discovery crew member Lieutenant Paul Stamet, the first gay character in lead role, played by Anthony Rapp.
After a lively and enthusiastic panel in a hall filled with fans, the panelists attended a press conference where they fielded questions on the series. On hand were executive producers Alex Kurtzman, Gretchen J. Berg, Aaron Harberts, Heather Kadin, and Akiva Goldsman in addition to cast members Martin-Green and Rapp, Doug Jones (Lieutenant Saru), James Frain (Ambassador Sarek), Jason Isaacs (Captain Gabriel Lorca), Shazad Latif (Lieutenant Ash Tyler), Mary Wiseman (Cadet Sylvia Tilly), and Rainn Wilson (Harry Mudd).
It was gratifying from the prospect of a fan of the series to see that nearly the entire panel was made up of Star Trek fans. Rainn Wilson recounted his childhood-to-adult fascination of the show, saying, in part, "I grew up watching the original series… At age five or six I started watching it on re-runs after school. I built models of the Enterprise, I had books on it, I had the Enterprise memorized…where everything was in the ship. To go on the ship…to get to use the transporter room, I got to use a phaser, I got to sit in the captain's chair a little bit… to relive those as an adult fan was just one of the greatest life experiences."
Doug Jones had a hilarious reaction to being directed to sit in "The Chair." "I was actually invited early on to sit in the captain's chair early on in the pilot episode. because I rank third in command on the bridge on the Starship Shenzhou, so when First Officer Michael Burnham and Captain Georgiou, played by the lovely Michelle Yeoh, when they would have a conference off in the captain's ready room, and I was the next one to sit in the chair, so that happened early on and fast and I wasn't expecting it, so I'm like, 'I get to put my ass in THAT?'

Gene Roddenberry's optimistic vision of the future in which all races and species come together for the good of all is one that producer Alex Kurtzman intends to honor. "That's something that can never be lost in Trek because once you lose that, you lose the essence of what Star Trek is… a reminder of what we can be, the best we can be…The question of how do you preserve and protect the idea of what 'Star Trek' is, in the wake of a challenge like war and the things that must be done in war. It's a very interesting and dramatic problem, and feels like a very topical one given the world in which we're living."
Producer Akiva Goldsmith's comments echoed the awareness of the history of the franchise and responsibility of getting it right. "I think we are acutely aware of the legacy of the show and what is unique about this, dare I say 'enterprise', is that there is so much love for the history that comes before us…Unlike virtually anything I have ever been a part of, there is no whimsy to anyone's commitment…It is a pretty startling privilege that I don't think any of us take lightly."
The cast also appears keenly aware of the importance of the message of Star Trek. Said Jason Issacs, "Gene Roddenberry created a future, where people have found a solution to the divisions between people. So for me the gadgets are fun and the sets are great…but what counts is what we're putting out there, and what we're showing the next generations of what we could become as a planet instead of what we might become."
Star Trek: Discovery star Sonequa Martin-Green, however, won the press conference when she got emotional in response to my question asking how she felt receiving the baton from Nichelle and being the first Black woman to sit in the captain's chair in a live action Star Trek series. Ms. Nichols' character, Lt. Uhura, was in a command position, but never took command in the original series, though she did in the Animated series. Martin-Green's answer is included below, but click on the link to see the video for the full effect.
"I certainly stand on Nichelle's shoulders. I think all of us stand on the shoulders of the innovation that has been in the Star Trek canon up to now. All the progression, and now this is really a story of universality, this is a story of coming together and understanding that we are all one with all life. And I am…I don't know if I could put it into words, honestly, I feel like if I try I'll cry and it would get really messy up here…but just the honor and…It's such an honor and privilege to be a part of a story that I truly believe is going to bring people together."
I admit that I was crying, too, by the end of it.
It was clear from the energy and excitement demonstrate by the cast and creatives, not to mention the dazzling trailer released at SDCC, that the Trek fans and new viewers are in for a treat this fall. Star Trek: Discovery intends to take the Trek universe to the next level, and to a place where no fan has gone before.
From the producers:
"Star Trek," one of the most iconic and influential global television franchises, returns to television 50 years after it first premiered with STAR TREK: DISCOVERY. The series will feature a new ship, new characters, and new missions, while embracing the same ideology and hope for the future that inspired a generation of dreamers and doers.
STAR TREK: DISCOVERY will follow the voyages of Starfleet on their missions to discover new worlds and new life forms, and one Starfleet officer who must learn that to truly understand all things alien, you must first understand yourself.
The series will premiere on the CBS Television Network with all subsequent episodes available on CBS All Access, the Network's digital subscription video on demand and live streaming service, and will be distributed concurrently by CBS Studios International on Netflix in 188 countries and in Canada on Bell Media's Space channel and OTT service CraveTV.
CURRENTLY ANNOUNCED CAST AND GUEST CAST INCLUDE:
Sonequa Martin-Green First Officer Michael Burnham
Doug Jones Lieutenant Saru
Jason Isaacs Captain Gabriel Lorca
Shazad Latif Lieutenant Ash Tyler
Anthony Rapp Lieutenant Paul Stamets
Michelle Yeoh Captain Philippa Georgiou
Mary Wiseman Cadet Sylvia Tilly
Chris Obi T'Kuvma
Mary Chieffo L'Rell
James Frain Ambassador Sarek
Rainn Wilson Harry Mudd
Terry Serpico Admiral Anderson
Maulik Pancholy Doctor Nambue
Damon Runyan Ujilli
Rekha Sharma Commander Landry
Kenneth Mitchell Kol
Clare McConnell Dennas
Sam Vartholomeos Ensign Connor
PRODUCED BY: CBS Television Studios in association with Secret Hideout, Living Dead Guy Productions and Roddenberry Entertainment
EXECUTIVE PRODUCERS: Alex Kurtzman, Bryan Fuller, Heather Kadin, Gretchen J. Berg & Aaron Harberts, Akiva Goldsman, Rod Roddenberry and Trevor Roth
Facebook: @StarTrekCBS
Twitter: @StarTrekCBS
Instagram: @StarTrekCBS
—————————————-
About DaVette See
DaVette lives in Inglewood, CA with her husband, Rob, her mother, and her seven (yikes) kitties. She has a BA in English and Theater and a Law degree. When not writing, reporting and video editing for BGN, she operates Running Lady Studios and producing animated shorts. She was a geek before geek was chic. She loves books, plays, movies, and more than anything, she loves telling stories.