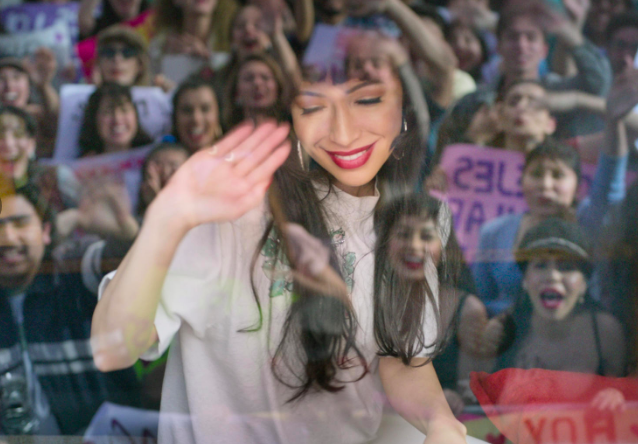 Lebo Malatse
Lebo Malatse is a content creator and writer. She's an…
Chicago 1994, Selena (Christian Serratos) is greeted by fans as her bus pulls up. She turns to her sister and brother, Suzette (Noemi Gonzalez) and AB (Gabriel Chavarria), about not being able to do the concert without them. They convince her that it will be fine. Selena steps onto the stage and performs to thousands of fans, screaming and cheering for her. 
Selena is born in Lake Jackson, Texas, in 1971 to Abraham (Ricardo Chavira) and Marcella Quintanilla (Seidy Lopez), who thought that they were going to have a boy. In 1978, as Abraham is teaching AB (Juan Martinez) how to play the guitar, he hears Selena (Madison Taylor Baez) singing in the backyard as she catches fireflies. He starts teaching her songs to sing and put emotion into. He comes up with the idea of having a family band to play for family functions. Suzette (Daniela Estrada) does not care to learn to play the drums and hates the idea. The group plays at the family's struggling restaurant. Abraham and Marcella end up closing down the restaurant and having to apply for welfare. When it comes to having to pay for the food, Abraham can't bring himself to use the food stamps and gives them to AB and Suzette to do it. 
The kids struggle with playing together so Abraham has them listen to old records to hear the music. Suzette struggles with hearing her parts. Rena Dearman and Rodney Pyeatt (Andy Zazueta) are added to the band to play for a retirement when they are replaced for the night. A few months later, the family has to move to live near their family. The original place is a shed but Marcella refuses, so they settle to sleep in one bedroom at Uncle Hector's (David Barrera) home. Abraham focuses on the kids' band, which concerns Hector, who is trying to get Abraham a job. Hector gives Abraham the hook up with a potential wedding gig to play at, as long as they bring lights. Abraham recruits AB to help him get new lights while the family is asleep but to AB's surprise, he is dumpster diving for cans that will become their lights. The whole production turns out pretty well for the wedding party. 
At a fair, the kids struggle to keep a crowd. However, a Tejano band is bringing in more people which surprises Abraham. Marcella informs Abraham that the music has changed but they are all sung in Spanish, which is more romantic than English songs. While in the car with the girls, Abraham changes the music to Tejano and informs Selena that they will need to learn to play music like this and sing in Spanish to relate to people. At first, they question the reason but Abraham insists that they learn to sing in Spanish and have a new name. In 1986 Selena Y Los Dinos are performing in Spanish.
The story of Selena isn't exactly new to a good portion of us. If you have seen the movie starring J. Lo, you get the gist of it all. However, this series is to tell the story to those who may not who Selena is and, of course, to go in-depth for those who are fans. I think the biggest struggle is capturing the beginning moments that lead Abraham to creating the band that started Selena's stardom. This episode jumps from year and moments. The early years are hard to compact. 
Lebo Malatse
Lebo Malatse is a content creator and writer. She's an avid reader, tv and film lover, and traveler. To read more of her work, check out her site: lbmalatse.wixsite.com/website and journey into the worlds that she creates.