Siren debuted last Thursday to solid ratings and a flurry of complimentary live-tweets. Looks like Freeform's new show has legs… and also a pretty intimidating tail.  Since I've been beating the drumbeat about Siren since last year, careful to vague everything up so there were no serious plot spoilers, it will be freeing to highlight the top five moments of the two-part season premiere.
Mermaid transformation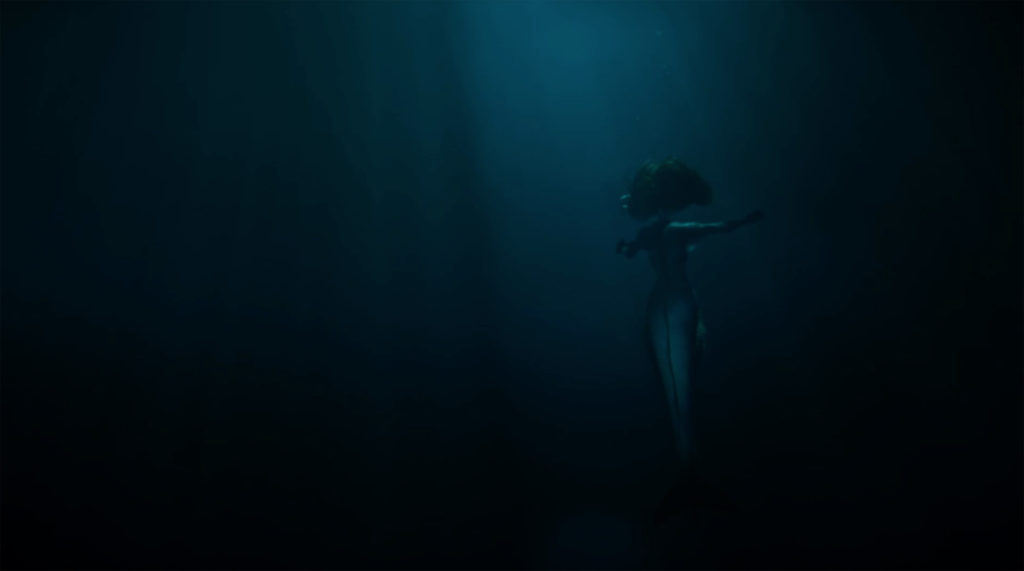 Watching the CGI transformation from humanoid to mermaid was awesome. The first two version of the Siren pilot I saw were missing a lot of CGI, so seeing the clearly painful metamorphosis of Ryn's sinew unraveling and retying itself in a new form, sharp predatory teeth pushing out from her jaw, and spiky fins bursting out of her back while her hands curl into talons, was fascinating. Mermaids aren't magic in Siren so change like that is going to take its physical toll. According to Eline, it takes a lot out of them.
Ryn hearing the recording of her sister
At a dead end in their amateur investigation, Ben and Maddie go talk to Helen, the only other person in town who knows about mermaids. Helen is steadily trying to get them to leave so she can go feed a cagey Ryn but they catch on that Ryn is in her residence, so they draw her out using a device emitting sound that turns out to be a recording of her sister while she screams in pain. Ryn tears into the room distressed and yanks the device out of Ben's hand. She doesn't understand what's happening at first but quickly catches on that this device will somehow lead her to her sister. The raw emotion she exhibits made me want to siren wail right along with her!
Eline Powell's depiction of Ryn is captivating in general. She has said that she studied mammals both land and sea along with ethereal electropop legend, Bjork to hone her physical performance. It's fascinating watching her navigate the world of Siren with a mix of vulnerability and menace.
Seeing Donna for the first time.
Donna and the continuation of the military storyline were not in the original pilot I saw at NYCC. There were already reports about Mlambo being hired as a "deceptively powerful mermaid" so I thought she would show up later in the series, possibly come to collect a wayward charge who had taken an unauthorized jaunt onto land. The actual storyline is way better because it ties in the very real environmental issue of how overfishing affects the ocean's ecosystem.
Donna's reveal is visually striking because we get to see her full body in a well-lit tank as opposed to in a flurry of movement in the darkness of the sea. The absolute best part is that she has Black girl hair, not the cornsilk texture generally associated with mermaids. It's a shame that this shocks and impresses me this much, but it deserves to be acknowledged.
Ryn kills a man who assaults her
https://youtu.be/QrtY7OnVlw8?t=56
Well, well, well if it isn't Carl Emerson. Actor Toby Levins really does play a despicable bastard quite well. In the Siren pilot, his name is Donnie. Don't worry about learning a last name because he doesn't stick around that long.
This scene was in the very first Siren trailer so I was able to reference it pretty directly in my earlier writing. However, in the full scene, the scenario is shockingly realistic and disturbing. Donnie gets the grizzly death he so richly deserves so all is right with the world.
Ryn and Maddie have a chat
What makes this work is that Maddie's fear is palpable but you can see the wheels of her sharp mind turning. She's a marine biologist so she's aware of how to act around animals that are strong and volatile; she works at steadying her breath and uses a calm clear voice. But Ryn is also a being that can learn and understand so Maddie focuses her mind (and distracts her from attacking) by telling stories and giving information. This is another impressive moment as Siren 1) uses this situation to fold in a specific culture that rarely if ever gets seen on television and 2) possibly foreshadows future plot points as the specificity of the legend seems significant.
What really makes this the best moment in Siren 's two-part premiere is that playing underneath all the fear, curiosity, and wonder between these two characters, there's a hint of desire. With Ryn, it's more overt. She's aggressive by nature, grabbing Maddie's ponytail initially but it's soon clear that she is fascinated by everything from Maddie's ornamentation to Maddie herself. And for Maddie's part, there is a soft wonder in her voice when she acknowledges that Ryn is real. It's a lovely note on which to end this scene.
Tonight's episode, "Interview with a Mermaid" was my favorite of the three episodes I watched. If Siren can fulfill the promise of its first few episodes, it might just grow into one of the most innovative shows on television.
CRS
C R Sparrow wants desperately to throw off the shackles of wage slavery and live a life of leisure. Unfortunately, she hasn't quite figured out how to turn her encyclopedic knowledge of Star Trek Deep Space Nine or deftness at playing Bioware RPGs on the easiest setting into a fortune. She's still working on it though. Sci-fi/Fantasy blerd with a strong affinity for binging television shows and having lots of feelings about them.