Jamie Broadnax
Jamie Broadnax is the creator of the online publication and…
No shade to Barack Obama, who currently holds the title of being the first Black President of the United States, but Shirley Chisholm should have been our first Black President in 1972. As we celebrate President's Day today and honor Black History Month, let's remember one of the most valiant and dedicated women to our U.S. Constitution — Shirley Anita Chisolm.
Born in Brooklyn, NY in 1924, Shirley Chisholm came from an immigrant family from Barbados. The family moved there shortly after Chisholm was born, but moved back to the states for more opportunity. She graduated from Brooklyn College in 1946 and began working in teaching. She later earned her Master's Degree in elementary education from Columbia University.
She was a caregiver at her core and spent many of her years working as the director of the Hamilton-Madison Child Care Center and as an educational consultant for the New York City Bureau of Child Welfare.  This role would groom her for her biggest accomplishment, working in public service to help the American people.
In 1968, Shirley Chisholm did the unthinkable, she decided she was going to run for Congress. Her ambitions earned her the title of being the first Black congresswoman and she served 7 terms during her tenure. However, running for Congress didn't stop Chisholm's inspirational go-getter attitude. Next to the unthinkable, she did the impossible — she became the first African-American and second woman to bid for the highest office in the land — President of the United States. She won the nomination and ran as a Democratic candidate in 1972.
Chisholm said the following about her run:
"I am not the candidate of Black America, although I am Black and proud. I am not the candidate of the women's movement of this country, although I am a woman and I am equally proud of that. I am the candidate of the people, and my presence before you now symbolizes a new era in American political history."
Chisholm was also the author of two books:  Unbought and Unbossed (1970), which became her presidential campaign slogan, and The Good Fight (1973)
Chisholm didn't win the ticket but earned an indelible place in history with her career and her political efforts. After leaving Congress in 1983, she went back to her roots to teach at Mount Holyoke College.
Chisholm passed away at the age of 80 on January 1st, 2005. A portrait of her likeness hangs in the U.S. House of Representatives commemorating her service.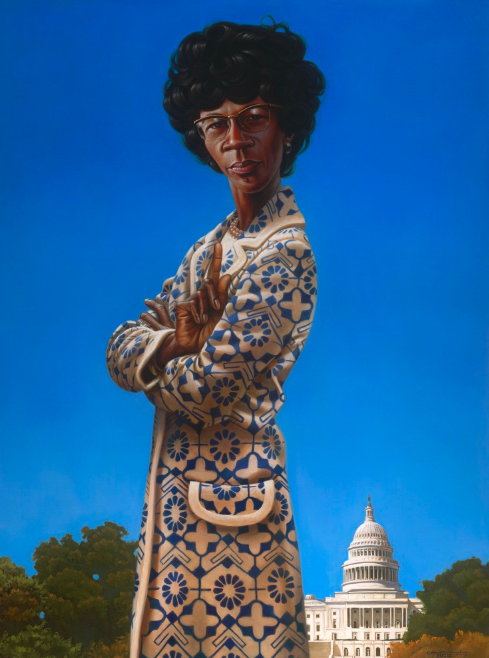 Emmy award-winning actress Viola Davis is slated to portray Chisholm in an impending film based on the congresswoman's life. The movie will be titled The Fighting Shirley Chisholm which Davis will also produce.
And it was recently announced that she is getting her own statue in Brooklyn.  This is part of the first monument commissioned under the new She Built NYC initiative which will honor the U.S. Representative.
For more Black History Month shero profiles, read Mary Fields' story and Phillis Wheatley's story.
Jamie Broadnax
Jamie Broadnax is the creator of the online publication and multimedia space for Black women called Black Girl Nerds. Jamie has appeared on MSNBC's The Melissa Harris-Perry Show and The Grio's Top 100. Her Twitter personality has been recognized by Shonda Rhimes as one of her favorites to follow. She is a member of the Critics Choice Association and executive producer of the Black Girl Nerds Podcast.