Diedre Johnson
Diedre Johnson is a Los Angeles-based former staff writer covering…
It's not your father's sketch comedy…unless your father was into
Soul Train
,
Solid Gold
, and
In Living Color
. 
However, Sherman's Showcase is more than the classic music shows it sends up. It's really four decades of mostly African American showbiz tipping points with music homages thrown in. It covers subjects that maybe you hadn't thought of or didn't know about or you knew about and now it seems so long ago that you forgot about how it really, really was. Now Sherman's Showcase is here to be fast, funny, and entertaining. BGN spoke with the show's creators Diallo Riddle and Bashir Salahuddin at the Television Critics Association (TCA) summer press tour in Beverly Hills.
You have thrown so much in there! What audience are you trying to reach: millennials, Gen Z, boomers, who?
Diallo (D al li o)  Riddle: [Laughs.]
Bashir (Ba sheer) Salahuddin: I'll speak about something specific. One of my favorite shows is Rick and Morty. I'm sure when they were figuring out who was going to watch it, they had some ideas, I don't even know if I made the cut, but I loved that show to death. Nowadays it's really hard. TV executives do themselves a disservice when they try to figure out, "Oh, this audience will like this or won't like this."
We've got to figure out how to give ourselves more cred than that. Diallo and I are nerds, who happen to be Black. We love our Blackness and we love our nerdiness, too, so we made a show that will appeal to us. 
Now who's going to watch that show? We think that we're music nerds, so music fans will love it. People who just love old-school Black comedy like In Living Color — I think there are some sketches in there that will appeal to them. 
The people who like the early days of SNL — that kind of wild, reckless abandon kind of sketch comedy — there's stuff in there for them. And, for people who just love dancing and people performing. The hope is that there is enough in there that we love, so just like shows like Rick and Morty have attracted an audience that is different and some is what the audience could guess and some is not, similarly, I think this show should attract a whole bunch of folks. But no matter what kind of show you make, the core of the show is the entertainment value. 
You started working on this in 2017. What were the mechanics of getting it all together?
Bashir: It actually has a couple of sources; one is that we did a series of sketches on Jimmy Fallon where we were an R&B band singing about ridiculous stuff. 
One time I was driving back from Vegas and I'd seen the Flight of the Conchords show followed by a DJ, I think it was Calvin Harris, and I even told [Harris] at the time, "I foresee us doing a live show one day that'll have elements of comedy and music together."
Growing up in Atlanta, there was a show called Sharon's Showcase. It was just a local dance show. I associated showcases with dancing. So [our show] was a lot of different things all coming together. Also, there was timing. We'd had such a terrible development experience at HBO, so we thought, "We're going to take it only one place. If [HBO's] not into it, we're pushing it aside. We're not going to develop with people and be nervous for another four years."
Diallo: I'd also say between us and our producer/director, Matt Piedmont, we have 40 or 50 years of sketch comedy experience. I think the devil is in the details in how we set our show up. Even though we set it up as a mythical dance show, what we actually did was create a platform where we can do sketches about any time in history.
We have sketches about the '70s, '80s, and '90s, and it still has connective tissue. The idea is that it's part of this mythical world.
Bashir: IFC is not in every household, but they really feel that as long as they can please the people watching, they're doing their job.
Diallo: [IFC] allowed us to make this show. They are unapologetically smart. We thought even if only 5% of the audience gets this, we're going to go for it. 
Financing? You took it to IFC, and what did they say about that?
Diallo: [Laughs.] They said, "We've got ten dollars!"
Bashir: No, they gave us a lot. 
Diallo: They did say, "Just turn in the script."
Bashir: The best thing they did for us was to be supportive. As a creative person, what you don't want and don't need is somebody who's not creative trying to execute something that is not creative.
As comedy writers, we want to be at a network that gives us support. IFC is small enough to where [they] are sort of a boutique network. So [they] are not going to sit here and tell you that you have to do it this way or that way. 
"You guys make the show you want to make. We may have notes and opinions but always feel like, no matter what." It was very important for them to communicate to us, "Make the show you want to make."
Diallo: I really hope that Black people can find IFC. I really want people to get to the [network] so they can find us and appreciate the creative freedom we have.
Are you getting good promotion and marketing?
Bashir: I think they are doing real good considering they don't have the money that, like, ABC does. I think they are doing a fine job. We have billboards. We have a bus running around with our picture on it. 
Some of this is why you get into entertainment because you hope one day you'll have a show that everybody watches and we're going to do our best to promote it.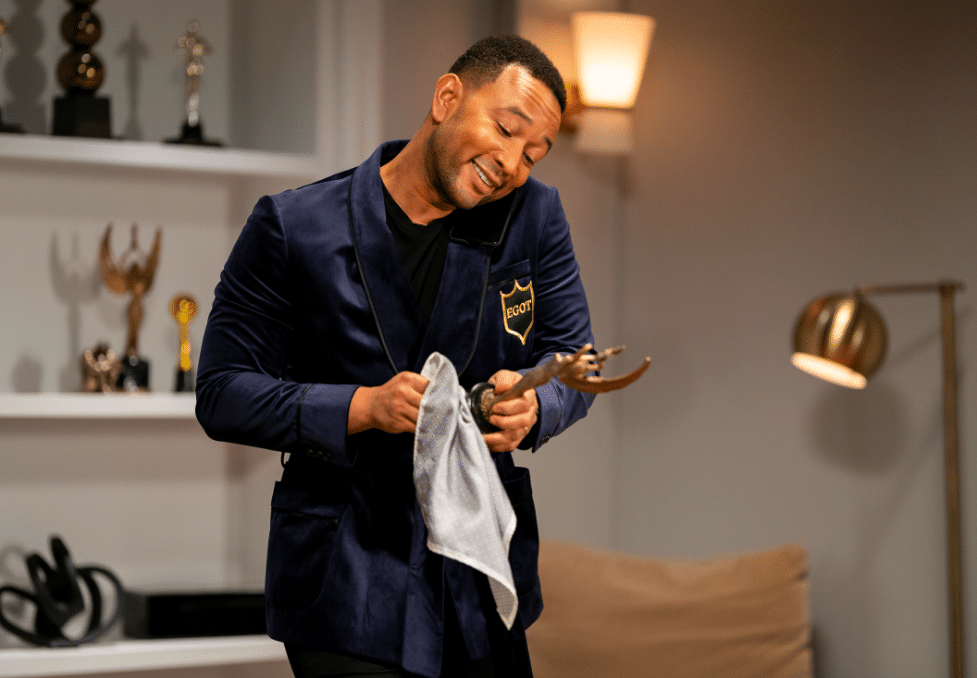 John Legend is on the show. He's all over it. How did this come about?
Diallo: We were friends with him first. We would talk for years about doing something together. When the time came to do a musical sketch comedy, nobody made more sense. And by the way, he wrote back a single-sentence response: "I'm into it, let's do it."
You have cultural stuff in the show. Do you think the different audiences will know what it means?
Bashir: Yes. One of my favorite sketches all season was the Hotel Dunbar sketch. The fact that you have something as iconic as the Hotel Dunbar in the development of post-World War II Los Angeles in the Black community — I'm not going to go out and pitch a whole show or movie [about it], but if we can give a little bit of love to the role it played in [Los Angeles], then that's super cool.
Diallo: There's more for you if you know more, but if you don't know anything, you're going to laugh. 
Bashir: If you don't get the reference, I hope you think it's funny.
Was it easy getting guest stars?
Bashir: We called them up. We texted them. We DMed them. Sometimes it was just a person on set who knew somebody, so we would go through them. Listen, they all said yes to a show they hadn't seen before. I think for Season 2, there might be people asking us to be on the show. Snoop has already reached out on social media. So stay tuned. I think we have eight great episodes here and more to come.
Diallo: Who knows what comes next.
Sherman's Showcase premiered July 31st on IFC.
Diedre Johnson
Diedre Johnson is a Los Angeles-based former staff writer covering entertainment whose work has appeared in Variety, The New York Daily News, TV Guide.com, The Crisis, Vogue Japan and Italia, and Harper's Bazaar China, among others