Guest Blogger
BGN works to feature strong, unique content from writers who…
The Dimeos get sick on Speechless and it's a disaster! Dylan is "blossoming" and it is adorable.
I love how everyone has a role in this crazy family. Each person is important. Maya is a kick butt mom. But we already know this. Her day is chock-full, but she loves every minute of it. Like any mother, she gets her kicks from helping out her family and as she elegantly put it, "bossing people around" in carpool duty. When Maya gets sick, Jimmy has to fill her shoes for the day. He gets it all done, but he does it in true Jimmy fashion; laid back.
Speaking of getting sick. The DiMeos are hilarious when it comes to sick germs. Who knew?! I understand they are cautious because J.J. takes longer to recover, but this episode was great because J.J wasn't even the one who got sick. While Maya, Ray, and Jimmy were being taken out one by one by germs, J.J and Dylan were having a tough time with each other.
What starts as a tale of a young girl falling for an upper-classman, turns into a really touching protective big brother moment. With too much make-up and big hair, Dylan tries her best to flirt with Chase, the hunky guy in J.J's class. At first, I thought it was sad and a typical older brother move to think his little sister is embarrassing him. But in the end, I should have known better. J.J is a great guy who is just protecting his little sister from jerks the best way he can. His reveal to Dylan was very touching. He mentions he will leave the actual beating up of boys, to Ray. Good luck, Dylan! I love that Dylan can see J.J's heart is in the right place and understands growing up is tough business.
Dylan: This blossoming is all too real.
Sometimes it is easy to think you don't matter or make a difference. For Jimmy, poor guy, this realization came while he was sick, making him feel miserable. But just like Maya is needed for the day to day workings and J.J and Ray are needed to protect their little sister, Jimmy is needed to calm the storm when the other DiMeos become too much to handle. It was endearing to see how well he knew his wife (even though tricking her with "frozen yogurt" is hilarious) and all of his kids. By the way, Kenneth and J.J in the "light jazz" scene are the greatest. And, can I just say, I don't know what was in that soup, but I wish I had whatever Kenneth was bringing the DiMeos when I am sick. It was magical and did the job rather quickly. Love his time with the DiMeos.
While there is no new episode next week (tear), be sure to catch up on what you missed of Speechless only on ABC.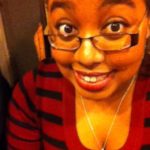 Catalina Combs is an aspiring film critic from California. She loves reading, writing, film, baking, music, drawing, traveling, Disney, and playing soccer. Her life usually revolves around all of these and her family. The oldest of six, Catalina tries to set a good example for her siblings. She graduated from Santa Clara University in 2010 with a BA in English Creative Writing and is pursuing an MA in Film. I also blog on WordPress and contribute to the website Examiner.com. Twitter- @tiggercraze | Facebook- Cat Combs | Instagram: @tiggercraze
Guest Blogger
BGN works to feature strong, unique content from writers who speak to our niche. If you are interested in having your work highlighted contact jamie@blackgirlnerds.com to be featured as a guest blogger on the site.