CRS
C R Sparrow wants desperately to throw off the shackles…
One of the reasons people flock to New York Comic-Con is because of the exclusive first looks. Siren, Freeform's drama about mermaids in small town USA hosted a Saturday panel wherein the producers of Siren and much of the main cast held court. But before that, they debuted a hot-off-the-editing-bay pilot. While this is not the final version, what we learned is that it has all the makings of a new BGN obsession! Find out 5 reasons why, after watching the gripping trailer below!
https://www.youtube.com/watch?v=QrtY7OnVlw8&feature=youtu.be
5 Reasons Why Siren Has Us Dancing To Its Song
Unique Premise – A drama centered on mermaids immediately piqued my interest because it's not a common mythical creature to use in a live-action show. I would imagine it's much more expensive and technically challenging than, say, a show about vampires. Now that I've seen the Siren pilot, I literally can't wait to dive into this show! (Pun intended cause I'm corny like that!)
These aren't bathing beauties sunning themselves on rocks waiting for a boatload of sailors to flirt with. They are apex predators of the sea, inhuman, dangerous, and cunning.
Quality – Siren's story is solid. The editing is precise even at this early stage. Of course, by the time this pilot airs it could change significantly, but here's hoping they keep the basic structure and some of the finer nuances. While I predict Eline Powell will garner a great deal of well-earned praise for her enthralling performance as Ryn, there isn't a weak link in the bunch as far as I can see. Early standouts fore me are Fola Evans-Akingbola as Maddie, Ian Verdun as Xander, and Sarah-Jane Redmond as Elaine, mother of the main character Ben. The latter has only two short scenes but she makes a strong impression with great lines written for her and the expert way she delivered them.
Diversity – Siren's development was unique. We see so much evidence of studios trying to diminish the diversity of their casts so it's heartening that Freeform did just the opposite. As originally written, the population of Bristol Cove adhered to the expectation that a small northwestern town would be pretty monochromatic. Freeform encouraged them to add some color, and the producers seemed to have taken to that direction with alacrity.
Did it mean the whole story needed an overhaul to accommodate all the melanin? Nope! As Ian Verdun (Xander) said during our roundtable interview, "You don't have to write a 'Black character'; I bring the Black to the character." Racial and class dynamics aren't completely ignored, which is a good thing and helps ground this show in a recognizable reality. Elaine uses some subtle, not-quite-an-insult, coded language when referring to Maddie, for instance.
Messaging – As was hinted at in the intro, these mermaids are not manic pixie dream fish. They are capable, strong, and dangerous. In a world where it's common for women to be treated with a lack of respect, abused, intimidated, and silenced, media properties that show feminine agency, capability, and even raw aggression in the face of adversaries can be soul serving. In the trailer above, a would-be abuser gets exactly what's coming to him. I've mentioned before just how much I love seeing that.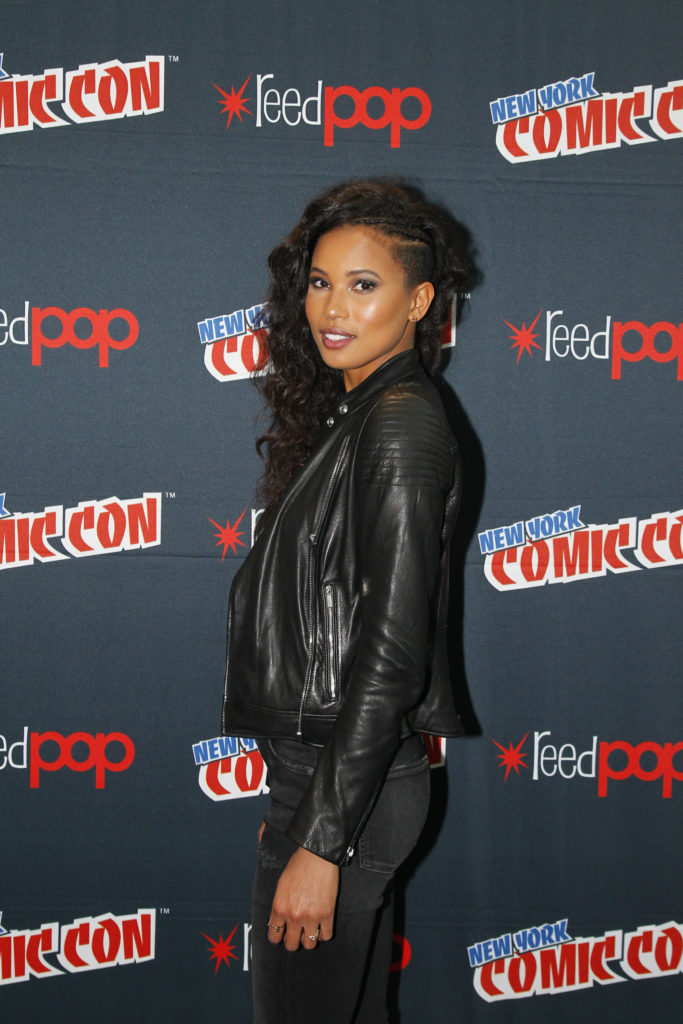 Genre Bending – Mermaids have traditionally been presented as magical creatures, but Siren has decided to replace the magical elements with science in order to make a commentary on how climate change affects ecosystems. That's quite clever. Siren's Executive Producer, Eric Wald spoke excitedly about the design and CGI of the merpeople and how he needed the bodies not to have that ever-present 'knee bend' you see in most mermaid costumes. Mermaids are displaced creatures from the depths of the oceans and Siren wants to explore what that would mean if they came ashore and observed our society.
March 29th can't get here soon enough if you ask me. BGN will definitely be covering Siren next year when it joins Freeform's lineup.
CRS
C R Sparrow wants desperately to throw off the shackles of wage slavery and live a life of leisure. Unfortunately, she hasn't quite figured out how to turn her encyclopedic knowledge of Star Trek Deep Space Nine or deftness at playing Bioware RPGs on the easiest setting into a fortune. She's still working on it though. Sci-fi/Fantasy blerd with a strong affinity for binging television shows and having lots of feelings about them.