Cassondra Feltus
Cassondra Feltus is a St. Louis-based freelance writer best known…
It's officially winter, and it's time for some gripping stories to keep you entertained while you retreat from the cold.
Here are some dark, wintery titles to check out this season.
The Shining (1980)
Even though the author of the book this film is based on, Stephen King, isn't much of a fan, The Shining is one of the greatest horror movies of all time. It follows writer Jack Torrance (Jack Nicholson) as he takes the position of the off-season caretaker at the Overlook Hotel. He's joined by his wife Wendy (Shelley Duvall) and their "gifted" son Danny (Danny Lloyd), who is particularly susceptible to the hotel's supernatural influence. The version of Jack in the novel is much less sinister than Nicholson's take, but watching the character progressively lose his sanity is truly terrifying. I also suggest checking out Doctor Sleep, the 2019 sequel.
Why it's perfect for winter: Winter in Colorado means snow upon snow upon snow.
The Shining is available to stream on HBO Max.
I'm Thinking of Ending Things (2020)
Based on Iain Reid's novel of the same name, I'm Thinking of Ending Things follows a young woman (Jessie Buckley) traveling with her boyfriend Jake (Jesse Plemons) to meet his parents for the first time. It seems like a simple plot, but when the couple arrives at Jake's family home, things get increasingly weird. Toni Collette and David Thewlis deliver brilliant performances as Jake's unpredictably bizarre parents. Collette's hysterical laughter that transitions into weeping is masterful. It's easily my favorite film from 2020 and perfect for winter viewing. I also highly recommend reading the novel.
Why it's perfect for winter: A snowstorm plays a big part in the film, especially some of the stranger moments.
I'm Thinking of Ending Things is available to stream on Netflix.
Climax (2018)
In this Gaspar Noé psychological horror film, Selva (Sofia Boutella) and her dance troupe hold an after-party in an abandoned school. All is well until the LSD-spiked sangria kicks in, sending everyone into their own hellish trip. Boutella leads an ensemble cast of twenty-four, most of whom are professional dancers with no acting experience. Noé cast dancers from different backgrounds — voguing, krumping, and others I'm not sure how to categorize. The blend of styles works amazingly well, and their choreography is nothing short of hypnotizing. It's a film that you'll wish you could see for the first time over and over again. 
Why it's perfect for winter: Noé loosely based the film on real events in Paris in winter 1996, which is also the setting for the film. In their drugged state, some dancers venture out into the snow and don't return.
Climax is available to stream on Prime Video (via a Showtime subscription).
Black Swan (2010)
Speaking of dance films, Darren Aronofsky's Black Swan takes us into the psyche of a paranoid ballet dancer. Nina Sayers (Natalie Portman) is perfect for the role of the innocent White Swan in the New York City Ballet's production of Tchaikovsky's Swan Lake. However, the company's artistic director Thomas Leroy (Vincent Cassel) doubts her ability to also play the seductive Black Swan. The casting coincides with the arrival of Lily (Mila Kunis), who embodies the dark qualities of the Black Swan. All the pressure to land and maintain her dual role in Swan Lake sends Nina spiraling to the point that she loses her handle on reality.
Why it's perfect for winter: The classical music, beautiful costumes, and wintry NYC setting make for prime seasonal viewing, but I strongly recommend watching it anytime of year.
Black Swan is available to stream on Hulu.
Let the Right One In (2007)
Let the Right One In isn't your conventional vampire film. Instead of a sultry adult vamp, we have Eli (Lina Leandersson), who looks like a young girl. But she can kill humans with the best of them. She and an older man, Håkan (Per Ragnar), move into an apartment in Stockholm where she meets 12-year-old Oskar (Kåre Hedebrant), their next-door neighbor. Oskar is relentlessly bullied at school and has no friends. Eli goes through life only with the company of Håkan (who is essentially her familiar). The two lonely kids form a bond, one that's powerful especially for their age. It's a beautifully written love story with frightening imagery. The American remake Let Me In is worth a watch, too.
Why it's perfect for winter: The film is set in winter, and the icy landscape goes perfectly with the bloody, undead subject matter.
Let the Right One In is available to stream on Hulu.
30 Days of Night (2007)
A town in Alaska that goes without sun for 30 days? If that's not the most ingenious premise for a vampire film, I don't know what is. Based on Steve Niles' comic book series, 30 Days of Night follows the residents of Barrow, Alaska, as they prepare for the annual month-long darkness. After a group of vampires descends upon the town, Sheriff Eben Oleson (Josh Hartnett) and his estranged wife Stella (Melissa George) fight to protect their town. Marlow (Danny Huston) leads his vampire brethren in an all-out bloodbath. The film stays true to Ben Templesmith's illustrations, depicting the vampires as horrifying monsters.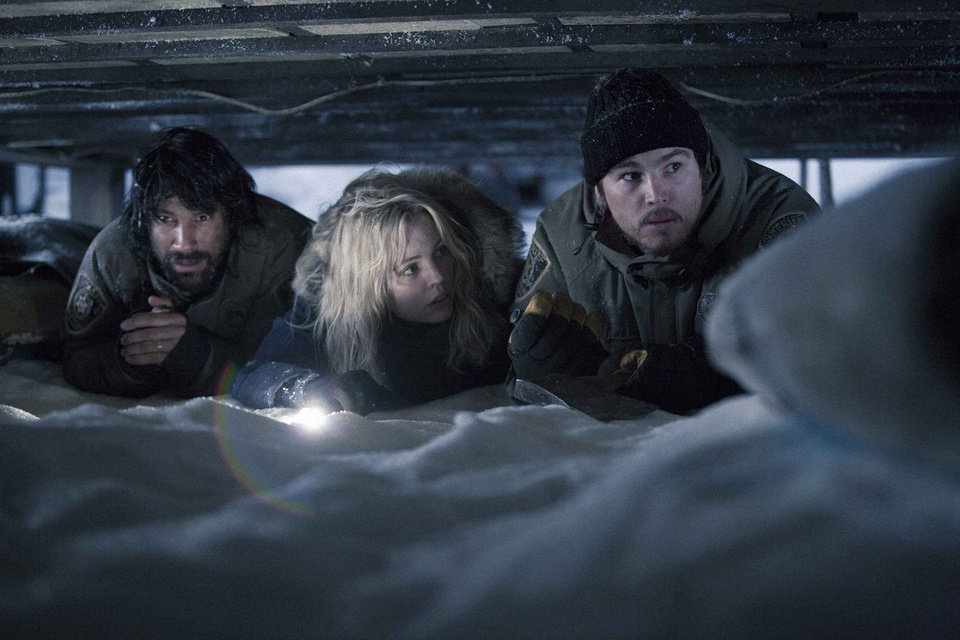 Why it's perfect for winter: You can't get more chilling than a polar night phenomenon in Alaska.
30 Days of Night is available to rent on Prime Video.
Cassondra Feltus
Cassondra Feltus is a St. Louis-based freelance writer best known for film, television, and pop culture analysis which has appeared on Black Girl Nerds, WatchMojo, and The Take. She loves naps, Paul Rudd, and binge-watching the latest series with her two gorgeous pups – Harry and DeVito.