I'm not going to lie, I jumped on this show only because I dated a sneakerhead for a bit. Curiosity has me here solely on the portrayal of these fascinating creatures called sneakerheads. This could be fun. 
Mornings with stay-at-home dad Devin Clemens (Allen Maldonado) and his working wife Christine (Yaani King) is starting off chaotically when Devin remembers that he left the computer browser search on a pair of shoes. Christine isn't happy considering they had already fixed his problem. While in the car, Devin listens to various versions of himself stating the pros and cons of buying shoes. At the store, Devin finds that he has to wait in a ridiculous line for a pair. I've waited in line for shoes before. I woke up really early to get a pair for someone else. Not my best experience.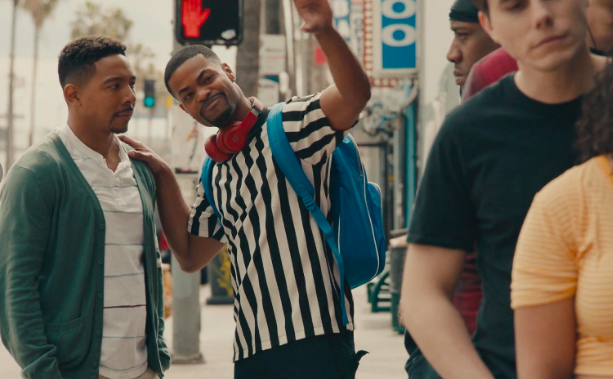 While Devin waits, an old friend of his Bobby (King Bach) rolls up and calls Devin out on his current shoe game then proceeds to move them up the line by paying off a child. Bobby and Devin catch up, and we are informed that Bobby is in shoe school on Melrose. At least he is following his passion. It would seem that Devin hasn't been on the shoe game in five years. Devin bumps into an old lady friend, Gia (Aja Evans), while in the store only to find out that they ran out of his size. Last pair of Cement IVs was sold to a youngling. Despite not getting a pair, Bobby thinks that they should go on a spree of finding a pair. After calling Devin for wanting to be his old self and informing him of a traded basketball player's storage unit going on sale that has a gold mine of shoes, Bobby gets Devin to cave. 
At the storage unit, Bobby's info is correct but there are others waiting, too. Among the group are Nori (Jearnest Corchado), a plug with connections to various buyers, Cole (Justin Lee), the youngling who got Devin's last pair, and Stuey (Matthew Josten), previous comics and collectibles guy who is new to the game. When the storage is open, it is clear that Devin is out of his league when the price gets up to a couple of grand. Devin and Bobby decide to go 50/50 and put five stacks on a storage unit. The price hurt me. Unfortunately, Bobby doesn't have the money, and Devin is risking a vacation for his family just for the possibility of shoes. He puts it on his Discover card. I want to cry. They open up the storage and find a box for shoes, look up prices, and go crazy. However, they haven't opened the boxes yet.
Once they open up the boxes, they find that the boxes only have the left shoe in each box, not both shoes. Just one. Nori shows up to show them a video of a girl burning the other shoes. Devin is absolutely upset over this and leaves. Bobby desperately attempts to keep his friend by throwing ideas at him. One is for an app called Sole-mates, where you can get matched by the shoes someone displays. However, Devin isn't listening and leaves Bobby.
When Devin arrives home he sits in the car, thinking about his poor choices, when Christine pops up to invite him to watch a movie with her and their daughter Cleo (Kyrie Mcalpin). The Discover company happens to call about the recent purchase, which Devin denies. Obviously, fraud will take ten to fifteen days to check the claims. Looks like Devin needs money really quick. 
Let me be honest here: this is wild. Bobby is a wild card that I would love to be around for fun, but I could never be a close friend due to his money habits. Devin is close to losing his wife and family if Christine ever finds out. I'm just assuming, but I would be gone over a five grand purchase with no financial assistance. I'm going to continue watching, though, because this is interesting and I've yelled at the TV already, so I'm invested.
Lebo Malatse
Lebo Malatse is a content creator and writer. She's an avid reader, tv and film lover, and traveler. To read more of her work, check out her site: lbmalatse.wixsite.com/website and journey into the worlds that she creates.