Guest Blogger
BGN works to feature strong, unique content from writers who…
The relationships on Speechless have always been a part of what makes the show so awesome. This week we got a glimpse into Kenneth and Dylan's relationship as well as Maya and Jimmy, and Ray and Taylor (his girlfriend).
Dylan and Kenneth have bonded in the past by making fun of Ray and being winners. This week on Speechless it seemed that Dylan was tired of Kenneth being in her space all the time. It was a completely rational idea. Growing up as the only girl, sharing a room with her brother, trying to find space for herself is no easy task. I could totally relate. Kenneth understood too, as he told a story of his aunt Martha always being in his space to the point that when she died, he was happy. He didn't want it to be that way between him and Dylan, so he vowed she would never see him at the house again. It was great in the beginning. Dylan tried so hard to catch a glimpse of Kenneth. He was very good at hiding. He found a good spot in Maya and Jimmy's bedroom until they came home one day and Maya was role-playing in the bedroom. Awkward, but fantastic. More on that in a bit. Kenneth did such a good job at staying out of Dylan's way that she grew to miss having Kenneth around even though all she knew about him was that he is into jazz and hot tubs. When she finally saw him outside of the house, she let him know just how much he means to her. The next day, things were back to normal and he was taking a nap on her bed.
Meanwhile, Maya and Jimmy still know how to make their marriage interesting. Jimmy still has his promotion from that time they decided the DiMeos were going to step up their game. But, it turns out Jimmy has a hard time being the boss because he wants to be the fun boss. So, although he comes home super tired because he's doing everyone else's work, it's worth it because his coworkers still like him. When Maya brings Jimmy lunch one day and sees what's been going on, she decides he needs to be more like her. Maya has a superpower of sorts when it comes to getting what she wants. When he's firm and channeling his inner Maya-ness, Maya finds him very sexy. The next day, Jimmy is thrown off because one guy is immune to his Maya ways. When he calls his wife for advice, he ends up firing the guy. Maya gets really turned on at this point.
Jimmy: You're fired.

Maya: Yeah, that's right!

Jimmy: Who else wants some?

Maya: I do! I do! Me! Me! Get home quickly!
It's hilarious! After work, Maya is at the door, role-playing employee and boss as she drags Jimmy to the bedroom. Jimmy is exhausted, but he really won't give in because Kenneth is watching from the closet as he hides from Dylan. Not to mention, he feels bad for the way he's been treating his friends. Although he loves the way Maya gets turned on by him being her, he needs to find a way to be a boss that turns himself on. Maya, though disappointed, understood.
Lastly, we have Ray and his girlfriend Taylor. Ray is trying too hard to be in-sync with Taylor. He thinks if they don't have everything in common she won't like him as much. Been there! Ray gets super flustered to the point where he lies and creates a fake charity for JJ because Taylor created a 5k run to raise awareness for her special needs sibling. Of course, things go awry when JJ throws Ray under the bus and makes it seem like there will be a fundraiser coming up for the charity that Taylor would be thrilled to attend. As things spiral beyond Rays control he begs his family to help him get out of his lie. When they refuse, Ray argues how they never help him when he needs it, but will do anything for JJ. Middle child syndrome makes an appearance.
The family does feel bad and JJ admits that it's his fault that Ray is in the predicament he's in. While this was an older brother mess-around, JJ feels it's also the older brother's duty to help his younger brother. In the end, they all pitch in to help the fundraiser happen for Ray and Taylor. It turns into quite the shindig. Ray feels extremely bad and yet is so inspired that he decides to actually do the charity to help build playgrounds where special needs kids of all sorts can play together. It's a really great idea. Taylor is a little confused at Ray's outburst that he's really going to do it, but still likes the crazy kid. 
I love that we are getting into the little personality traits and bonds of the DiMeos. It's fun and each moment brings out another characteristic of Dylan, Ray, JJ, Maya, Jimmy, and Kenneth. We get to see what makes them them and what makes them strong together. Check out an all-new episode Wednesday on ABC.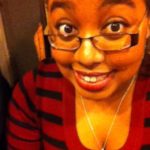 Catalina Combs is an aspiring film critic from California. She loves reading, writing, film, baking, music, drawing, traveling, Disney, and playing soccer. Her life usually revolves around all of these and her family. The oldest of six, Catalina tries to set a good example for her siblings. She graduated from Santa Clara University in 2010 with a BA in English Creative Writing and is pursuing an MA in Film. I also blog on WordPress and contribute to the website Examiner.com. Twitter- @tiggercraze | Facebook- Cat Combs | Instagram: @tiggercraze
Guest Blogger
BGN works to feature strong, unique content from writers who speak to our niche. If you are interested in having your work highlighted contact jamie@blackgirlnerds.com to be featured as a guest blogger on the site.