Guest Blogger
BGN works to feature strong, unique content from writers who…
Now, this is how you start 2018, Speechless. This episode had everything last week's episode of Speechless was missing. Maya and Jimmy were their best selves while Ray, Dylan, and JJ had some bonding time of their own.
Maya and Jimmy were so gung-ho about taking the kids on a road trip they even opened the episode playing guitar and singing outside their van. It was extremely cool and absolutely horrifying all at the same time. Then they were pulled into a fundraiser. Not just any fundraiser, but a 70s-theme fundraiser. What worked the most was Maya finding another parent she actually liked. It was nice to see Maya being herself but bonding with another mom. Things instantly kicked into high gear as Maya and Jimmy found some great costumes in the back. Maya was working the fringe and the dance moves, while Jimmy was working the platform shoes.
Like all good things, Maya's friendship bliss came to an end when the mom started to talk about how unnecessary the new elevator was for the minority of handicapped students. Maya had worked so hard to get that elevator approved and now this woman was going to undermine those efforts. She clearly didn't know who Maya DiMeo was. Maya quickly got the upper hand and made her pay for it. In the end, Maya realized there are other parents who love their kids, doing what's best for them, just like she is doing. So, she auctions her talents of getting what she wants to the other parents of the school. She made a lot of money that night.
Jimmy made his own friends that day as well. Those platform boots were what he needed to boost his confidence. He led the conga line, he saved his wife from a broken elevator, and he won the admiration of those all around him. But alas, with the whole good things not lasting theme, he had to step out of those shoes and go back to being Jimmy. Turns out people respect the regular Jimmy for admitting his insecurity. Bravo Mr. DiMeo. He got the other dads there to admit their insecurities as well. It was a good time and a learned lesson.
With the adults away, the children did indeed play. Ray turned into his alter ego, Blaze, when he had to move the car out of a no parking zone. He moved it all the way to a gas station downtown where the excitement and thrill of living life go the best of him. Dylan and Ray traded places momentarily as Ray lost his mind and Dylan had to be the sound of reason in the group. The Freaky Friday move was quickly fixed when Ray broke a restaurant sign with an egg and had to give up his expensive telescope in return. When they returned to school like nothing had happened. Ray was his "weeny" self again and Dylan had returned to pick on him and make him feel inferior. The natural order of things.
Let's keep the momentum going! Tune in next week for an all-new episode of Speechless on ABC.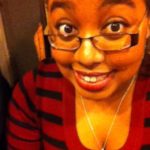 Catalina Combs is an aspiring film critic from California. She loves reading, writing, film, baking, music, drawing, traveling, Disney, and playing soccer. Her life usually revolves around all of these and her family. The oldest of six, Catalina tries to set a good example for her siblings. She graduated from Santa Clara University in 2010 with a BA in English Creative Writing and is pursuing an MA in Film. I also blog on WordPress and contribute to the website Examiner.com. Twitter- @tiggercraze | Facebook- Cat Combs | Instagram: @tiggercraze
Guest Blogger
BGN works to feature strong, unique content from writers who speak to our niche. If you are interested in having your work highlighted contact jamie@blackgirlnerds.com to be featured as a guest blogger on the site.