Guest Blogger
BGN works to feature strong, unique content from writers who…
This week on Speechless, the DiMeos were on a mission at a neighboring grocery store looking for Paella ingredients.
Once again, the DiMeos remind me of my family. Maya was the quintessential, "stand in line, I'm going to grab one more thing," mom. While Maya was being Maya, Ray was being Ray. The two do not do well together at full capacity, and Ray was beyond full capacity this week. He was the worst. The pair that did get a long this week was Jimmy and Dylan. Dylan is slowly proving that she is everyone's favorite. This week she and Jimmy had a great daddy-daughter moment.
Ray was super dramatic over a small ding he thought his mother put on a car in the grocery parking lot. His dramatic antics led to him throwing Maya under the bus. Even when the stranger jokingly said she would make a citizen's arrest and fine Maya a lot of money, Ray said in his heart of hearts he believed Maya left the ding. Honestly, I wanted to punch Ray in the face. He was ridiculous this week, and not in an adorable or cute way. I was on Maya's side the entire time.
Proving himself to be out of line and overdramatic, his point was clearly invalidated as he made a giant mess in the store that Maya could have either helped him get out of or blamed him for. Of course, a lessoned was learned in the end. Kenneth stepped in and proved that Ray is always at odds with his mother and clearly pointed out that she did not ding a stranger's car. Ray looked and felt like a jerk, and I thought it necessary that he should feel so.
While all the commotion over ding's and paella ingredients was happening in the store, in the backroom Jimmy and Dylan were trying to pull off a soda heist. Jimmy learned that he never really follows through with his promises to Dylan. Of course, he is there when it counts, but the small stuff like getting her a prize from a machine, or a puppy, or a giant doll house, is where he falters. Dylan really doesn't mind, and like she expressed to her mother last week, she knows they have a lot going on and its fine if her needs don't come first. Seriously, child of the year right here. From snatching a case of Banjo Cola to having a tender moment with a hug in the grocery freezer, Jimmy and Dylan pulled off the soda heist in time to see Kenneth put Ray in his place and stick up for Maya.
This episode was full of heart and shenanigans like the family the DiMeos are. So far, Speechless has been very consistent with its fun, lesson learning, at times chaotic stories. I still look forward to a new episode each week. Unfortunately, I will have to wait a while for another new episode. But, I have no doubt Speechless will deliver the laughs and heartwarming moments. Catch up if you have missed any of the Dimeo fun, only on ABC.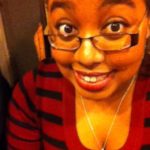 Catalina Combs is an aspiring film critic from California. She loves reading, writing, film, baking, music, drawing, traveling, Disney, and playing soccer. Her life usually revolves around all of these and her family. The oldest of six, Catalina tries to set a good example for her siblings. She graduated from Santa Clara University in 2010 with a BA in English Creative Writing and is pursuing an MA in Film. I also blog on WordPress and contribute to the website Examiner.com. Twitter- @tiggercraze | Facebook- Cat Combs | Instagram: @tiggercraze
Guest Blogger
BGN works to feature strong, unique content from writers who speak to our niche. If you are interested in having your work highlighted contact jamie@blackgirlnerds.com to be featured as a guest blogger on the site.