Guest Blogger
BGN works to feature strong, unique content from writers who…
'Speechless' Tackles Big Problems with Big Heart
Wow. Speechless had a lot to say about a lot of important topics. It was great. The way they approached each topic was on target while keeping us at ease with comedy. These are all reasons why I still love the DiMeos and Speechless.
It's often said that art imitates life and this week on Speechless Dylan made me think about my own childhood. Moving is no picnic, which makes Dylan's lack of friends and lack of knowledge of her surroundings so real. Of course, Dylan is adorable and her ditching school to have sprinkler water fun and cotton candy is comical, especially amidst Jimmy trying to have a day to himself for a shower and they keep running into each other. Dylan was really open with her dad. "Yes, I'm amazing and alone," she says. When Jimmy acknowledges Dylan's disconnect from school and stands up for her when Maya wants to move again, it's truly heartwarming. It's an awesome dad move.  
Another problem that gets a comedic yet heartwarming response is when a slew of new disability families joins the school but all their requests have been denied. They heard Maya speak at a panel and they took her lead and demanded more. Funds for disability families is a topic that crosses over to real life quite often.
Of course, the "Mayan Empire," as someone was calling it, shows the comedic prowess of Minnie Driver. My favorite part was when she stormed into the school board's meeting and demanded the other parents get what her son JJ was getting. Of course, the board pulled up JJ's record and immediately thought to take away some of the money allocated. Maya pretended she was an American checking on the overages, saying it was all a ruse. I fell out laughing. Maya was willing to move schools to help these other parents get what they needed. Maya thought she knew what she was doing when it came to being a parent to a disabled child. For a moment she was so down, she even asked the principal for help. If you have been keeping up with the show, you know that's a big deal. While a happy ending did come about — with teachers who get paid to do nothing became the one-on-one aids for the new students — a big problem was brought to light.
Kenneth and JJ have the best relationship. They are friends, but JJ also relies on him more than anyone else. When JJ brought up boundaries and how Kenneth can have them but he can't, I was taken aback because that's something I had never thought about before. Case in point, when Kenneth lied about his dating life, while JJ sat there naked in the school showers. JJ can't have any boundaries with Kenneth and to him, it wasn't fair. I loved how easy it was for Kenneth to understand.
Kenneth: It's not fair that I get to put up these walls and you can't with me. So, I think it's only fair that I reveal myself to you.

JJ: Are you going to show me your…

Kenneth: No! But I am gonna show you my emotional penis. (Kid walks by looking at them like they are crazy) Mind your business, Deshaun!
Hilarious writing that is delivered perfectly by Cedric Yarbrough. JJ and Kenneth have each other's back and it's perfect. Their story concludes when Kenneth reveals his feelings to the Spanish teach but is rejected. JJ starts crying as if Kenneth was speaking for him. The Spanish teacher is none the wiser. Love it.
I'm so glad we are going to learn more about Kenneth. It's what we've all wanted for so long. I'm also glad Dylan had more of a standout role in this week's episode. She's funny and her honesty is great. Join us next week for an all-new episode, Wednesdays on ABC.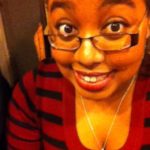 Catalina Combs is an aspiring film critic from California. She loves reading, writing, film, baking, music, drawing, traveling, Disney, and playing soccer. Her life usually revolves around all of these and her family. The oldest of six, Catalina tries to set a good example for her siblings. She graduated from Santa Clara University in 2010 with a BA in English Creative Writing and is pursuing an MA in Film. I also blog on WordPress and contribute to the website Examiner.com. Twitter- @tiggercraze | Facebook- Cat Combs | Instagram: @tiggercraze
Guest Blogger
BGN works to feature strong, unique content from writers who speak to our niche. If you are interested in having your work highlighted contact jamie@blackgirlnerds.com to be featured as a guest blogger on the site.