Mel Perez
Writer. Podcast contributor. Costume design enthusiast. Lover of fantasy movies…
This week's copy of Entertainment Weekly will feature 4 new covers for Star Wars: The Last Jedi. Leia and Luke adorn one cover. Finn and Rose Tico another. The two covers that hint the most at the plot are the pairing up Rey and Kylo Ren together and Poe Dameron and Laura Dern's Vice Admiral Amilyn Holdo.
The EW feature story gave us a few pieces of new information. The previous movie brought most of our characters together, this one will work towards separating them with one hopeful exception. After the death of Han Solo in The Force Awakens, the infamous trio will never be back together again which is heartbreaking. There is some hope for a smaller reunion. EW mentions the possibility of Luke and Leia meeting in this film. Having lost Carrie Fisher, who plays Leia, last December this may very well be our last chance to see the siblings on screen together again. Luke and Leia both have their individual battles to face that can have far reaching effects but hopefully those battles will bring them back into each other's orbits.
Luke's refusal to train Rey may end up driving her to Kylo Ren. It was heavily hinted at in the last trailer. Though we shouldn't trust anything we see at this point. According to Adam Driver who plays Kylo Ren, his character hates Rey but there's a twisted kind of admiration there too. "He has been aware of this ability in himself from such a young age, and I don't think there's a lot of people around him who are on the same level," Driver told EW. "I think that there is something familiar there, as well as something to be feared, or something … that he can't quite place." According to EW, the push and the pull between Rey and Kylo Ren is the force that drives the movie.
Things aren't going so well for the Resistance either. Yes, they succeeded in destroying Starkiller Base but they are still reeling from the destruction of the Hosian system and the Republic's capital. Laura Dern's Vice Admiral Amilyn Holdo comes to the forefront of the Resistance leadership. This causes friction with Poe Dameron. Previous articles have indicated that Leia is possibly grooming Dameron for leadership. Both Damero and Holdo are loyal to Leia, owe everything to her but that might not be enough to bridge the gap between them. And where does Leia fit into this power struggle? Will she still remain the leader of the Resistance?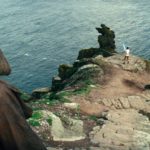 EW gave us a few more details on the upcoming movie and what feels like more questions. Expect Star Wars: The Last Jedi in theaters in a little less than a month on December 15th.
Mel Perez
Writer. Podcast contributor. Costume design enthusiast. Lover of fantasy movies from the 1980s and bizarre deep sea creatures. Can be found tweeting about comics, Yuri on Ice, Doctor Who or Star Wars at @jane_anon or on the Nerds of Prey podcast.