Jinn is a semi-autobiographical tale told from the perspective of filmmaker Nijla Mu'min. Our lead protagonist Summer (Zoe Renee) can be described in a series of multi-hyphenates as a shape-shifting, pepperoni-loving, Black teenage Instagram celebrity. Summer explores her identity and sexuality in the midst of her mother Jade (Simone Missick) converting to Islam.
During the premiere, Jinn was rewarded with a standing ovation from the audience. A story that reflects a rare experience seen on the big screen featuring the marginalized community of Black Muslims — is one that may give an underserved group the kind of representation they need and have sought for in a movie for a long time.  Jinn began as a Kickstarter project which garnered over $27K in support from backers.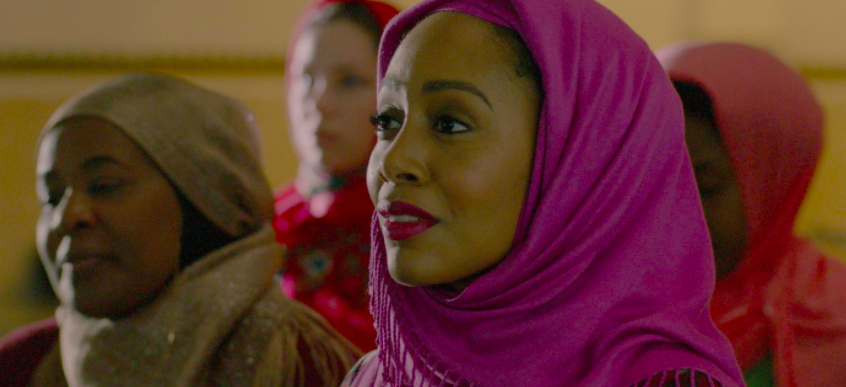 In the story, Summer discovers that her mother Jade has decided to convert to Islam.  Summer is confused with her own beliefs and changes her hair color throughout the film — which serves as a metaphor for her shifting from one identity to the next.  Eventually, Summer elects to follow in her mother's footsteps and also convert to Islam.  She's not quite there yet and takes provocative photos on Instagram wearing a Hijab, which sparks some controversy among her friends and her mother's colleagues.
Summer meets Tahir (Kelvin Harrison Jr.) her classmate and also a practicing Muslim — whom she strikes a relationship with which leads to more complicated circumstances for Summer, her mother Jade and Tahir's family. In Zoe Renee's debut as the lead in a feature film, she gives an astounding performance as this girl fighting with a dichotomy of trying to fit in and examining how to be herself. Kelvin Harrison Jr. who has an impressive resume of films just this year with three of them being at Sundance (Monster, Monsters and Men, and Assassination Nation) delivers a strong performance and proves that he's a force to be reckoned with — a star on the rise.
This coming of age story is one that is told with subtlety and doesn't force any messages about religion or Christian dogma down your throat and it does something that is frankly is rare to see in stories about Muslims — it normalizes their religion, culture, and day-to-day experiences. In an entertainment industry inundated with images and stories about the radicalized sects of Islam, a movie like Jinn is needed right now. The cinematography was also gorgeous from the vibrant colors of Summer's 3c hair to the way Black skin is lit during intimate and romantic scenes.
Nijla Mu'min makes her directorial debut in the movie Jinn, currently screening at SXSW in the Narrative Feature Competition category.
Jamie Broadnax
Jamie Broadnax is the creator of the online publication and multimedia space for Black women called Black Girl Nerds. Jamie has appeared on MSNBC's The Melissa Harris-Perry Show and The Grio's Top 100. Her Twitter personality has been recognized by Shonda Rhimes as one of her favorites to follow. She is a member of the Critics Choice Association and executive producer of the Black Girl Nerds Podcast.