Directed by Julio Quintana, The Long Game is an uplifting sports drama based on true events that follow the journey of five Mexican-American golf caddies who, encouraged by their school's superintendent, form a golf team and compete against wealthy white teams in Texas in 1956. The film is an adaptation of the self-published book Mustang Miracle by Humberto G. Garcia. 
The screenplay is excellent. Writers Julio Quintana, Paco Farias, and Jennifer C. Stetson's dialogue is so natural; experiencing this film feels like I was eavesdropping into the lives of each person on screen. As Superintendent J.B. Pena, Jay Hernandez (Suicide Squad, Friday Night Lights) expresses the quiet determination of a man who wants to do his part to uplift his community while dealing with PTSD as a WWII veteran. The trauma J.B. is dealing with is portrayed with a subtlety that blends into the story with emotional authenticity, allowing insight into this man's motivation to assimilate without seeming contrived. 
I loved the relationship between J.B. and his wife, Lucy (Jaina Lee Ortiz, Girls Trip). As J.B. deals with insomnia by hitting golf balls into an old mattress in the backyard at all hours of the night, Lucy understands and supports him in this beautifully unassuming way. Even though J.B. is dealing with PTSD, he still has space to comfort her as she deals with life as a wife who wants to be a mother but hasn't been able to have a successful pregnancy. Seeing how challenges have brought this couple closer rather than tearing them apart is lovely.
J.B.'s quest to assimilate is one we don't often see in this kind of film. We learn that J.B.'s love of golf was passed down from his grandfather, but we don't get many details, and that's okay. J.B. wants to join the golf club in town where the wealthy white folks golf — a place where the only Mexican-Americans allowed on the grounds are caddies, the groundsmen, waitstaff, and the kitchen staff.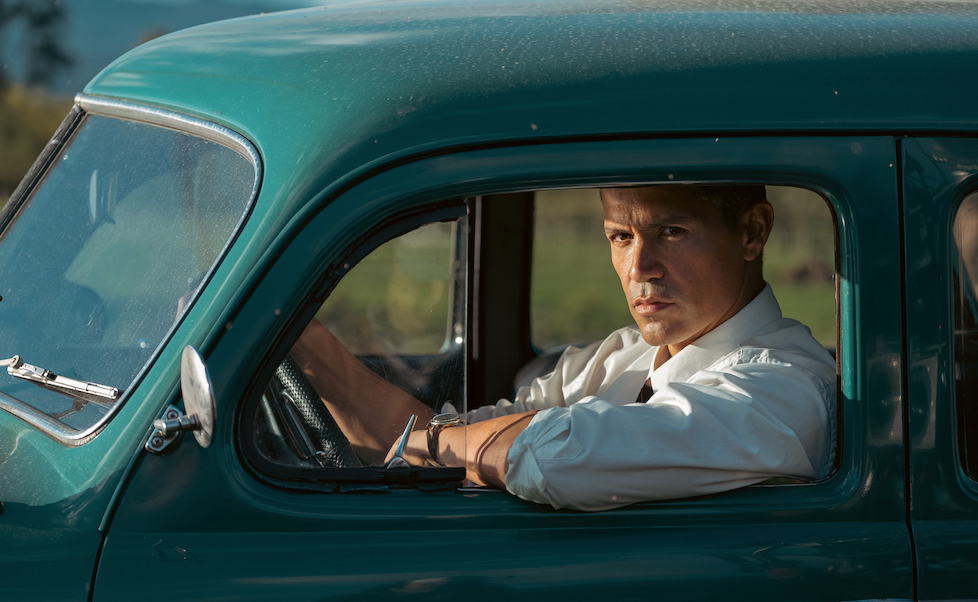 J.B.'s only way to become a member of the exclusive club is through his friend and former commanding officer, Frank (Dennis Quaid, Any Given Sunday). Frank is an example of the best kind of white male friend to have, a co-conspirator in busting up systems. Frank is a golf pro who works at the club. When they were in the war together, golf was the thing that bonded them. Talking about the sport got them through the rough times.
Quaid has played everything from soldiers, government agents, detectives, and rascals in romantic comedies, but this actor loves himself some sports movies. With over seventy film credits, Quaid has been in over fourteen sports films. I must admit, one of my all-time favorite of his films is Everybody's All-American, where Quaid plays a college football hero who marries his beauty queen girlfriend, played by Jessica Lange, and has to deal with the brutal reality of playing football professionally. So when he popped up in this film as a grizzled old golfer, I was happy to see him shine.
The chemistry between Hernandez and Quaid is genuine and fun to watch. The relationship between J.B. and Frank reflects the kind of authentic allyship that has always existed in America between people of color and white folks with a sense of ethics and consciousness. Still, Frank is not the white savior of this film; he is precisely the kind of ally needed to make steps toward gaining equity. The film centers the journey of J.B. and his students as they strive to do what they love, play golf.
The best golfer on the team is Joe Trevino, played expertly by Julian Works (Titans, 9-1-1: Lone Star). Joe is a fascinating character. A wildly gifted golfer, Joe underplays his talent at this game that wealthy white people traditionally play to avoid severe judgment from his working-class father, played by Jimmy Gonzales (Mayans M.C). Joe's dad doesn't appreciate that his son and his friends have created a full golf course in the Texas desert that is as challenging as the one at the fancy club they work for. He sees golf as a white man's game, a waste of time for Mexican boys who should focus on making money instead of trying to be white.
There is a poignant scene between Joe and his father when Joe mentions that the new school superintendent is starting a golf team at the high school; the first thing Joe's dad asks is if he will get paid for playing. Joe tells his dad that they want him to be a player, and his dad sarcastically asks, "What do they want you to play? The violin? The trumpet?" Joe replies, "They want me to play golf." His father smirks and replies, "Well, you better bring your sombrero anyway, buddy, because whenever you're invited to a gringo party, you're either the entertainment or the help. And at least you're getting paid being the help at the club, right?"
Joe's dad reflects so many parents of kids of color who aren't able to support their kid's talents beyond service work. Joe's dad is a hard worker who has lived a life where the only way to make an honest living has been working in service to white folks. The heartbreaking aspect about Joe's dad is that his abusive lack of vision comes from a place of protection. Why should he waste time encouraging his son to believe he could be successful in a sport dominated by white folks? In that short scene, we see the impact of generational trauma in real time.
Joe has talent that, if nurtured, could allow him to do the unusual, break a glass ceiling. But his dad, because he's never seen it done before, doesn't have the vision to believe it's possible. It's hard enough to deal with being the first among white people; it's even harder when your family members are on the sidelines throwing obstacles in your way with the hopes you will fail. Later on in the film, we see Joe embodying the same abusive behavior towards someone else he loves, reflecting how hurt people hurt people in real-time. The worst part about systemic racism is its ability to rob its victims of the ability to believe that they can disrupt the system.
Joe and his friends are convinced by J.B. and Frank to form a golf club. As they face private and public challenges, their diverse talents are revealed. As the young men become a team, we see the impact and consequences of the quest to be the model minority in the eyes of white dominance. The Long Game is a beautifully nuanced film that reflects the community care it takes to break down systemic racism while giving the audience an exciting, entertaining, fun, feel-good sports story about the beauty of golf.
The Long Game premiered at the 2023 SXSW Film Festival on March 12, 2023.
Jeanine T. Abraham
Jeanine is a Writer, Actor, member SAG/AFTRA, AEA, Podcast host, Producer, CEO VisAbleBlackWoman Productions, Certified Health Coach and Conscious Dance facilitator. Jeanine's mission, centering Black women's stories to preserve our legacies.